Enduring Punk band The Vibrators will be at Glasgow's Ivory Black on Friday 30 November. Touring in place of Knox is Nigel Bennett from The Members. Ivory Black is on Oswald Street, Glasgow.
The Vibrators just returned from an extended tour of the US.  Bennett, who has a solo album just out entitled 'Truth or Consequences' had this to say:-
"I love playing  Scotland; Ivory Black always has a good crowd and we're all looking forward to being here again."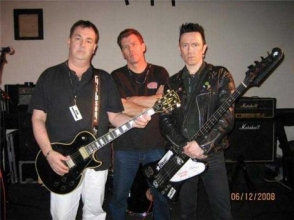 The Vibrators were founded by Ian 'Knox' Carnochan, bassist Pat Collier, guitarist John Ellis, and drummer John 'Eddie' Edwards. They first came to public notice at the 100 Club when they backed Chris Spedding in 1976. On Spedding's recommendation, Mickie Most signed them to his label RAK Records. Most produced their first single, "We Vibrate". The band also backed Spedding on his single, "Pogo Dancing". Knox is currently living in London and is involved in artwork and solo projects rather than the rigours of touring with the band.
The Vibrators recorded sessions for John Peel at BBC Radio 1 in October 1976, June 1977, and February 1978. They were one of the pioneering punk bands that played at London's Roxy Club.
The Vibrators also play Edinburgh on Saturday 1 December .  They will be at The Citrus Club40-42 Grindlay Street; the Lurkers are supporting.