The 2011 Annual Signal Gallery Punk Rock Artists show tribute to the late Poly Styrene (1957 – 2011) featured artwork from a majority of the acts that were the lights of British Punk Music.  Curated by Gaye Advert, featuring musical performances and great artwork, this was a highlight of UK winter art exhibitions as well as a perfect way to pay respects to Poly.  Voice's Suzanne Kelly weighs in on a unique gallery and a unique collection of British artists.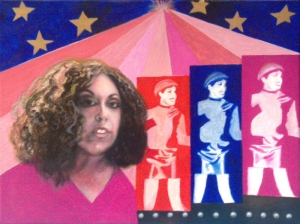 The music world lost a number of real innovators in 2011 – people who were unlikely success stories in some ways, but whose individuality  shaped the history of music.  Amy Winehouse died in tragically predictable circumstances.  Nate Dogg had many personal problems and came from a world of violence, despite dice being loaded against him from the start, he worked with hip hop greats.
His style was sought after, and at the time of his death from  a stroke he'd been working on a new gospel project.  Then there was Marianne Joan Elliott-Said – or Poly Styrene to you and me.
Poly was born in 1957 – in a time where women had little prospects of exerting influence outside of the kitchen.  Women of the late fifties largely spent all their time trying to look conservatively, conformingly beautiful (and there is sad evidence that women are slipping back into wanting to look good more than wanting to be good at something).  Poly was having none of it.
She eventually wound up as the iconic, unpredictable, liberated, intelligent figurehead of punk band X-Ray Spex.  It was said the band formed after she and some friends saw the Sex Pistols perform.
Poly died in April 2011 from an advanced form of breast cancer.   Her unforgettable expressive vocals and X-Ray Spex' music will always be around.
  Knox from the Vibrators is one of many musicians with artwork on show
The Signal Gallery near London's Old Street Station has hosted exhibitions of music by punk musicians for some years now.   I'm sure many people who visit this extremely  popular show are there because of the musicians, but no one leaves without seeing a perfectly well curated group show of excellent, challenging art.
This year's curator was Gaye Advert of (if you didn't know) The Adverts.  She works in many media, and I'm particularly fond of pieces such as 'bad squirrel'.  Knox from the Vibrators is one of many musicians with artwork on show; Knox is an extremely talented painter and has studied art.  He's known for imaginative pieces as well as street scenes of London and overall for portraits of fellow musicians.  He had a portrait of Poly Styrene in this show as  had Charlie Harper and Chris Brief.
I missed the opening (and was cross with myself over it).  For an enthusiastic review of the opening with may photos, try http://retroman65.blogspot.com/2011/11/punk-beyond-gaye-advert-curated-art.html
I did however make it down for the Saturday 10 December acoustic sets by Knox and Charlie Harper of the  UK Subs.
Each played a solo set and then they played together to the Signal Gallery's main room, totally filled from floor to ceiling with artwork and punk lovers young and old.  Nigel Benett  from The Members was among the audience.
I would love to have spoken more with Gaye Advert and the Gallery's staff.  However, the former was busy trying to get artists to sign posters from the show, talking to press, being photographed, and trying to find Charlie when it was time for his set.  The posters  were sold at £50 each to raise money for a cancer charity in memory of Poly Styrene; I was lucky to get one.
The gallery owners were busy selling the few pieces of art that hadn't already been sold, supplying countless beers to the crowd, and dealing with a pipe which started leaking on Charlie as he started his set.
The art was being talked about; some pieces such as a kinetic sculpture involving two dolls was sensational.  The art ranged from classic punk iconic art to abstracts and sculptures.
This show was a testimonial to the energy and talents that continue to keep punk going, and to the ongoing legend of Poly Styrene.