Voice's Alex Mitchell offers up yet another slice of Scotland's troubled and violent history in the first part of Blood Feud: The Gordon, Forbes and Stewart Families in the Time of Mary Queen of Scots and King James VI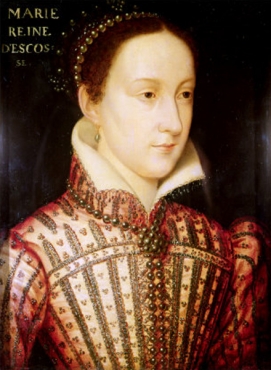 Following the death of her first husband, King Francis II of France in December 1560, the young Mary Queen of Scots, born 8 December 1542, resolved to return to Scotland.
Whilst still in France, she was visited by a deputation of Scottish Catholics, headed by her cousin, George Gordon, the 4th Earl of Huntly (1514-62). They entreated her to land at Aberdeen, where she was promised an army of 20,000 men under the leadership of Huntly himself, ready to protect her and convey her in triumph to Edinburgh. This would almost certainly have led to civil war between Catholic and Protestant factions in Scotland.
Instead, Mary chose to take the advice of her post-Reformation Parliament. She landed at Leith on 19 August 1561, and thereafter depended on the support and advice of her half-brother Lord James Stewart (1531-70), the illegitimate son of King James V and Margaret Erskine.
His two fixed principles were his support of, firstly, the Protestant Reformation of 1560, which sought to displace and abolish the Catholic religion, and secondly, closer relations with England rather than with England's enemies France and Spain.
To these ends, Lord James insisted that Mary, herself a devout Catholic, should respect the Reformation and defer to 'moderate' Protestant opinion rather than that of Catholic Earls, such as Huntly and Erroll. In return, Lord James would use his contacts in England to secure from Queen Elizabeth recognition of Mary's claim to be her legitimate successor. Mary was a grand-daughter of Margaret Tudor, elder sister to King Henry VIII, whose six wives between them produced only three surviving children, Mary, Elizabeth and Edward, none of whom had any children of their own.
Lord James Stewart favoured a middle way in religious matters, acceptable to mainstream opinion in England.
He tried to fend off the more radical Presbyterian reformers like John Knox, who intimidated the Episcopal Church of England. Similarly, he set out to crush unrepentant Catholics like the powerful George Gordon, 4th Earl Huntly, The Cock o' the North, whose opposition was substantially based on his justified resentment of Lord James himself.
Mary's elevation of Lord James to the vacant earldom of Mar in 1562, which he then resigned in favour of the earldom of Moray in 1563, both of which had been effectively under the control of the Gordons of Huntly, obviously threatened that family's long-standing domination of North East Scotland. Moray then, of course, was a much larger territory than it is now. Lord James, for his part, was fearful of the stated intention of Sir John Gordon, Huntly's violent and unstable third son, to marry the 19 year-old Queen Mary. That he was already married seemed not to concern him.
Aberdeen regularly paid the more powerful and aggressive of the local gentry families large sums of money  
The Gordons had ruled the North East like provincial kings for about 250 years, having been granted the lands of Strathbogie by Robert the Bruce in 1307. They were an enormous kindred, with cadet branches throughout the North East, and prolific; George, the 4th Earl, had nine sons and three daughters.
The original expression the Gey Gordons (note spelling) is a reference to this sense of the House of Gordon as being literally overwhelming, unforgiving and dangerous. They were also rich, and lived like princes; the 4th Earl rebuilt Huntly Castle as a splendid Renaissance palace. He had been created Lord High Chancellor in 1546, being a trusted supporter of Mary's redoubtable French mother, Mary of Guise, who ruled Scotland as Queen-Regent from sometime after the death of her husband King James V in 1542, until her own death in 1560.
At a time when Aberdeen regularly paid the more powerful and aggressive of the local gentry families large sums of money in the hope that they might then leave the Burgh alone, the Gordons were undoubtedly the family to have on your side – rich, numerous, widespread, possessed of great political influence and close to the Throne. Hence the close relationship between the (burgess) Menzies family of Aberdeen and the (gentry) Gordons of Huntly, to the occasional extent of inter-marriage. In fact, in 1545, Thomas Menzies resigned as Provost to allow George Gordon, 4th Earl Huntly, to succeed him, albeit for a period of only two years.   George Gordon was the only Peer of the Realm ever to be Provost of Aberdeen.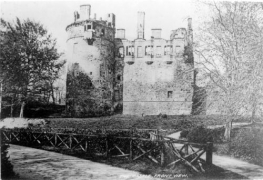 There was intense hostility between the Gordon and Forbes families and their respective allies, the feud extending over some 200 years.
The Forbeses, as one of the few authentically Celtic of the twelve main land-owning families in Aberdeenshire, resented Norman-French incomers such as the Gordons, Hays, Burnets, Bissets, Frasers and Keiths.
They were now Protestant, and allied to the Ogilvies, with whom the Gordons were in a separate dispute. These were violent times.
In 1527, Alexander Seton of Meldrum, an ally of the Gordons, was murdered by the Master of Forbes in Provost Menzies' house in the Castlegate. A Commission was appointed, but it reached no conclusion.
As described, Huntly and his allies had expected the young Queen's support for their proposed Catholic uprising against the Reformation, to commence in Aberdeen. He and Mary were cousins, both being grandchildren of King James IV. But the Queen withheld her support.
In August 1562, Mary toured the North East in the safe keeping of the Protestant Lords of Moray, Morton and Maitland. They went out of their way to insult and provoke the Gordons, snubbing their invitation to visit Huntly Castle. The Royal party feared, with some reason, that the Gordons planned to capture the Queen, murder her Protestant minders and forcibly marry Mary to young Sir John Gordon.
On 27 August, the Queen's party, returning from Inverness, reached the Kirktoun of Aberdon, lodging at the Bishop's Palace in the Chanonry – the Bishop of Aberdeen remained in post for a good twenty years after the Reformation. In Aberdeen itself, the Queen was warmly received by Provost Thomas Menzies but, perhaps significantly, was accommodated in Earl Marischal's Hall on the south side of the Castlegate, and not in the adjacent Pitfodel's Lodging.   Around this time, Lord James Stewart married Agnes Keith, daughter of the Protestant 1st Earl Marischal.
Alex's insight to those turbulent times and bitter familial relationships will continue in future editions of Aberdeen Voice.