Voice presents the final part of Alex Mitchell's worthy and informative account of Robert the Bruce's life and legacy, outlining how Scotland's noble families gained or lost as a result of King Robert's rule.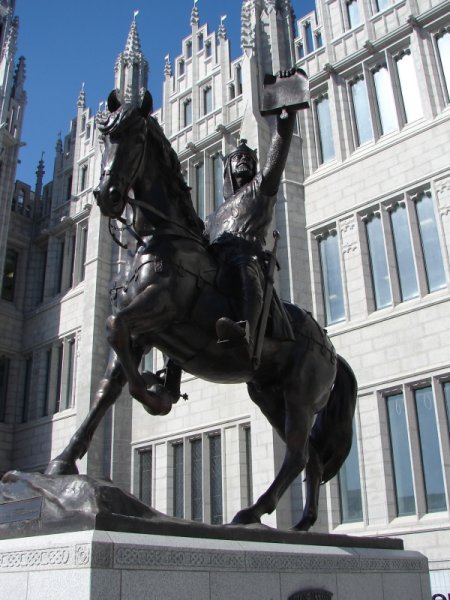 Before the Wars of Independence, there were thirteen earldoms in Scotland. This number remained unchanged at the time of King Robert's death in 1329.
He recreated the earldom of Moray in 1312, but he destroyed the earldom of Buchan. John Comyn, the last Earl of Buchan and Constable of Scotland, died childless in 1308; his only heirs were his brother's two daughters.
He had been an irreconcilable enemy of the Bruce.
The ancient earldom of Buchan was chopped to pieces. Half of it went to Margaret Comyn, one of Earl John's nieces, and therefore to her husband John, the Earl of Ross. The other half escheated to the Crown because Earl John's other niece, Alice, had married Sir Henry Beaumont and had become irretrievably English. Many of the leading Comyns had been killed at Bannockburn; others fled to England. Those Comyns remaining in Scotland became merely one clan amongst many, often engaged in ferocious and destructive conflict with their neighbours.
The forfeiture to the Crown of this latter half of the former earldom of Buchan, of lands hitherto belonging to John Comyn, Earl of Buchan, and John Comyn, Earl of Badenoch, enabled King Robert to give away large tracts of land in reward to faithful followers, mainly Anglo-Norman and Saxon families from the Borders and Lothians – the Gordons, Keiths, Hays, Leslies, Frasers, Burnetts, Johnstons and Irvines.
The largest share went to the Keiths, Sir Robert Keith the Marischal and his brother (and heir) Edward, in the form of Aden and many other estates in the heart of Buchan, and at Methlick, Monquhitter, New Deer, Ellon, Longside and Foveran.
This had the effect of moving the main centre of that family's interests from East Lothian to the north-east of Scotland. Sir Gilbert Hay of Erroll was granted the lands and castle of Slains, and was made the Hereditary Great Constable of Scotland. The office of Constable has been held by the Hays of Erroll ever since.
Sir Robert Boyd of Noddsdale in Cunningham received grants of land enabling the Boyds to become major landowners in Kilmarnock and the south-west of Scotland. Archibald Douglas got Crimond and Rattray. None of these men were mere upstarts or adventurers, but they all gained from the Comyns' losses.
King Robert did not pursue any kind of murderous vendetta against the kinsfolk of the Red Comyn and the Earl of Buchan. Families of this name occupied a respectable, but never again dominant place in the north of Scotland of the later Middle Ages. A considerable body of those Comyns who remained in Scotland changed their name to Farquharson; elsewhere, the name became Cumming, or Buchan.
King Robert rewarded only a few men with really large grants of land and power, and they were almost all his own close relatives
In the same manner, the Strathbogie estates of Earl David of Atholl were granted to the prominent Berwickshire magnate Sir Adam Gordon, commencing the dynasty of the Gordons of Huntly. In 1449, Sir Alexander Gordon was created 1st Earl of Huntly by King James II. In 1452, King James similarly elevated Sir William Hay to the rank of 1st Earl of Erroll; then, in 1457, King James raised Sir William Keith to the rank of 1st Earl Marischal.
These three families – the Gordons, the Hays and the Keiths, with their respective strongholds at Huntly, Slains and Dunnottar – dominated the subsequent history of Buchan and Aberdeenshire, the Garioch and the Mearns. In 1599, George Gordon, the 6th Earl of Huntly, was created Marquis of Huntly by King James VI. The 4th Marquis was made Duke of Gordon in 1684, but the 5th Duke died without issue in 1836, and the title of Duke of Gordon became extinct.
King Robert I's sole innovation in terms of earldoms was his creation, in 1312, of an earldom of Moray in favour of Thomas Randolph. The earldom of Moray consisted of lands the Crown had held in Moray since the time of King David I (1084-1153), including the Red Comyn's lordships of Badenoch and Lochaber.
This was more or less equivalent to the lands and rights of the old mormaers – the Celtic earls – of Moray, the last of whom was MacBeth, born 1005 and who, in 1040, killed and succeeded King Duncan I. MacBeth was a powerful and effective king, the last Celtic king of Scotland, until his defeat by Malcolm III (Canmore) at Dunsinane in 1054, and his subsequent death at Lumphanan in 1057.
King Robert rewarded only a few men with really large grants of land and power, and they were almost all his own close relatives. The most favoured were the Stewarts, to whose heir, Walter, King Robert gave in marriage his daughter Marjorie, his only legitimate child, in 1315.
The royal house of Stewart (or Stuart) was thus the creation of Robert Bruce. The Stewarts, long-standing close friends and supporters of the Bruces, became the greatest landowners in Scotland in the 14th century, much as the Comyns had been in the 13th century.
Robert Bruce's first marriage, to Isabel, the daughter of Donald, the Earl of Mar, is thought to have lasted about six years. Marjorie was their only child, and was 21 or 22 when she died in childbirth in 1317, following a fall from her horse.
Edward Balliol was crowned at Scone in 1333 before being chased back to England.
The infant survived and was named Robert Stewart. Bruce's second marriage, to Elizabeth de Burgh in 1302, was marred by eight years of enforced separation when she was a prisoner of the English, but they had four children, of whom David, born 5 March 1324, became Bruce's sole surviving male heir.
Robert Bruce died at his house in Cardross, just across the Firth of Clyde from Dumbarton, on 5 June 1329. He was still only 55, but had been seriously ill for at least two years, almost certainly a victim of leprosy.
King Robert was succeeded by his young son David. The effect of this was that, by the 1330s, the giant figures of Robert Bruce, James Douglas and Thomas Randolph had all departed the scene, and the Throne of Scotland was now occupied by a child of five. This was of obvious advantage to King Edward III of England, and to enemies of the Bruce dynasty – those disinherited of offices and lands by King Robert I, among them Edward Balliol, son of King John.
Edward Balliol regarded himself, with some reason, as the rightful King of Scotland, and was a more assertive individual than his father. An invasion was staged in 1332 and a puppet regime was set up under the support of Edward III of England. Edward Balliol was crowned at Scone in 1333 before being chased back to England.
Bruce's son, David, returned to claim his kingdom in 1341, aged seventeen. As King David II, he staged a series of raids into England, and was captured at the Battle of Neville's Cross, near Durham. He remained a prisoner until 1357, when the Scots agreed to pay an enormous ransom for him.
David II has traditionally been regarded as a worthless and incompetent ruler. He died suddenly in 1371, leaving no direct heir.
The Scottish throne passed to David II's nephew Robert, the son of Robert Bruce's daughter Marjorie, who became the first Stewart king of Scotland, as King Robert II. He was already aged 56 and in poor health, and showed little flair for kingship. He had fathered 21 children of varying legitimacy, including Alexander Stewart, the infamous "Wolf of Badenoch".
On his death in 1390 the throne passed to his eldest son, John, who adopted the name King Robert III. Despite being the great-grandson of Robert Bruce, he was neither intellectually nor physically equipped to rule an increasingly lawless and disordered country like Scotland.
By 1399, most of his authority had  transferred to his younger brother, the Duke of Albany, and his eldest son, the Duke of Rothesay – the former an ambitious schemer, the latter a licentious profligate. In 1402, Rothesay starved to death whilst held prisoner in Falkland Palace by his uncle Albany.
Early in 1406, King Robert III sent his younger son James, aged twelve, to safety in France. Prince James was captured by pirates and handed over to King Henry IV of England, who kept him prisoner in the Tower of London for 18 years. King Robert III, describing himself as "the worst of kings and the most miserable of men", died, possibly of a broken heart, in April 1406.
The Duke of Albany became Regent until his death, aged 83, in 1420. He had been effectively in charge of Scotland for some fifty years, on and off. Albany was succeeded as Regent by his incompetent son, Murdoch, until 1424, when, by popular demand – and on payment of a huge ransom of £40,000 – the now thirty year-old Prince James was allowed by King Henry V of England to return to Scotland to be crowned as King James I.
He was the first of the Stewart kings, descendants of the legendary Robert Bruce, really to amount to anything.