By Fred Wilkinson.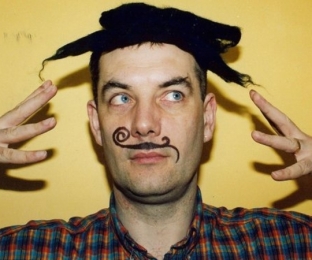 The year is 1979. I am at Aberdeen's 62 Club to watch a selection of local punk bands, and my attention is drawn to an unfamiliar name on the bill.
Sid Ozalid? A band?  A guy? Pretty punk if slightly strange kind of a name though, which for an 18 y.o. punk diehard was somehow reassuring.
On stage appeared a tall, skinny, slightly weird-looking guy with no guitar. Not punk – not punk at all, which in the circumstances was all the more intriguing.
What happened next was somewhere between seeing the light and being scarred for life.
Out of a sudden discharge of nervous energy came an onslaught of surreal, silly verse spliced seamlessly with a bunch of broken anecdotes delivered at a pace leaving no pause for appraisal; accompanied by incongruous, disjointed, directionless dance moves which somehow worked – they must have worked, as somehow, he stayed on his feet.
Then it was over. I had not moved. I was still staring at the empty stage, and I remember thinking: "I hope no-one asks me what I made of Sid Ozalid."  Devoid of reference points, my thoughts were a long time coming. Yes, I found it funny, and yes I was immensely entertained – I just didn't know why! Neither punk nor Python, neither Cutler, Cooper nor Cooper-Clarke, Sid Ozalid certainly breathed the same air, but did not walk on the same planet.
Would I perhaps find a clue to understanding what made Sid tick from his publicity around at the time? –
"Legend has it that Sid Ozalid was born sometime during an eruption of earwigs.
"Sid arrived on earth from the planet OZ in the year 1898. His spaceship was disguised as an old brown suitcase that was full of inflatable toys.
"During this period he specialised in walking backwards into hat stands.
"Six years later he split from Flying Ozalids to form Sid and Sam the Ozalid Twins. This dynamic duo thrilled audiences with their routine entitled 'The First pickled Onion in Orbit', but alas this too came to an abrupt end due to lack of cupboard space"
– Alas, No.
Fast-forward to the following evening.
Three troublesome fat ladies, a conductor named Russ and a womanising fire raising tortoise had taken up permanent residence in my consciousness, and it seemed that the only way to exorcise these delightful demons, and at the same time come to terms with the experience was via demonstration to the uninitiated.
And so there I was outside with my brothers and sister and a few chums, recounting those fragments of verse I could recall whilst attempting in vain to recreate those unique 'dance' moves.
Perhaps an observer of the 'lite' version would be better placed to help me understand what it was about Sid that had so affected me. No chance. They stood – as I had stood, and stared – as I had stared, and laughed. That evening, each time another chum arrived in our company came the call:
" Hey Fred, go dae yer Sid Ozalid, watch ess, it's really funny "
The previous evening Sid had performed for around 15 minutes. Twenty four hours later, I must have performed twice as long armed with only about 30 seconds of Sid's material. More than once, passers-by stopped on the other side of the road … then moved on when they ascertained I was not in need of medical assistance.
As I look back I realise this was a solid indication that Sid Ozalid would be around for some time to come, and would become, if not a legend, definitely an icon of the Aberdeen Entertainment scene.
I was not the only one for whom Sid Ozalid presented an enigma:
" he auditioned and was invited to perform on two different talent shows. Once again the producers liked what Sid was doing but did not know how to describe him. They settled for 'eccentric'. " – Douglas John Mclean Cairns
Thirty two years on, having enjoyed many more of Sid's performances, yet being no closer to understanding exactly how to explain what it is about Sid Ozalid's act that entertains, amuses and excites me, I find myself charged with the task of reviewing his brand new book:
"Mr Elastic Brain – The Life And Poems Of Sid Ozalid".
Having just finished reading it, I find myself desperate to tell everyone to go get themselves a copy as soon as possible, but as with my impression of that first performance, I struggle to articulate why it will be worth more to you than a tenner. But I will try.
These days, I know Sid Ozalid by his not so 'pretty punk, and kinda reassuringly strange' name Douglas Cairns …. which is actually more reassuring.
So, where to start?
This is an autobiographical book in four parts, about Sid Ozalid, written by Douglas John McLean Cairns. Or is it? As with all things Sid Ozalid, it is the equivalent of an 'any-way-up' cup as the first part of the book demonstrates.
Even to someone as familiar with the writer as I am, It startles me to discover that the madness which fuelled the performances of Sid Ozalid and brought so much pleasure to many also had an alter ego in the shape of a mental illness which had a devastating effect on Douglas Cairns for a period in 2001 – and as a consequence, all but put an end to Sid.
"People had always told Sid he was mad. He thought they were joking until the dawning of the new millennium, suddenly he had a doctor's certificate to prove what people had been telling him for years." – Douglas John Mclean Cairns.
Here it is we find – in between some hilarious stories of Sid's outrageous antics and adventures – an honest account of the extent of Douglas' illness, punctuated by humour of a nature that can only be explained in terms of Douglas' story being written by Sid.
It is difficult to pinpoint where ownership of the pen changed, but what results is uniquely unsettling, and simultaneously entertaining. For Sid to joke about Douglas' dark and desperate situation is surely to run the risk being regarded as sick … but then, at the pertinent time, they are both sick aren't they?
I don't have the recipe, but I am pretty sure the main ingredient is his ability to appeal to our inner child.
However, at no point does the humour mask the pain, the lighter asides serving only reinforce the severity of the debilitating condition by way of contrast. It is a brave piece of writing, sandwiched between hilarious tales of the more familiar and wonderful madness of The Artist Formerly Known As Sid Ozalid.
The major portion of the book's contents is a collection of Sid's wonderfully bizarre and humorous poems and songs which were the mainstay of his act from 1977 to the present day. Similarities with this material and that of Spike Milligan are impossible to ignore. However, to leave it at that would be to compare a wedding cake with a rowie on account of their flour content.
So am I any closer to putting into words what is the magical appeal of Sid Ozalid?
Well I don't have the recipe, but I am pretty sure the main ingredient is his ability to appeal to our inner child.
Didn't we all spontaneously giggle and cackle as babes in response to the simplest and the silliest of things? A pulled face? A silly noise? The poking out of a tongue? A sudden unexpected movement or gesture? Anything at all unusual yet unthreatening? When did we stop being so spontaneously and so thoroughly amused? Did we stop giggling, or did our adult entertainers decide our needs for entertainment lay elsewhere?
If nothing else, Sid Ozalid demonstrates that our inner child is still with us and desperate for a giggle, and the mere fact he knows our tickly spot is enough to make us all the more tickly.
If there should ever be an Aberdeen Entertainers Hall of Fame, Sid Ozalid will be there. He will be neither a statue in the foyer, a framed picture on a wall, or a prized prop or instrument in a glass case. The broom cupboard will be as good a place as any to start your search, but when you track him down he will be possibly be represented by that item described within the spontaneous lyrics of a similarly strange and hilarious Scots band.
" I'll perhaps take a piece of white bread and I'll paint it brown so you think it is brown but when you toast it it's actually white for the paint falls off " ( from the album Hairy Scalloween by The Pendulums. )
Footnotes.
Mr Elastic Brain – The Life And Poems Of Sid Ozalid by Douglas John McLean Cairns is published by Chipmunka Publishing which specialises in giving a voice to people with mental health and other issues.
The profits from sales of Mr Elastic Brain are being donated to MIND – a leading mental health charity.
"We campaign vigorously to create a society that promotes and protects good mental health for all – a society where people with experience of mental distress are treated fairly, positively and with respect." – http://www.mind.org.uk/
Aberdeen Voice will present a sample of Sid's poetry in the coming weeks – if that's OK with Sid, or Douglas, or both – so you can judge for yourselves should you miss all three performances in town this weekend.
Geesalaff Comedy Night
Friday, May 27 at 8:00pm
Cellar 35, Rosemount Viaduct
( Sid onstage around 21.00pm )
The Big Acoustic Night Out!/ Traditional Amplified Music Session
Friday, May 27 at 9:00pm
The Blue Lamp, 121 Gallowgate
( Sid onstage around 22.30pm )
Book Launch and Performance !!!
Saturday, May 28 at 4:00pm
1 UP Records – 17 Belmont Street