By Julia Ghisoni.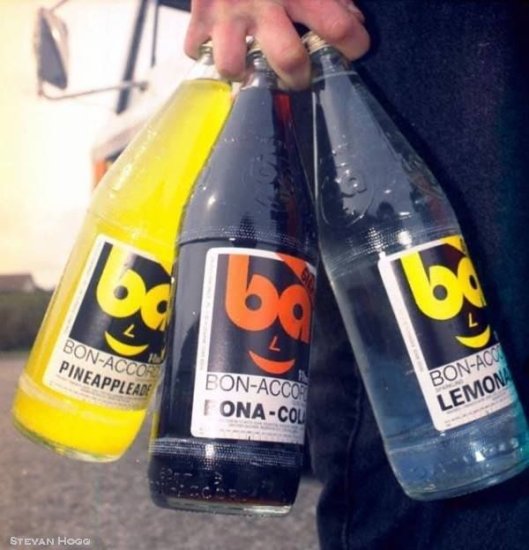 Fae Greyhope Road, fully stowed,
The wagons crossed the toon,
Fae hoose tae hoose, wi' crates o' juice,
The Bon Accord ale loons.
Fae Auchinyell tae Counteswells,
Tillydrone tae Seaton,
Mass distribution o' sugar solution,
For kids tae rot their teeth on.
They delivered Cream Soda an' Bona-Cola,
In their orange motors,
Baith affa fine, for loons an' quines,
Tae mak' their ice cream floaters.
Syphons of soda, sweet Red Kola,
Orangeade like nectar,
No contest, they were always the best,
In the fizzy drink business sector.
Amongst fit they made, wiz Pineappleade,
Lime and Tropic too,
Peppermint cordial, that I thought wiz horrible,
Although the blackcurrant would do.
They drove their loads on a' the roads,
Fae Summerhill tae Torry,
Throughout the 'deen, there would aye be seen,
A Bon Accord ale lorry.
Image: Bon Accord Lemonade Bottles by Stevan Hogg. Creative Commons Licence
Comments enabled – see comments box below. Note, all comments will be moderated.