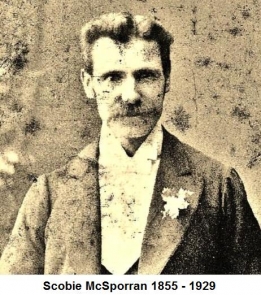 Gubby Plenderleith,
our Literary Editor, reports on a find which has rocked Scotland's literary world.
The Scottish literary establishment is charged with anticipation over the announcement this week that a number of previously unknown poems by Scobie McSporran, 'The Bard of Balmaha' are to be published next month.
I spoke with Torquil Abercromby, a senior researcher at Freuchie University, who was approached last year by a woman claiming to be McSporran's great-granddaughter.
He told me:
"She telephoned me completely out of the blue and said that she had a number of the poet's unpublished works which the family had kept in storage since his death. She wondered whether the University would be interested in reading them.
"To be honest I was a bit sceptical at first.  Here was someone saying they had unpublished works by one of my favourite Scottish poets and asking me whether I'd like to read them. It was all pretty unreal at the time and I wondered if it was one of my students playing some kind of practical joke."
Happily, Abercromby put aside his initial dubiety and met with the woman who had contacted him. She wishes to remain anonymous.  He was, he told me, bowled over by what she showed him. He was also fearful that unless he acted quickly, she might take these literary jewels elsewhere, and so he lost no time in contacting the University authorities who fortunately were able to make sufficient funding available for the publication of a slim volume.
The resultant book, although limited in size, also contains some notes on McSporran the man, tracing his journey from apprentice shoemaker to running the family business himself, before handing it on to his two sons in order that he could become a full time writer.
This new publication also details some of McSporran's travels round Scotland, and documents the way in which he summoned up the spirit of the simple man, choosing to write about everyday subjects rather than the more grandiose themes chosen by some of his contemporaries.  His method of achieving this was to take to the road, living the life of a vagabond – a period of his life which, in his later years, McSporran looked back on with great fondness.
Speaking in 1928, a few months before his death, he told the writer Rudyard McGillicuddy that the day he gave up control of the family business for life as a vagrant was the happiest of his life.
As McGillicuddy recorded:
"Scobie was a free spirit who wished to be bound by no man, creed, or obligation.  As for the family business, he told me that his father, grandfather and great-grandfather had all been shoemakers before him and as he himself remarked,'yon's a lot o' cobblers.'"
Abercromby is keenly protective of the publication of these works, which he sees as a landmark in the country's literary landscape. He is extremely reticent to give away too many details of its contents.  Aberdeen Voice is, therefore, exceptionally privileged to have exclusive permission to print two poems which elegantly demonstrate McSporran's fascination with the everyday topics of the weather, and unrequited love.
IT'S DINGIN' DOON IN DINGWALL
It's dingin' doon in Dingwall
An' it's snawin' up in Skye,
There's hailstones o'er in Helensbru'
An' a snell north wind forbye,
But we're snuggled warm an' toastie
In oor wee bit heilan' hame,
So the warld can pass ootside oor door
An' lea' us a' alane!
TO JEAN
Oh dearest Jean, my cushie-doo,
I crave your tender bosy
An' a kiss frae aff your tender lips,
So warm an' saft an' rosy.
I saw you first in Januar,
When the snaw wis oan the dyke –
You were lying at the roadside,
Havin' fa'en aff yer bike.
But I stopped and helped you oan again
An' waved a fond goodbye,
As you pedalled aff tae Cowdenbeath,
Your messages to buy.
But that was ower a year ago
An' I've no' seen you syne,
So maybe it's a portent,
That you never will be mine.
'The Sabbath, Sin and Stovies', a collection of poems by Scobie McSporran, is published by Wanchancy Press on 20th August.