Last week's Voice featured Aberdeen entertainment icon Sid Ozalid, his life, his act, his impact, the release of his new book, and news of 'not to be missed' performances in the city. Well, If you did happen to miss out on catching Sid live on Friday and Saturday, then fash yersel not – this week we present a brief account of the missed mayhem, and a poem from 'Mr Elastic Brain'.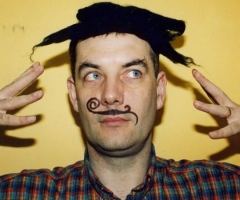 Sid Ozalid jetted in from Sunny Amsterdam last Friday for a whistle stop tour of Aberdeen to promote his fab new book 'Mr Elastic Brain – The Life and Poems of Sid Ozalid'.
The previous week he had done three gigs in London and the week before that three gigs in Holland, so he was keen to make it a hat trick and do three gigs in Aberdeen.
This meant two gigs on Friday night and a book signing/performance at 1UP on the Sat afternoon.
Below –
Sid Ozalid performs 'Tartan Underpants'  accompanied by Dave McLeod.
Lots of people made one gig, a few brave people made it along to two gigs, but apart from Sid and his lovely wife only one person made it to all three:  a Mr Colin MacLean who had driven up from the Kingdom of Fife to see Sid after an absence of 26 years.
Colin and Sid had performed together in 1977 in one of Aberdeen's first punk bands, 'The Enormous Snakes,' and Colin had gone on to work with Sid as one of his All-Stars over a number of years, taking in the Edinburgh Festival and supporting The Clash at Inverness Ice Rink.
The first two gigs sizzled with professionalism, wit and dancing. The 24 year-old MC at Geesalaff Comedy Night, Miss Anna Devitt said:
"I was exhausted just watching; he was non-stop, how can someone this old have so much energy?  My mum is a big fan and told me to get one of his books, the book truly is amazing, so I told mum to get her own copy."
The third gig at 1UP, the sole suppliers of Sid's book in Aberdeen, was the most surreal by far.
Sid performed 'Salvador Dali's Hat', 'Three Fat Ladies at the Bingo Hall,' and thrashed himself with a daisy — but nothing had prepared him for two drunk shoppers and a man in an electric wheel chair.
The drunk shoppers really giggled at Sid's antics, but thought nothing of standing next to him flicking through CD's and asking his opinion on Hip Hop and Jazz classics.
Sid took all of this in his stride and was set the extra challenge of being nimble on his feet when the electric wheelchair man was so taken by the performance he decided to join in, whizzing to the stage and joining Sid on the first electric wheelchair elastic brain dance routine ever seen in Aberdeen. Sid may well have been the dance teacher to the Queen at one time in his life, but nothing had prepared him for this!!
Some nice people had ordered Sid's book from Amazon and brought it along to be signed, and other nice people bought copies of the book at 1UP, and there then followed a good half hour of chatting and book signing.
A special mention must go to Fred Craig of 1UP who had brought along one of Sid's original book/records from 1982 'Songs and Stories from a Suitcase Extravaganza.'  Fred wanted this signed, and in return Sid was rewarded with a well deserved cup of tea.
With all profits going to MIND for better mental health Sid was a happy man.
http://www.mind.org.uk/
Tartan Underpants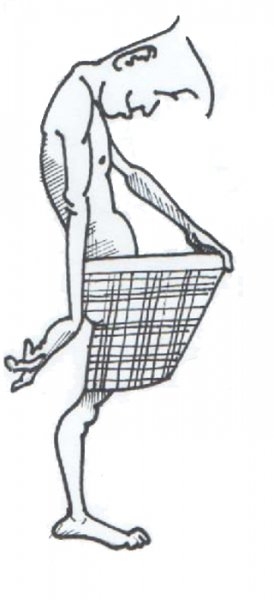 They are groovy they can dance
They can put you in a trance
That's my tartan underpants
Tartan underpants ooh
Tartan underpants ooh
You can use them as a tent use then as a hanky
One thing is sure there's never hanky panky
In my tartan underpants
Tartan underpants ooh
Tartan underpants ooh
I don't drink whisky don't eat haggis
Go to bed with a girl from Paris
In my tartan underpants
Tartan underpants ooh
Tartan underpants ooh
My pants are funky they know what to do
Goodbye boxer shorts it's the Y Front crew
That's my tartan underpants
Tartan underpants ooh
Tartan underpants ooh
I'm a boring old folk singer
Philip is my name
My mother is a miner
My sisters on the game
I've a face like a scrotum
Wear an Arran jersey
Nobody likes me
I've got bad breath
Claymore !!!
My old sheep ran away
my dog is very angry
He hasn't slept all week
And likes a drink of shandy
Ben Nevis !!!