Paul McDonald reports from the Fox Watch demonstration on Saturday 16th July at Peterculter Golf Club in protest regarding the club's decision not to ban convicted fox batterer Donald Forbes.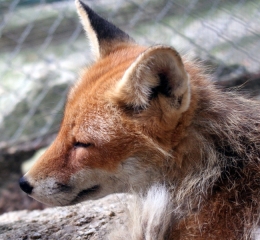 We arrived at approximately 12:30pm and were greeted by a 'representative' of the golf club who turned out to be a lawyer.
We were on private land – the whole of the road in the surrounding area apparently belongs to the golf club right up to a fairly distant bridge. At first he had no issues with our presence, although he did request us moving into the car park to stage the protest.
As a compromise, we moved to the car park when press arrived as I assured  him we would continue our protest there, but only after the Press had taken pictures of the protesters next to the Peterculter Golf Club sign.
Conversation with the 'representative' – aka the club's lawyer
In terms of the conversation about what we wanted – I informed him that we wanted:
a) the golf club to ban Donald Forbes and
b) to stop culling foxes (a fact which I was informed of by a source who wishes to remain anonymous). After the rep outright denied there was a fox cull policy in place, he told that me it was the decision of a committee to decide whether or not Forbes would be banned.
I asked to speak to a committee member and was told "nobody from it is present" and that he was 'just a messenger' who had nothing to do with decisions. He then asked if I had a petition to hand over.  I replied that I wanted to do it in view of the press. He agreed, and went back inside.
The cavalry turns up
As cars drove into the car park, leaflets detailing the incident involving Donald Forbes clubbing a tame fox to death for taking his biscuit, and the refusal of Peterculter Golf Club to ban him were distributed, with the vast majority of customers being supportive to our campaign. Soon afterwards, a convoy of activists turned up, boosting our number considerably.
Protesters were handed high-vis vests and asked to hold banners with slogans including:
'Don't Cull the Cubs',
'No Shame in Golf Clubs, Every Shame in Fox Culls',
'Killed for Stealing a Biscuit',
'Play Golf all Day Long but Killing Foxes is Wrong'.
– Two activists were brave enough to don fox costumes!
 Press and Journal and Evening Express  photographers and reporters arrived. The club's rep was became uncomfortable and asked we'd go to the car park as people were about to tee off. He reluctantly agreed to allow a few minutes to have photographs taken!
The lack of a true representative
The press wanted a picture of the petition being handed over to the club's rep, and set up a shot with all of the placard  holding  activists present.  I asked to be photographed handing him a packet of biscuits. The rep refused claiming I was 'being silly'.
I explained that I was merely proving a point. This fox was killed for no more than a biscuit, and if he found it silly to be handed a packet of biscuits, then surely he also found it equally silly that a fox could be killed over something as trivial as a biscuit.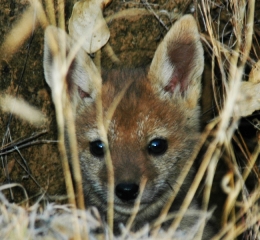 He did tell me he sympathised with us, but that it was not his decision. I find this hard to believe considering his behaviour and inability to answer as to why Donald Forbes has not been banned. I cannot accept that the committee were not available to discuss the issue. They have avoided my emails, letters and phone calls, and now a personal visit all the way from Liverpool.
They clearly know they are wrong.  They sent out a lawyer to speak to protesters as they can't deal with the issue themselves. I can safely assume it would be a different story if I was a wealthy customer seeking to become a member.
The petition
Thanks to the valued support of compassionate people, we achieved a total of 297 signatures for the petition ( in less than 3 days!). Handing the petition over was a visibly uncomfortable moment for the club's rep, who was forced to hold one part of the petition whilst I held the other as the photographs were being taken.
The highlight was undoubtedly when we were asked to look at each other for a photo whilst holding the petition.
The rep simply couldn't look at me. He let out a nervous laugh when asked but continued looking elsewhere.
The culling issue
When asked by the press, I stated that I wanted to have Donald Forbes banned. How is it that a member can commit an act of animal cruelty on the course, be convicted, and still be welcomed as a member? What message does that send to other members of the club?
Regarding the the cull policy, I was not able to confirm anything with the club beforehand as they refused to comment.
But what conclusion can be drawn when they refuse to answer? What are they hiding?
Interestingly, I was then told that they would only cull foxes if they posed a significant threat to humans. I told the rep I could not think of a situation whereby a fox could actually pose a significant threat to a human.
I have reason to believe they either cull foxes on their land, or allow people on their land freely to shoot foxes, officially or not, and I will be seeking evidence of this from my unnamed source. I told the rep to state in writing that that the club do not endorse a fox cull policy and have provided him with an email address.
The outcome
Before leaving, I told the rep to inform the committee that unless Donald Forbes was banned, there would be more protests. The press asked for Donald Forbes address before leaving in order to obtain a statement from him. Regardless of whether he was approached for a statement, he will certainly know the demo took place.
So far I've heard nothing from the club about banning Forbes or about the fox cull policy.
However, I'll be sure to update here.
This is by no means over – Fox Watch will keep up the pressure to ensure Forbes is rightfully banned from this club.
Image credits:
Fox © Mikhail Blajenov | Dreamstime.com
Little Fox © Nicolaas Weber | Dreamstime.com