Almost every time Karin Flavill looks at the design for the Granite Web, the same question comes to mind. "What would Howard Roark think?" Intrigued? Read on.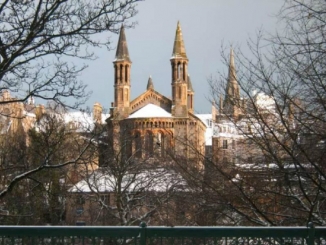 Howard Roark is the hero of The Fountainhead, a novel by Ayn Rand.
Rand is a controversial writer; aspects of her objectivist philosophy were transported across the Atlantic decades ago and transformed into what we call Thatcherism, so it's safe to say that she draws strong opinion, from those who have heard of her, both here and in the US.
The attraction of The Fountainhead for me was that it gave me a glimpse into the unknown, that a philosophy designed to help the wealthiest members of society feel not simply financially superior to those who struggle, helps them feel morally superior to them too.
What is it that tyrants see that allows them to derive a sense of well-being when they look in the mirror? Reading Rand can help you find out, even if it's unlikely that in reality, many of society's bullies and elitists have the personal qualities and ethics Rand depicts in her heroes.
Roark may be a more interesting and relevant reference point than some other fictional characters who have entered the Granite Web versus Union Terrace Gardens debate. Jake the Ghost and Morris the Monkey for example, as promoted by the BIG Partnership, seem to have a peculiar and hopefully incorrect impression of what moves Aberdonians to vote.
Roark is his own man, and is Rand's idea of the Perfect Man. A gifted and original architect, loathed by the majority for his innovation and commitment to the future, he despises architecture which draws irrelevantly from the past. His designs are modernistic and often hard for people to understand. The few who do understand become his friends, and are held up to the reader as exemplary beings.
In some ways, Howard Roark would seem to be another ideal spokesperson for the City Garden Project. On the other hand, this objectivist hero's deepest contempt would be reserved not for those who disliked his designs, but for that partnership between business and government which is so conducive in the long run to crony capitalism. Hello, ACSEF.
  The pro-Union Terrace Gardens lobby regards the existing Gardens as a unique prize which could be something magical
Leaving the politics aside for a moment, would Roark look at the design and love it? I don't know. I'm not an expert on architecture, but I do know a little more about people, and about conflict, and about the factors causing people beginning to feel alienated in their own city. Such doubts seem to be at the heart of this debate.
The pro-Granite Web lobby feels that Aberdeen requires a drastic makeover for it to become a place they would want to continue living in and that others would want to move to. The pro-Union Terrace Gardens lobby regards the existing Gardens as a unique prize which could be something magical if only people who understood it were listened to. The original Peacock Visual Arts design symbolises what could have been.
Throughout The Fountainhead, examples and analyses of the character's genius as an architect are provided. One passage is, for me, particularly telling. Self-made man Mr Mundy has heard that Roark is a great architect, and would like Roark to design a house for him. Roark meets with him to ascertain what kind of man he is and subsequently what kind of house he would be happiest in.
"There was a place," said Mr Mundy, "Down there near my home town. The mansion of the whole county. The Randolph place. An old plantation house, as they don't build them any more. I used to deliver things there sometimes, at the back door."
He goes on to describe the ways in which he would like to recreate that dream house, the house of his aspirations. From what we already know of Roark, he would dislike the notion of recreating something from the past. However, that's not at the root of his disapproval of Mr Mundy's aspirations. This is:
"It's a monument you want to build, but not to yourself. Not to your life or your own achievement. To other people. To their supremacy over you. You're not challenging that supremacy, you're immortalizing it….Will you be happy if you seal yourself forever in that borrowed shape?…You don't want the Randolph place. You want what it stood for."
In other words, it's not simply technical skill, the vision of the artist and the ability to give the client what he wants that makes Roark a great architect. He sees who people are, not as they want to be seen, or as they try to be seen, but as they are. It's this ability to look past the hype, the pretence, self-advertising and PR that enables Roark to build houses in which people can feel truly at home.
Think of your own dream house. Would it be one that somebody else had designed? A talented design team who would create something that was a compromise between their personal tastes and your picture of who you would like to be? Who furnished it in accordance with those same principles? Would it be your home, or would it be a design piece reflecting aspirations of who you wish you were, rather than who you really are?
  Who are we, in Aberdeen? A conflict like this forces us to consider that question in some depth
The promotional video for the Granite Web presents a futuristic world peopled with white, transparent figures ambling aimlessly through flower beds, staring uncomprehendingly at car parts dangling from a roof, drinking coffee. Observe, consume, observe and consume.
These transparent figures aren't creators or innovators. They simply absorb, passively, that which has been transported from elsewhere to make the city seem more impressive to outsiders. A place that might, at some future date, be awarded City of Culture status!
The promotional literature keeps insisting that this will be the people's park. It encourages readers to imagine themselves consuming all that the park has to offer, in the belief that this will result in them achieving a sense of ownership over it. There will, we're promised, be spontaneous performances, but it's not clear who will provide these. Perhaps musicians drafted in from outside.
Who are we, in Aberdeen? A conflict like this forces us to consider that question in some depth. My impression, living here, has always been that Aberdonians tend towards reserve, despite night-time scenes on Union Street when alcohol loosens inhibitions. The notion that we can buy a totally different character for Aberdeen, via an expensive raised park, seems dubious at best.
Union Terrace Gardens exemplifies the typically reserved nature of the Aberdonian. Like a Christmas tree that contains only a few, semi-concealed fairy lights, it is capable of emitting the magical quality that a garishly decorated tree cannot. The magic of mystery and discovery, and something very different from the usual variation on the iconic city centre park that is springing up all over the world.
One person's iconic, radical, inspirational park is another person's pretentious vision of future dystopia. I'll admit I belong to the latter category, which is why I've already voted to retain, and improve, Union Terrace Gardens. Peacock Visual Arts was a local initiative which would have provided a place where people interested not just in consuming the arts but in contributing actively to them could have congregated. That was an exciting notion.
The Granite Web, on the other hand, constitutes yet another 'space' in which the people who live here may perform a passive consumer role.
Sir Ian Wood believes that he is giving Aberdeen a gift, and has expressed hurt that many in the city fail to appreciate this. The difficulty is that altruism doesn't always create a sense of self respect in the recipient.
The price paid for that altruism is that the opportunity to create and innovate is taken away from people in the community, limiting their opportunity to participate to that of being passive consumers. For some, regardless of the risk of being branded ingrates, that may be too high a price for them to enter voluntarily into this particular contract.