Controversial plans to plant 89,000 trees on Tullos Hill backed by Aberdeen City Council are under fire from the public, community councils, animal charities and experts. A new initiative to preserve this crucial wildlife habitat as meadowland was launched today by Councillor Neil Cooney and campaigner Suzanne Kelly.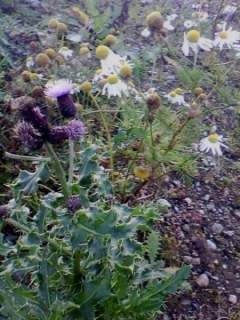 The Tullos Hill Roe Deer, approximately 30 in number, have survived on the Hill for over 30 years but will face years of culling if the tree scheme goes ahead.  The deer normally live for 6 to 7 years.
This cull would cost the taxpayer approximately £8,000 over 2010-11, £14,000 over the following 4 years, according to Aberdeen City Council.
The scheme has already seen the City hand back £43,800 of grant money, as the previous planting failed for a number of reasons.
Reports show that the wrong size tree guards were used (120cm size had been recommended; 90cm had been used instead) and that soil issues and weeds were to blame in part for the failure.  The deer were not the only factor in the tree failure, but the council stresses the need to use the 'most economical' means to plant the trees. 
Vandalism has hit planting sites as well.
Some members of the Council now claim that  culling is a normal part of land management and is required – this claim had not been made prior to the tree planting scheme as far as any research can demonstrate.  The deer are not starving or suffering, and with 30 deer on the hill and 89,000 saplings proposed, humane methods of having tree and deer are possible, according to experts.
The council omitted mention of the deer cull from its public consultation which closed in January 2011, although this document went into detail about managing rabbits by means of fences.  The council also omitted to say the planting would require 2-3 years of weed killer being sprayed on the hill.
The cost of this spraying, the effects on the existing wildflowers, animals and the public (housing, a school and factories are nearby) has never been fully explained.  Tullos Hill also has soil issues  and there are dozens of small archaeological remains which would be threatened or could even be destroyed by the tree planting.
After the cull plan was discovered and made public, the Scottish Society for Prevention of Cruelty to Animals branded the move 'abhorrent and absurd', although the Society recognises the needs for deer culls for reasons of animal welfare.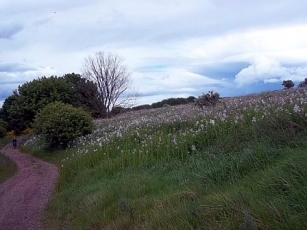 However, the idea to kill deer for this scheme was strongly condemned by the Scottish SPCA and other animal welfare organisations including Animal Concern.
A move was made to ask the public for money to avoid the cull by the City's Housing & Environment Committee.
This move was called 'blackmail' by citizens and animal charities.  Dame Anne Begg, MP, wrote at the time of the move saying that to ask the public for £225,000 to avoid the cull was "an appalling attempt to fudge their (the Housing Committee cull proponents') responsibility."
Suzanne Kelly, campaigner against the tree planting and the cull said,
"We have a beautiful meadow filled with plants and animals – it is a biodiversity haven.  Nearby meadowlands at Cove are being given over for housing and development, and lands at Loirston which are grass and meadow will be turned into a football stadium. Aberdeen stands to lose a huge portion of its meadows south of the city centre, and yet wants to turn this meadow ecosystem into a forest. 
"Thousands of concerned residents objected to the tree scheme by letter and petition once the cull was made public – and that was before we knew about the returned grant money and the weed killer.  Four community councils are on record as opposing the scheme representing thousands more people.  (Torry Community Council voted unanimously to condemn the cull and the scheme – but their letter somehow never reached the City). 
"Yet the City refuses to listen.  The City has been saying the scheme is 'cost neutral.'  It now emerges that the application is not even finalised, and £43,800 in grant money had to be paid back for a previous failed planting on Tullos.  This is hardly 'cost neutral' – in fact, calling this scheme 'cost neutral' seems positively misleading 
"We hope this alternative – a meadowland – will capture the public's imagination. In fact, the idea has come up again and again from the many people getting in touch – it is really a public initiative.   The hill can be left as it is or perhaps enhanced with more wildflowers and the future of the deer and other animals can be ensured. 
"The deer are most certainly not starving as some in the City would claim.  In fact, some nearby residents tell me the deer are nearly tame.  Meddling in the Hill's ecology has not worked in the past, and our cash-strapped Council should just end their planting scheme forthwith."
Councillor Neil Cooney asked crucial questions and presented facts previously omitted at the most recent Aberdeen City Housing & Environment Committee meeting held this month.  Councillor Cooney said :
"Tullos Hill offers some of the finest views over the city. You don't block out viewpoints by planting trees to hide the view. Nature created Tullos Hill. It is an area rich in wildlife, it is an important archaeological site and there are 4 important cairns there that were designed to be seen from each other and to dominate the landscape.
"It would make a lovely meadowland. Meadows are our most threatened habitats. Tullos Hill already supports fragile wild flower species, the Dames Violets are particularly spectacular when in bloom. Meadows also play a key role in carbon capture. We have a precious natural asset at Tullos Hill, if we destroy in now we can never reclaim it again. We have a duty to the next generation to preserve for them the environmental treasures that we enjoyed.
We can save money, save the deer, preserve the viewpoint, leave the archaeology open to enjoyment, and enhance Tullos Hill. This is far preferable to a dodgy tree planting project stained in blood."
The value of this meadowlands scheme is supported by Saving our Magnificent Meadows, a campaign backed by Natural England, Countryside Council for Wales, Scottish Natural Heritage, and Northern Ireland Environment Agency, and by Plantlife, as project host.
Ms Susan Kerry Bedell of Saving Our Magnificent Meadows had this to say:
"Wildflower meadows are the UK's most threatened habitat. Since the 1930s, we have lost 98% (over three million hectares) of them across England and Wales and intense pressures continue to impact on remaining sites. There has been a similar scale of loss across the Scottish lowlands.
"These beautiful meadows are central to our national heritage. They are rich in wildlife, including many rare and threatened species, landscape character, folklore and archaeology, and they offer a range of 'services' to society, such as reducing flood risk. They are seen as vital to the long-term survival of bees, through whose pollination of crops much of our food production depends.
"Unless we act now to build a greater appreciation of remaining sites and promote sympathetic management, these 'magnificent meadows' and the rare plants and animals associated with them, will be lost forever".
The Tullos Hill Meadowlands petition will launch online and by paper copy early the week commencing 14 November 2011.  Suzanne Kelly is confident that the tree planting scheme would be put aside for the more economical, beneficial meadowlands scheme.
"There is pressure on Government budgets right now, and throwing good money after bad – particularly on such an unpopular and destructive scheme – is simply illogical. 
"I await detailed budget information from the City, and a further press release will go into detail about how the City has handled this affair from start to finish.  With an election looming, I would urge those councillors who have supported this scheme to ask themselves if they really are doing the right thing by Tullos Hill and the electorate."
Petition can be accessed here: http://www.gopetition.com/petitions/tullos-hill-meadowlands-deer-park.html 
Further information on Saving Our Magnificent Meadows can be found at:
http://www.plantlife.org.uk/campaigns/saving_our_magnificent_meadows/ 
Further information and updates on Tullos Hill can be obtained by writing to:
tullosdeer@yahoo.co.uk
Contact Suzanne Kelly:
Email sgvk27@aol.com
Tel. 07752 356 455