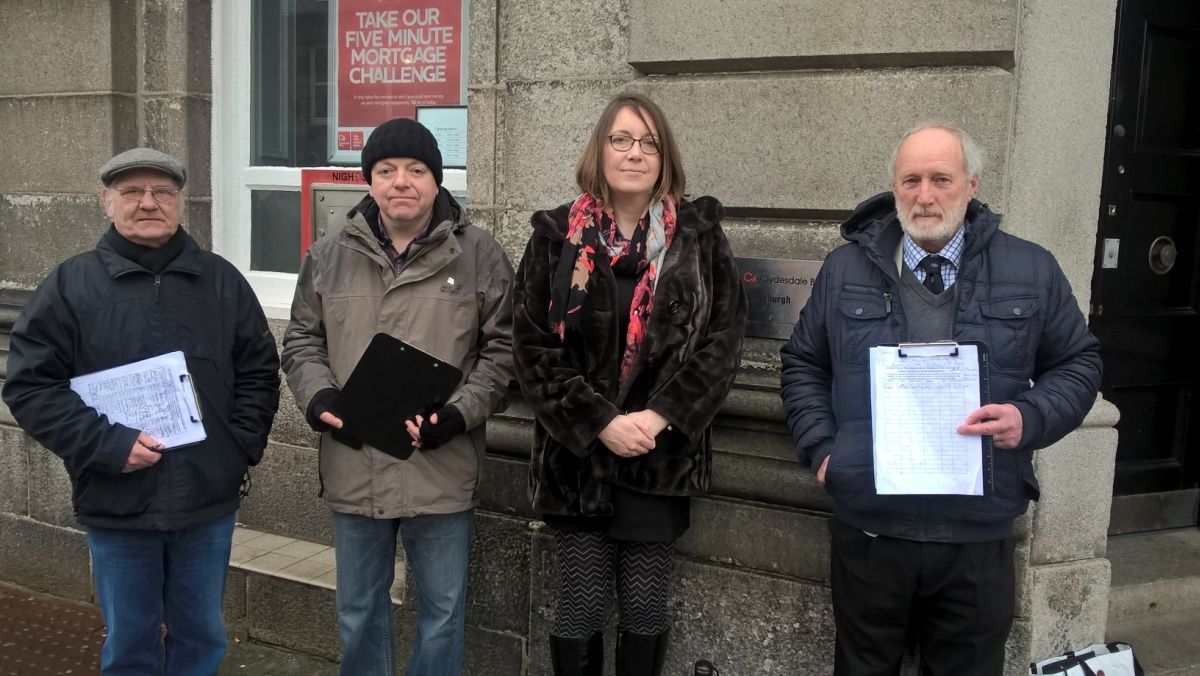 With thanks to Aberdeenshire SNP.
As the closure date of Monday 8th May draws nearer for the Fraserburgh Branch of the Clydesdale Bank, local campaigners are calling for the bank to reverse its decision to withdraw services from the town.
A key issue is the retention of the cash dispenser (ATM), given that in other towns where the Clydesdale Bank has closed branches and withdrawn its ATMs, other banks have followed suit, reducing service provision and customer choice.
Fraserburgh man and SNP candidate for Fraserburgh & District David Donn, who organised a petition, commented:
"We've seen recent examples of bank closures where Head Office have pointed to the existence of other banks and ATMs in the town and basically said to the local community, 'You'll be fine as our rivals are still here'.
"Within sometimes a very short time thereafter, we've seen closure announcements from other banks in the same locality.
"Portsoy and Cullen are good examples where the Clydesdale Bank closed and locals were told you still have other banks to fall back on. Now, there are no banks at all in these places. If the Clydesdale Bank can close down its Fraserburgh Branch there's no guarantee other banks won't follow suit.
"We need a minimum of a cash machine locally to continue to provide Clydesdale customers with a service. We can't rely on other financial institutions to still be here."
Fraserburgh SNP councillor Brian Topping said:
"Bank closures have been a feature of the last few years but many of us thought a town the size of Fraserburgh would be immune from this so it's come as a real blow to the community.
"We know that once the decision is made it's unlikely to be unmade but the least the Clydesdale Bank can do is give some consideration to its loyal customers in the Broch and maintain the ATM service."
Fraserburgh SNP councillor Charles Buchan added:
"I really commend David on the petition he organised and I hope the bank bosses will pay heed to the view of those who signed it.
"It's very disappointing that the Clydesdale Bank has so far failed to give any kind of commitment to its customers in Fraserburgh except for pointing them in the direction of the Post Office."
Comments enabled – see comments box below. Note, all comments will be moderated.