With thanks to Kenneth Hutchison, Parliamentary Assistant to Dr. Eilidh Whiteford.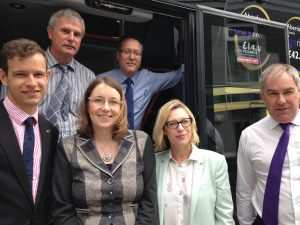 BANFF & Buchan MP Eilidh Whiteford has spoken following further meetings with Stagecoach managers and bus manufacturers Plaxton regarding the accessibility of the buses serving the Buchan area.
Back in May, Dr Whiteford put forward complaints and suggestions on behalf of constituents with mobility impairments, less agility, and those travelling with small children.
Representatives from Plaxton showcased design proposals which will attempt to resolve the majority of access related issues by refitting the internal stairs to ensure they are less steep and of a more uniform height and depth.
Further proposals include increasing the provision of handrails, more push bells and improved stair lighting. Once the designs are finalised Stagecoach hopes to have the improved fleet on the Buchan route early in the new year.
Speaking afterwards, Dr Whiteford said:
"I very much welcome the significant movement from Stagecoach which represents real progress. I hope that feedback from bus users, once these improvement s are implemented, will be positive.
It will make a big difference to those with mobility impairments and those travelling small children and make the buses safer for all passengers travelling on this rural route. I would pay tribute to Councillor Jim Ingram who has lobbied consistently for these improvements and thank Stagecoach and the manufacturers for listening to the voices of bus users in Buchan."
East Aberdeenshire MSP Gillian Martin added:
"I'm encouraged to see that Stagecoach have taken on some of the comments on the new buses from our constituents, many of whom rely on the bus service as their only means of transport.
What I would like to see is consultation with users and disability lobbying groups at the design stage in future, and I was glad to hear today that Stagecoach and the representatives from Plaxton acknowledged that this was something they would seriously consider"
Comments enabled – see comments box below. Note, all comments will be moderated.
[Aberdeen Voice accepts and welcomes contributions from all sides/angles pertaining to any issue. Views and opinions expressed in any article are entirely those of the writer/contributor, and inclusion in our publication does not constitute support or endorsement of these by Aberdeen Voice as an organisation or any of its team members.]