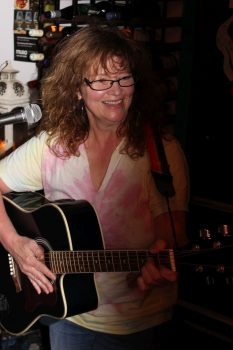 By Penny Wells.
Well, today is International Day of Peace 2016, and as I sit with a coffee at home I ask myself the question 'does Aberdeen care about peace?' It does, and this is how.
In the seven years I have been singing at folk/open mics clubs in the area (Tin Hut, Fyvie, Cellar 35, Musa, Stonehaven, Blue Lamp) I regularly hear songs and poems about peace, although to be fair, there are also many which seem to revisit various historical battles and indeed, almost glorify war.
It is responsible reporting to mention both.
To see real imbalance, try looking around a good bookshop. How many books are there on wars? How many are there on peace building?
I consider myself a peace activist, although a passive activist (if that is not an oxymoron), and as this is International Day of Peace, naturally, it is peace I wish to focus on and reflect on how it connects with my musical activities.
I sing either solo or as part of a duo (Millbrig) with Steve Allan, and when not job-hunting (no easy task in Aberdeen's current oil recession) I am busy writing/recording in my spare time.
There is an excellent series of events currently underway, and more being planned by local musician, Nigel Lammas, in which musicians and poets express themselves as pro peace.
I took part in one such event last Sunday at St Andrews Cathedral. Much of the material performed, by about ten very different acts, was self penned – as were my own contributions 'Old Soldier' and 'Song for Syria'. However, most of the targeted audience from other cultural backgrounds were enjoying Eid in the Park … so perhaps I was at the wrong venue at that time.
'Old Soldier' empathises with ex-combatants. The song suggests that peace talks may be more productive than combat. Admittedly, the song was originally gendered as it included the line 'Women prefer to hold peace talks'. I changed this to 'Many prefer to hold peace talks' at the request of men who wish to be considered as part of this.
'Song for Syria' was written after hearing Dr Samer Attar on Radio 4 (26.07.16). Dr Attar is one of many medics who volunteer to help in conflict zones, at considerable risk to themselves. An mp3 copy of the song was sent to Dr Attar in Chicago as a world exclusive, as a gesture of thanks and appreciation for his work and that of his colleagues. Steve and I were pleased to tell this story on Keith Community radio recently as guests on their 'live lounge' programme (an hour of chat and music).
The song expresses the wish that a safe place to live could be found for children of conflict, and bewilderment that we train medics to the highest standard, yet despatch them to places of conflict to patch people back together again after man made conflicts, which seems counterproductive.
A major contribution that Aberdeen makes, in my humble opinion, comes at grass roots level, as there are many musicians who think similarly. But it is not always considered acceptable to express these views at work, or in certain social circles, and some are reluctant to be named for fear of reprisal.
However the freedom to express oneself through song, poetry, spoken word or art is clearly evident in Musa café/wine bar, which I have enjoyed going along to since last November.
Musa is presenting a themed peace evening this coming Monday. Billed as 'A Night of Peaceful Protest through Songs and Spoken Word', Performers, including those who regularly attend Musa's open mic sessions will be joined by invited guests from the UN Association Aberdeen. All are welcome to come along, whether to do a turn, watch, listen, or chat in celebration of peace. That my friends is how Aberdeen 'does' peace.
A Night of Peaceful Protest through Songs and Spoken Word'
Monday, 26th September – 8pm to 12 midnight
Regulars welcome!
Plus participation from UN Association, Aberdeen
Musa,
33 Exchange St,
Aberdeen AB11 6PH
Comments enabled – see comments box below. Note, all comments will be moderated.