Duncan Harley reflects on Life, the Universe and Everything. A sideways look at the world and its foibles.
Scotland's First Minister Alex Salmond this week announced the creation of a fund to restore Scotland's War Memorials. To be called the Centenary Memorials Restoration Fund it will "allow for the sensitive restoration" of the 6,000 or so memorials in villages, towns and cities across the country.
Every town and village has at least one memorial and many more are dotted about the landscape at crossroads, local vantage points, inside churches and public buildings.
Many of course are well maintained by individuals, local groups and civic authorities.
The Inverurie Town Square statue is a very good example, as is the quite moving Roll of Honour found within Insch Memorial Hospital in Aberdeenshire. Insch, of course, being one of a very few towns which chose to use funds gained via public subscription to build a hospital instead of a statue to commemorate the dead of war.
The sons of the folk of Premney, Old Rayne, Colpy and Insch are very well remembered on the carved plaque in the entrance hallway. If you are in the area, I would certainly recommend you call in and have a look, a wee sob and a reflection on the nature of mankind.
Hasta La Vista Madrid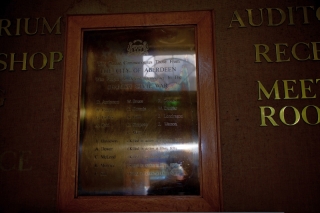 Alongside the above, my personal favourite is the plaque in Aberdeen's Music Hall commemorating the local folk who fought and died for democracy during the Spanish Civil War (July 17 1936 to April 1 1939).
It's not a well known memorial and it's a bit forlorn and quite scratched. In fact, you can easily miss it unless you know where to look. There are only a few names on it and they compete with the notice board and leaflet display for attention.
However, somewhat unusually for a war memorial, it includes those who fought and survived alongside those who died at Ebro and Gandessa during 1937-38.
The Centenary Memorials Restoration Fund is seemingly open for applications right now, with funding available over the course of the four-year centenary commemorations, from 2014 through to 2018.
I'd get in quick though, if I was you, since if you divide a million pounds by 6,000 memorials, that works out at £166 for each project, if I've got my maths correct.
I personally will be asking Aberdeen City Council to restore the Spanish Civil War Memorial to its former glory. I am sure that £166 will buy a few a nice new frame and some scratch remover.
Comments enabled – see comments box below. Note, all comments will be moderated.