Remembrance Day was observed at Pittodrie for the third time since 2009's unveiling of the memorial to Dons players and staff who gave their lives in both World Wars, writes David Innes.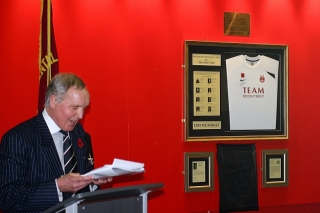 The memorial has a permanent home in the Richard Donald Stand, and as Aberdeen Football Club Heritage Trust Chairman Allan McKimmie declared in his welcome address, the memorial has become a popular and informative attraction for those who take a tour of the Dons' home, and for fans who take a keen interest in the club's history.
Around 100 gathered to pay tribute in a short and respectful ceremony organised by the Trust, with a new memorial unveiled, dedicated to Keith loon and Dons player from 1937-1939, Jack Campbell. Jack went missing, never to be found, in an ill-fated far Eastern air reconnaissance mission in August 1943.
The unveiling was carried out by Duncan Davidson, Chairman of the Club's Former Players' Association. Duncan later laid a wreath from the FPA, and there were other tributes laid by the club, the Trust, the Royal British Legion, Gordon Highlanders and by representatives of other groups who paid dutiful and solemn respect.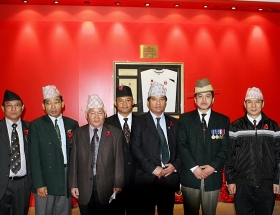 WO2 (retired) Birkaji Gurung and several comrades from the Gurkha Rifles who have taken up residence in and around the city attended.
Birkaji read a special Armistice Tribute in his native Nepalese. Birkaji, a staff member at Pittodrie, was very keen to attend the ceremony and pay tribute to the fallen on behalf of the Gurkha Rifles whose commitment, courage and loyalty in conflicts is legendary. The Trust and attendees were delighted and honoured by the Gurkha contribution.
Aberdeen Football Club Heritage Trust is grateful to everyone who supported and attended the ceremony; especially Matt Fyfe of the Royal British Legion, Prestige Scotland, historians Derek Giles and Colin Johnston, and AJ Reid of the SSAFA.
The Trust is also grateful to everyone who donated hard cash to the bucket collection before the match against Rangers recently. Over £700 was raised for Trust activities, the biggest of which remains its aim of raising enough money to kit out to a high standard a museum at the Dons' proposed new Loirston home.