It was an emotional day in Pittodrie's Richard Donald Stand on December 17 when the AFC Heritage Trust and the club's Former Players' Association unveiled their memorial to Eddie Turnbull, Dons manager from 1965-1971. It was a bitingly cold morning, but Voice reporter Faye Keith was there to capture the warmth.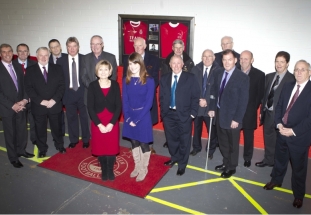 Before inviting Eddie Turnbull's daughter Valerie Low and his granddaughter Carolyn to unveil the permanent memorial, Heritage Trust Deputy Chairman David Innes described Turnbull as
"among the greatest Dons' heroes of all"
and read tributes to their mentor from former goalkeeper Bobby Clark and 1960s skipper Ally Shewan.
Clark's own admiration for the man he followed from Queens Park to Pittodrie in 1965 is summed up by his admission that the training sessions he runs in the US, nearly fifty years after he and Turnbull first worked together, are still based on techniques that he learned under the man they still call 'boss'.
Valerie spoke unplanned and off-the-cuff in the most emotional tribute of the day when she praised the kindness of the Dons and "Eddie's boys" to the man himself and to the Turnbull family. Some of these boys wiped away a tear as she told them:
"You respected, feared and loved him, but he adored you".
The final words of the day came from Martin Buchan who read a message sent by the Dons' legendary defender Henning Boel. Ian Taylor interactively contributed his version of Turnbull's own unique method for dealing with Henning and the Scots/Danish language barrier before the 1970 Scottish Cup final.
As well as Buchan, Shewan and Taylor, Dons of the Turnbull era including Harry Melrose, Paddy Wilson, Alistair Sandison, Jimmy Wilson, Joe Harper, Jim Whyte, Tommy Wilson, Ron Keenan, Tam McMillan and Ian Cumming attended, testimony to their shared respect and admiration for a true Aberdeen legend. One fan, learning that Ernie McGarr was in attendance, said that this was no surprise, as it was an icy morning and there was a gritter parked outside.
Eddie himself would have laughed loudly at that. So would Ernie. It was that sort of day.
The obvious affection these men still have for each other is proof that Turnbull was a team builder of a rare and very special kind and the memorial is a simple and dignified tribute to a great football man.
The memorial is on public display in the Richard Donald Stand concourse and will be given a deserved place of prominence in the new stadium.