After a long build-up, vitriolic postings on FaceBook, and a call to the media to attend a protest by hundreds of people, a group of approximately 70-80 stood outside Marischal College today for three quarters of an hour.  Aberdeen Voice's Suzanne Kelly attended.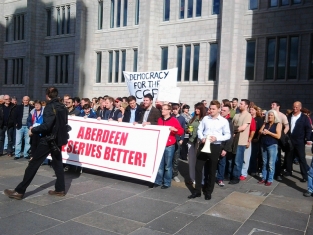 Background: Aberdeen has been split over a controversial plan to build a £140 million pound series of arches over Union Terrace Gardens called 'the granite web'.
The city is far from financially sound, and would need to borrow some £70 million minimum to build the scheme, which would also see the felling of ancient trees – some of the few trees in the city centre.
Those against the scheme point out the city has vast areas of disused brownfield, some of which are becoming arson hotspots which could be the site of any futuristic architectural projects.
The web's opposition also cite that simple improvements to the gardens are affordable and would be sympathetic to the existing area, and that money should be spent on other projects and restoring services cut under the previous LibDem/SNP coalition.
Proponents of the granite web cite projections made by PriceWaterhouse Coopers, which was paid some £44,000 pounds to create projections for the scheme and research the TIF scheme by scheme supporting agency, ACSEF.  These projected benefits included 6,500 permanent new jobs and no cost to the taxpayer.
It has been shown the taxpayer has already picked up a substantial tab for furthering this project (see https://aberdeenvoice.com/2012/02/the-great-city-gardens-project-gravy-train/ ).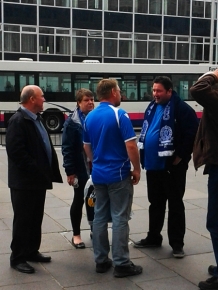 An advisory referendum was held; the Labour Party stated from the start it would not be bound by this referendum, which saw the pro-web side narrowly win.
Various issues arose with the referendum, and an anonymous group placed hundreds of radio adverts via the BiG Partnership which were found in breach of code by OFCOM.
PwC refused to say whether or not the ads' use of its projections as fact was appropriate, as a 'private company' (actually  the PwC invoices are made out to Scottish Enterprise) had commissioned the work (which the taxpayer paid for).
Labour's election pledges included stopping the granite web, and Labour wound up with a majority in the council at last May's elections.
The Protest:  A Whimper not a Bang
The organisers included Chad West-MacGregor (who resides in the USA according to his FaceBook page, but who now says he will stay in Aberdeen); they had told the assembled media before the event that hundreds would be in attendance.
A video of the speech can be found at http://www.youtube.com/watch?v=u57XTEus84
This proved optimistic in the extreme.  The weather was dry and sunny; the date selected was apparently the most convenient date for those who wanted to attend, even if there would be no one in the City Council's Marischal College to protest to.
This lack of relevant audience did not bother the organisers, who posted on their FaceBook page:-
"Providing hundreds of us make an effort to attend, we will have several media photographers and journalist's [sic] there to show the entire country that we were there and we were loud. Barney's back hair will be sticking up when he opens the front page of the EE or the P&J and sees his council building swamped with protesters."
STV reported:-
"More than 400 people had said they would attend the event on Saturday outside Marischal College to vent their fury at the decision to axe the plans to transform Union Terrace Gardens.  In reality, it was probably only around 60 people who turned up to the demonstration but the organisers felt the small band of protesters made their point."
http://local.stv.tv/aberdeen/news/local-democracy/191410-city-garden-project-supporters-hold-demonstration-outside-councils-hq/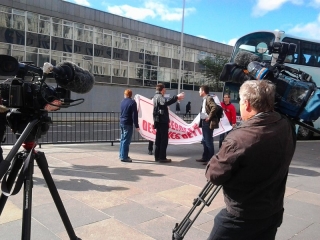 Organisers have made different representations as to the number of protestors; the FaceBook page linked to the protest has posts from organisers saying there were
less
than 100 present, but a different post says the organisers had
more
than 100.
This Aberdeen Voice reporter and her friend were present and counted approximately 70-80 people (more than STV counted) – but there was some fluctuation as people left.  There were about ten media professionals covering the event – 1 for every 8 protestors by my account, or 1 for every 6 by STV's figures.
The two higher-profile attendees were former councillor Kate Dean and Aileen Malone.  Dean held a Cove Bay Supporters Club banner and wore leggings and the club's shirt.
Aileen Malone's presence was something of an oddity. The protest was against the council she is elected to, and she had made it plain that the remaining five Liberal Democrats on the council were not subject to a party whip when the vote on the granite web was held.  Precisely why she felt the need to protest against her own party members – who did not all vote for continuing with the granite web – is a mystery.
The Facebook Pages
A page using Barney Crockett's photo to represent the organiser (for some odd reason), and an 'event' page were launched.  The FaceBook pages caused controversy with a wide range of offensive posts.
After one person, 'Sasha Molyneux' mocked someone who had been abused as a child, one person who planned to go on the protest said he now would not.  This person was then attacked for being 'an anarchist plant' by Molyneux.
Many posters asked the web pages' administrator(s) to step in and stop the abuse, but the posts are still there (as at 17:30 22 September 2012).
The web ironically was supposed to attract talent from outwith Aberdeen.  Non-Aberdonians and Aberdonians alike were put off by more posts from Molyneux, who wrote:
"Isn't it strange that inabootcomers like Suzanne Kelly from New York USA (got a current Visa I hope), Alasdair Johnston from Ayrshire, Richard Baker from Edinburgh, Lewis MacDonald from Lewis via Insch, Willie Young from Stonehaven (we'll let him off with that) and countless other dissidents seem to think they know what's best for Aberdeen and it's [sic] citizens. All the while there are others who can trace their ancestory [sic] back hundreds of years to people who have hewn the very rock from the ground that Aberdeen is built from, taught in the schools that were built with that rock, employed generations in factories run by local entrepenuers [sic] and generally built this city from the ground up and afforded others a lifestyle that they enjoy today. The abuse and disrespect coming from the above mentioned individuals is absolutely disgusting and an extreme isult [sic] to our history and heritage and really if they are not happy they should go elsewhere and learn some decorum and basic manners."
Most of those mentioned above had not even posted on this page.  Brian Scott then countered with:-
"I can hardly believe my eyes. Has some one actually posted a comment about incomers not having a right to have their say on issues because they cannot trace their roots to Aberdeen despite them setting up home here? Isn't that racist and reminiscent of a certain political party that takes their mandate from a 1930's movement originated in central Europe?"
Voice's Suzanne Kelly quoted Sasha's earlier anti-incomer post (above) and Sasha replied:-
"I know what I said and i'm glad it is on record because it is the truth. As Annie Lennox once said a North East of Scotland upbringing puts a rod of iron in your soul so just remember that. Your Bully Boy tactics and general disrespect for the people in general don't go down too well with the people up here and if you think you are being smart and clever just consider this we are a pretty stoical bunch up here and we will break you in the long run."
 The subjects brought up by pro web factions also included one man's assertion that the English Defence League is a "peace loving group", and its leader 'inspirational'.
There was heated debate back and forth between the two camps, but the radical extremist posts of Molyneux and others from the pro web side were considered by many to be highly inflammatory and seem to constitute what is called 'trolling.'
It is clear that these extremists do not represent the views of all of the pro granite web faction, but it is clear that the FaceBook page administrators, the organisers of this event, gave tacit support to these posts by allowing them to remain and by not banning the posters.
The organisers seem to indicate they will hold more such events.  Aberdeen Voice will keep you posted of any further developments.