With thanks to Jonathan Russell.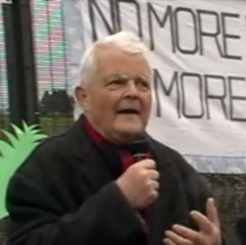 Bruce Kent, Britain's most well known peace campaigner, will be speaking at meetings on the East Coast of Scotland in early October. Meetings will be taking place in Inverness, Aberdeen, Brechin, and Dundee.
The meeting in Aberdeen is being organised by Aberdeen Campaign for Nuclear Disarmament. It will be held  in Room 10, New Kings at the University of Aberdeen on Tuesday October 3rd at 7.30pm
Described by David Blair in the Daily Telegraph as 'The most principled and consistent figure in public life', at 83 Bruce Kent is still one of the most radical people in British politics.
He recently supported the Occupy movement and has been Britain's most long standing opponent of Nuclear Weapons and war in general.
At a time when the world is sliding into ever more warfare, and the UK  government are intent on renewing our deadly Trident nuclear weapon system, Bruce's voice is one which urgently needs to be heard.
All welcome to attend.
Bruce Kent Speaking at Anti- Trident meeting
Bruce Kent at Faslane in Scotland the United Kingdom's Nuclear Base
.