Had he not envisaged covering this game for Aberdeen Voice, Andrew Watson would have perhaps not bothered staying until the end of the game!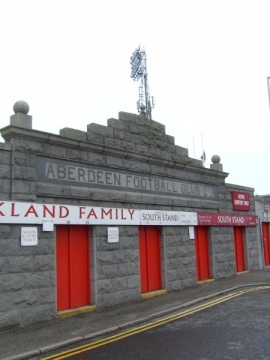 All in all it was thrilling to watch – particularly the last ten minutes or so.
Having handed out leaflets prior to the game, in support of the Scottish Association for Mental Health (SAMH), my pal and I, far from the comfort of our seats in the Merkland Stand, found ourselves with fellow pamphleteers in the lower tier of the Dick Donald Stand.
The view was better than usual, and we were treated to an early goal, initiated by Hayes, and delivered by Gavin Rae.
We had barely taken our seats when Rae glanced a beautifully manoeuvred header into the bottom-right corner of the Motherwell goal, after about six minutes.  1-0.
The banter (abuse) in the Dick Donald was markedly better than the Merkland, as Motherwell soaked up early pressure, courtesy of the our wee marauding midfield maestro, Fraser; seemingly willing, these days, to put himself where it hurts and come back for more.
The defensive fare from the Steelmen was nothing short of the fisticuffs you'd maybe see at a heavy metal concert, and our fellow Dons fans seemed more than keen to get on the pitch themselves and act as minder for Fraser. We all know he'll need one to remain injury-free for the rest of the season.
Even Clangers Clangfield, without his redoubtable Dunfermline mentor Tinkerbell Blunderwood to act as foil for his occasional stupidity, got a foot in the midriff for his trouble, after quite rightly soaking up a Motherwell advance with surprisingly firm hands.
Would he spill the milk later on, in spite of such noted bravery?  Surely not…yeah, maybe.  Yes.  Yes, he would.
Anyway, back to the banter:  Tom Hately, son of Rangers legend Mark, seemed telepathically willed to fluff his corner by large sections of the home support; loudly reminding him, rightly or wrongly, of his lineage to a certain Germanic emperor of days gone by, forename Attila.
Did the ball even get onto the pitch when struck?  Your erstwhile reporter here, though never engaging in such horrid antics, admittedly giggled with glee.
Not being a Motherwell fan, the game from this point onwards wasn't exactly pretty (pretending to be Arsenal, passing it into the net, would come later) or funny.  Aberdeen barely held together as the Fir Park natives rampaged through Pittodrie's so-called defensive stalwarts, a la Anderson and company; the last in line, holding fort…and failing miserably.
1-1.  
Half-time, and the only respite was the Aberdeen youth team parading their trophy on the touchline to muted applause and little fanfare.  When will we see the sight for, ahem, real, ?  You can't help but ask.
Second half.
1-2, after three minutes.
1-3, after another, torturous, thirty-four minutes.  Cue mass exodus from Pittodrie.
Sticking around 'cos I'm a true red, ken?  To be honest, I can't say I'd much faith.  Never mind, this is where it gets kind of interesting.
2-3, TWO minutes later!  Who said hope dies when you watch Aberdeen?  Niall McGinn making a perfect comeback as super sub!  Good man.
Wait, maybe, perhaps … impetus gained.  Petering.  Petering.  Gone.
…
…..
Impetus regained.  Free kick.  Last kick of the ball.  Shot.  Saved.  Rebound.
…….
Magennis, you're a defender.  And today, a bad one  at that!
GOAL!
3-3
Josh Magennis, you beauty!
Perhaps manager Craig Brown has silenced his critics today with this goal-scoring display.  Yet taking Vernon off, our poaching talisman, but not exactly a lone striker in the mould of Wayne Rooney – nor Lionel Messi! – was his best tactical shift of the ninety minutes.
However, early on, we looked set to win the game easily.  Realistically, alternately, this was Motherwell, riding high in pole position, and being 1-0 up wasn't exactly a fair representation of the game after the initial first fifteen minutes or so.  We did well to come back from a two-goal deficit, which was very un-Aberdeen.
A draw, one which we didn't really deserve, snatched from the jaws of defeat?
Oh well, it is Aberdeen we're talking about here!