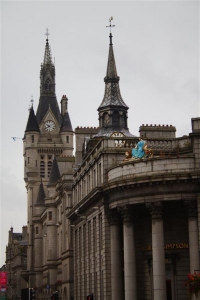 Earlier this week Aberdeen Voice readers along with Aberdeen City Council staff heard the news that 900 jobs were to go at the Council.

Lesley Dunbar

, Vice Chair of the Aberdeen City Branch of Unison writes.
The current administration says there is a shortfall of £3 million pounds in the costs of introducing an Early Retirement/Vountary Severance scheme again this year, and because the staff won't take a 5% cut in their wages to pay for the ERVS scheme the current administration claims it has no alternative but to make 900 staff compulsorily redundant.
Leader of the Council John Stewart said in the local press:
"There is no alternative as Council staff being paid over £21, 000 per year have refused to accept a 5% cut in their wages".
This proposed cut in wages was supposedly to help finance an Early Retirement/Voluntary Severance scheme (ER/VS for short).  This scheme is where staff can put themselves forward to give up their posts which are then up for consideration by management about which posts can be made redundant and therefore which people can go.
In the last two years of the so called Council 'savings' most, but not all, of the jobs that have gone have been under an Early Retirement Voluntary Severance Scheme, ER/VS for short.  This ER/VS schemes cost more money than compulsory redundancies and last year the Scottish Government helped to pay for some of Aberdeen City Council's one.
Meanwhile, since last June the Council has undertaken a five year Priority Based Budget plan to try and put its financial house in order which has led to the need to offload 900 Full Time Equivalent (FTE) posts to get the books to balance.  And that's without the plan to 'outsource' or privatise all of the Corporate Governance service of the Council…and more.  At the same time the Council has consulted its citizens to ask us what our priorities for services in the city are.  £150 Million pounds of savings are proposed over the next five years.
A red herring?
I believe the issue of the 5% wage cut for staff is a red herring –  a very big and political red herring. 
They claim that the unions have given them no choice
The real issue here is the loss of 900 Full time equivalent jobs and the impact of the loss of those jobs on local services and subsequently on local people and the local economy.
So what's really at stake here?
It is not only the 900 posts that are up for grabs.  It is the future of our city – its services, our local democracy and social justice that are at stake.  The loss of 900 jobs will have a massive impact on local services and the quality of local peoples' and their families' lives. The cuts in pupil support alone will have a massive impact  ( See Article 'City Council Set To Slash  Pupil support' ).
Our Council is proposing to cut 300 FTE jobs.  That's going to be around 400 Pupil Support Assistants jobs that are up to go.  It's a very clear example of how cuts in jobs impact on services and then impact on all those who receive these services, in this case children.  In this situation, all school age children will be affected – not just those receiving support from Pupil Support Assistants.
So what's really going on?
In December, Scottish Finance Minister John Swinney said that no Scottish local authority should need to make any compulsory redundancies.  Following this statement Councillor Kevin Stewart, SNP Vice Convener of the Council in the Lib Dem/ SNP coalition, proposed the 5% staff pay cut at the Council meeting.  Now with the unions rejecting the 5% pay cut the current administration says it HAS to go for 900 compulsory redundancies. They claim that the unions have given them no choice.
But some of us remember back in November, before staff were offered the 5% pay cut, unions were notified then that there would be 900 FTE posts at risk of compulsory redundancy.
The current administration also believes it needs to leave its financial reserves at the same level it inherited when it came into power  – at around  £21 Million. If they were to pay the £3 Million shortfall for ERVS then that wouldn't happen. And when it comes to the run up to the local elections next year any opposition could say that the current administration have mismanaged the Council's finances.  (As if…!)
now is time for us to really look at how our local government can use this power for the benefit and the wellbeing of all
I don't need to remind readers that this is the same Council who also advocate borrowing around £150 million to pay for the shortfall in the Union Terrace Gardens scheme.
Local authorities, Social Justice and Citizens' well-being.
Local authorities traditionally in Scotland throughout the twentieth century have had a crucial role to play in ensuring that those of us and our families, who need and rely on decent public services and who can't afford to buy these services in the private market, receive them.
This means that local authorities have a fundamental role to play in ensuring the well being of its citizens.  This role was enshrined in legislation introduced by the Scottish Parliament in the Local Government in Scotland Act 2003 – Power to Advance Well-being.
Maybe now is time for us to really look at how our local government can use this power for the benefit and the wellbeing of all citizens in Aberdeen.
There is an Alternative
Staff have also been suggesting alternatives to management which are being ignored. These have included saving on agencies staff and expensive consultancies.  The unions have all said that our door is always open and that we are willing to meet to talk and consider any proposals that will avoid compulsory redundancies and subsequent cuts in services.  But, says Councillor John Stewart, Council staff will just have to accept the inevitable as there will be staff redundancies across all local authorities in Scotland.
I'm proud to say I belong to a union that does believe there is an alternative.
So what's next?
JOIN US on February 10th and STAND UP FOR PUBLIC SERVICES!
Tell them what you think about their cuts to our services.
Anyone who is a citizen in Aberdeen and anyone who uses the services provided by Aberdeen City Council is welcome to come and join us at a lobby outside the Town House on Broad Street on Thursday 10 February from 12noon to 2pm before the Budget setting meeting.
I look forward to seeing Aberdeen Voice readers there on Thursday 10th.
The future is bright?
Every citizen of the city of Aberdeen, including staff have a vote and can choose how they use it at the next elections.  This won't have escaped local councillors' attention. And of course some of the leaders of our Council also have further political ambitions in the bigger pond of Scottish Government and have put themselves forward as candidates for the May elections…