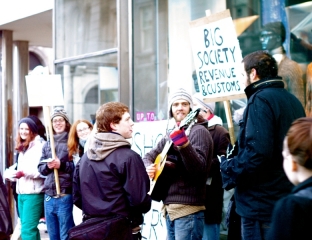 With thanks to

Aberdeen Against Austerity

and

Uk Uncut
.
Join a national day of action.
Monday 31st of January is the deadline for ordinary people around the country to return their self-assessment tax return forms. There are fines waiting for those who miss it.
But whilst we rush to complete our forms, rich corporations and individuals are getting away with shirking £25bn of tax every year. For Vodafone, Philip Green, HSBC, Grolsch, HMV, Boots, Barclays, KPMG and others there is no fear of being fined by the government. Instead they can employ armies of lawyers and accountants to exploit legal loopholes and dodge billions in tax they owe to us.
The government insists that drastic public spending cuts and a hike to VAT are essential. They claim that we're all in this together. But both the cuts and the VAT increase will hit the poor and most vulnerable hardest, whilst the richest in our society dodge tax with virtual impunity.
The action in Aberdeen on Sunday 30th of January will be NHS themed to highlight the damage these unnecessary cuts will cause to our health system. The effects are already becoming apparent. NHS Grampian are set to axe 500 'backroom' jobs by the end of April.
This will inevitably affect frontline services in hospitals across the North East as Doctors and Nurses are forced to cover the roles of their support staff instead of spending time with patients. The VAT increase will cost NHS Grampian £2 million which means a smaller hospital budget. There will be 12% or 5760 less nurses in Scotland in 2011/12 meaning thousands of nursing graduates, their education financed by the tax payer, will be going straight into the arms of the private sector.
On the day before the tax return deadline, UK Uncut's Big Society Revenue and Customs will be taking to the streets again to make sure corporate tax avoiders pay. It will be our biggest day of action yet. Yesterday, False Economy, PCS and War on Want began a campaign to ask you to vote for your favourite tax dodger.
On Sunday 30th, UK Uncut and Aberdeen Against Austerity are asking you to vote with your feet. Who do you think has got away lightly so far?
The meeting point for Sunday's action is outside Aberdeen Art Gallery at 12.45pm.