Something for the Weekend Sir? Duncan Harley comments on the newspapers you might like to read if you had the time, the money and the inclination. This week he looks at the Sunday Post, the paper many Scots buy but choose to send to the relatives abroad rather than read.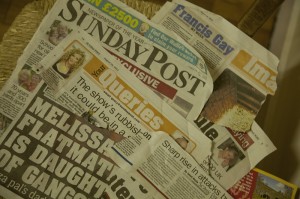 I have a confession to make. I had not bought this paper, ever, until today.
My parents, God rest their souls, ordered it from the local newsagent in Hamilton, and as a child I read with relish the adventures of The Broons and that spiky-haired pre-punk manny, "Oor Wullie". A double entendre indeed, but an awfa' good one!
In the centre pages "The Doc" advised those bemused haemorrhoids sufferers amongst us how to anoint their nether regions with helpful ointments, while on other pages, "The Vet" suggested how to revive a dead budgie.
I purchased my first copy today from an "Eight Till Late" corner shop in Keith's Reidhaven Square. It's a wonderful local shop full of handy things that you might run out of, such as biros, lard and morning rolls. Open from 6am till quite late, it defies its name by some two hours and sells, amongst other Scottish icons, The Sunday Post.
My heart sank when the pound in my pocket was not enough to purchase the paper. The assistant quietly whispered that it went up to £1.30 a few years ago. Her comment somehow reminded me of my dad's faux pas in 1962 when he asked the conductress on the Number 53 from Hamilton to Bellshill for a tuppeny return ticket, little realising that fares had risen tenfold since his last bus journey all those years previously.
Nothing, however, could prepare me for the new format Sunday Post.
The paper leads on a story about some drug smugglers arrested in Peru's Lima airport. Now, I have been there a couple of times and it is not a good place to be, if smuggling drugs is your forte. Scanners abound in the departure area and folk with very big guns are all around. Even the traffic cops sport AK47s, plus some very serious attitude.
It seems though that the dad of one of the arrested pair's flatmate is a murderer, according to the Post's headline. "Melissa's flatmate is daughter of Gangster" screams the front page. I for one won't be hiring the paper as a defence lawyer, ever.
A piece entitled "Banged up abroad" leads on page 5. It seems that around a thousand UK citizens are imprisoned in foreign jails. The Post suggests that drug smugglers might be "coerced" into breaking the law in foreign lands. The paper may be right.
I failed to find Oor Wullie amongst the detritus
Never one to publish naked women in order to boost sales, The Post delivers a Page Three warning about a sharp rise in "attacks by lethal snakes".
It seems that NHS Direct advise that all snakes can strike, and that all victims should keep still and seek medical help. I guess that's my pet adder for the chop, then.
"Ambulance Staff in Sick Rate Shock" and "Klinsmann celebration ruined my life" take up pages 8 and 9. Then some centre page articles about "Corrie's Cast", and a man holding a Parrot are featured, complete with photos.
I failed to find Oor Wullie amongst the detritus which is "Newspaper of the Year"; and the Broons were thankfully similarly hard to find.
Page 54 of this week's edition headlines on "The shows rubbish and it could be in a shed". I have no idea what this may mean, and have no intention of reading the article. Perhaps it is a review of the paper, via insiders who know the full truth but need to express it in metaphorical terms.
A hard hitting read indeed. On a scale of nought to ten The Sunday Post rates a three. It's a poor advert for Scotland I think, and a major reason why folk all around the globe consider us Scots to be primitive beings that live in caves and eat haggis twice each week with extra helpings on a Sunday.
Next week on "Something for the Weekend Sir?" I will be taking a look at the Express on Sunday or whatever it's called right now.
"Something for the Weekend Sir" is of course what local barbers used to ask customers in the days before discrete prophylactic services became available via the internet.
Comments enabled – see comments box below. Note, all comments will be moderated.