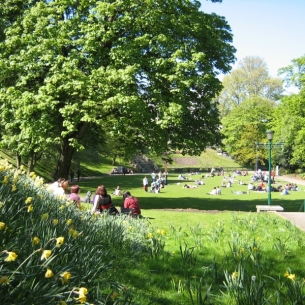 By
Suzanne Kelly. 
'Undemocratic!' is the cry coming from various people in Government and some Aberdeen residents concerning the death of the granite web scheme.
The truth is that democracy took a beating in the way the referendum campaign was waged, in the secrecy over the TIF ranking the scheme received, and in the statements made by ministers who should know they were overstepping their bounds.
For those who really care about 'Democracy' and how it has been chipped at by those insistent that the web goes ahead, here is an overview of some newly emerged issues.
TIF Application:  Information Wrongfully Withheld
Last Sunday 9 September, the  Sunday Herald  carried two articles pertinent to how undemocratically the granite web has been pushed.  The first piece by Steven Vass was entitled 'FOI Victory Over Aberdeen Project'.  Vass explains that the Scottish Government and the Scottish Futures Trust have been criticised by the Information Commissioner.  These two organisations are refusing to release information on Aberdeen's TIF bid, in particular how it was ranked against other projects. 
TIF is meant to be used for deprived areas.  Our city centre needs improvement, and a good place to start would be practical assistance to local businesses which now must compete with multinationals in our shopping malls (which have far more financial power than the little guy does). 
We are not, however, a deprived area; businesses are continuing to set up shop here, our housing prices are good, and our standard of living has on the whole been found to rank highly in the UK. 
So why can't we find out more about the TIF application?  Is it possible that our TIF application was one of the lower-scoring ones? (It was ,after all, soundly criticised by an independent accountant.)  If it was not a high-scorer, then was it given priority unfairly over other projects? 
In the interests of democracy, whatever side of the debate you are on, you have to agree that withholding critical information which could help evaluate the facts is undoubtedly undemocratic.  The information Commissioner has concluded as much , and hopefully on 22 October the truth of the situation will be revealed.  Either that, or the Government and the SFT will appeal to the Court of Session. 
It will be interesting to find out who was involved in this non-compliance with the democratic principle of Freedom of Information, and to find out what they have to hide.  It will be interesting as well to see if the Government refuses the Information Commissioner's decision and lodges a Court of Session appeal.  
There is legislation saying this information should be supplied, and yet it is being withheld against the Information Commissioner's decision. Verdict:  Undemocratic
Above the Law?  How BiG Partnership and an Anonymous Group of Businessmen Seized the Airwaves with Propaganda
The other article in the Sunday Herald brings us to an even more serious issue.  This article, entitled 'How to get ahead in the race to the White House…by advertising' explains how voters are bombarded with election propaganda and how important it is to spend on adverts.  It also brings us to the decision just released by OFCOM against the radio advertising that took place during the referendum.
The Herald article explains the vast sums spent on TV and radio ads to try to secure election victories in the US.  The article quotes Erika Fowler, the associate professor running the Wesleyan Media Project:
"  Campaigns are not going for efficiency, they are going for moderate voters in the centre who have not made up their minds.  There are going to be many, many people tuning out the messages, but in a competitive election cycle, you really are going for that last one or two percentage points.  So the parties and the interest groups… are going to do whatever it takes to get a competitive advantage."
And as the article says,
"That means spending money…"
The American spin doctors and PR firms know, as do their UK counterparts, that advertising works.  And OFCOM, the communications regulator, knows it as well.  It exists to prevent the public being misled, and it has come down hard against the aggressive saturation campaign and adverts placed by The BiG Partnership on  behalf of the anonymous VFTCGP members- what do they have to hide?
As a referendum campaigner who had to obey stringent rules and spending limits, I was astounded that an unelected and anonymous group, 'Vote for the City Gardens Project' were allowed to place a huge volume of radio and print advertising.  Not only did they have a degree of media saturation which I couldn't have hoped for – but the contents of their ads were misleading.  Why do I say that?  Here are two direct quotes from the ads and my comments on each:-
1.  Quote:  "I'm voting yes because of the £182 million of investment to the city centre – and it's all coming from grants and private donations so it won't cost the taxpayer a penny."
"The City Garden Project won't cost you a penny, it will be paid for through private donations and business rates."
http://stakeholders.ofcom.org.uk/binaries/enforcement/broadcast-bulletins/obb213/obb213.pdf – see Pages 6 and 7
Comment:  As demonstrated by invoices paid by the City Council, taxpayer money has ALREADY been spent on this project for advertising, PR and 'stakeholder engagement' in the region of at least £200,000.  What is galling is that the BiG Partnership, working closely with ACSEF would have known this.  In fact, it is still a mystery what agency or agencies carried out the PR, advertising and photography:  was BiG a recipient of taxpayer money?  If so, how democratic or ethical was this agency acting when it submitted these ads for broadcast?
2.  Quote:  "It will create twice as much green space in the City Centre."  (reference as above)
Comment:  We have a green park – when I say green, there is a deep, rich fertile layer of soil supporting wildlife and ancient trees. (Democracy fans note – there are trees and species in this park which are protected by UK and EU law, even though the past administration allowed fireworks displays in the gardens).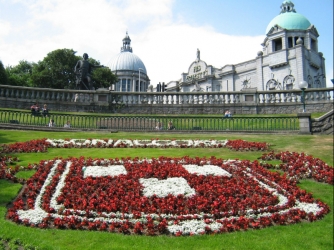 If you build underground structures and have a layer of topsoil over them, you won't have the same environmental quality as we do now. 

If you chop the trees down, and build a 5,000 seat outdoor theatre on formerly rich soil, then there is absolutely no way that you are going to double the amount of green space. 

Layers of turf over the concrete theatre's roof and making similar turf-clad structures does not mean you can claim you are doubling genuine green space. 

By the way, the idea of building an outdoor theatre in Aberdeen makes very little sense indeed weather-wise.  Building a theatre in front of where a theatre already exists raises questions about the 'non-displacement' concept – rules are  supposed to prohibit using public resources to build something that will compete with or take away from an existing business – but this is being conveniently overlooked. 

Aside from my opinions on the accuracy of these ads – Aberdonian citizens were bombarded with over 200 ads on Northsound 1 and 2, and Original 106 played ads over 100 times  between 16 and 29 February.  ( In contrast, Mike Shepherd had one ad played a total of 26 times).

The point is that if so much as one person heard these hundreds of ads, assumed they were true (after all, the trusted radio stations continued to run them) and voted for the web based on these spurious claims (no cost to the taxpayer, double (??) the green space magically created), then the commercials and the big money behind them unduly influenced the referendum result.

What really beggars belief is the behaviour of the BiG Partnership.

They were involved with ACSEF to push the web scheme.  They know that invoices were paid by the taxpayer for consultation, PR, 'stakeholder engagement', photos and the like (even including a photo for about £150 meant to show how 'inaccessible' the gardens are). 

They knew that the web was already costing the taxpayer money, yet they were involved with creating and placing advertisements on radio saying the taxpayer wouldn't pay a penny.  Whatever your position on the web is, don't  you agree this is unethical?
  People would have been influenced by hundreds of ads
BiG also appear to have placed these ads apparently without getting full advice and clearance.  Reading OFCOM's decision, it is easy to conclude the ads would not have been deemed acceptable had clearance been asked for in advance.
How does an organisation as big and experienced as BiG explain itself to the regulator?  This is what they said:-
"Northsound told us that this organisation was set up by a group of private individuals who supported the re-development project. They were not a formally constituted organisation, the Licensee said, and had "no legal status". This advertiser appointed The BIG Partnership, a public relations consultancy, to run and manage its campaign.
"The BIG Partnership made the following comments through the Licensee:
"This campaign was set up a by a group of private individuals who wanted to see the project go ahead. They were not a formally constituted organisation. They have no legal status. They got together and appointed The BIG Partnership to run and manage the campaign and they provided funds for that campaign. The City Garden Project, as part of the wider city centre regeneration scheme, will be funded by private donations and a TIF scheme whereby Aberdeen City Council borrows money to pay for the regeneration and uses the new business rates generated by new business across the city as a result of the regeneration to pay back the loan. It will not be financed by Aberdeen City Council's annual revenue budget and therefore not have an impact on local council tax payers or on the delivery of public services. The group behind the campaign is not political. The campaign aimed to influence the outcome of the referendum by communicating the facts and the benefits of the project to the public. The objectors to the project also ran similar advertisements."
If there is even a single person  who voted for the project based on these radio ads, which should never have been aired, or has a friend or relative who was taken in by these ads, then they should come forward now and say so.  (Write to me if you wish; I can keep your details anonymous if you prefer  – sgvk27@aol.com)
An anonymous group of people, via an experienced agency,  placed ads which should never have been aired .  The ads contain spurious claims, but at the time the regulatory bodies were unable to intervene.  The regulator has found the ads in breach of code. 
We need to know who the VFTCGP members were to see whether there were any conflicts of interest.  People would have been influenced by hundreds of ads, the contents of which could not be contested at the time. 
Whatever side of the issue you are on, if you care about law, democracy and fairness, you must admit these ads should not have aired and would have influenced the voters who heard them.  Verdict:  Extraordinarily Undemocratic
( Note –  BiG has not answered questions on this issue at the time of going to press. )
Local Newspaper Coverage:  Lacking and Slanted
Unfortunately our local hard copy tabloids, the Press & Journal and its sister, the Evening Express, are clearly in favour of the web going ahead. 
Their coverage in the past has seemed one-sided.  However, they have chosen to exclude the news item about the information Commissioner's verdict re. the TIF details.  They have covered other Information Commission decisions in the past, and this one certainly has local importance. 
More importantly, at the time of writing, no local tabloid has mentioned the OFCOM decision, and instead have run pieces critical of the Labour administration.  The BBC and the Herald have decided these two stories were newsworthy enough to be published.  The local press did not find room for them, but do have articles on a new chocolate shop opening in the mall, and a photo of a black swan. 
Note –  The local press has not answered questions on this issue at the time of going to press.
Is it possible that our papers are slanting coverage to please their advertisers?  It just might be possible.  Verdict:  Newspapers can take any side of an issue they want; that is democracy.  However, do you want a paper that gives you one side of an issue, or one that covers all ground?
Democracy:  Labouring the Point
This is a good time to discuss Labour and Democracy.  When the referendum was announced, Labour said at the outset it did not agree with holding it, and explained they were already legally representing their constituents.  They also pointed out that the referendum was not a legal vote that had to be adhered to; it was in law always just a consultation (like the one we had before which rejected the city square). 
Labour told the people that if elected, they would scrap the City Gardens Project, which by the way was still in its infancy.  Some people seem to feel the web was a done deal.  It had not had TIF approval yet – it lacks details (we don't have anything other than fanciful artist drawings which ignore necessary architectural and safety features which would make the thing look far different from the concept art), and it had to go through planning.
Labour explained what was wrong with the referendum before it started, and vociferously objected to all the abuses that went on during the campaign.  They asked to be elected with scrapping the CGP as a main campaign plank:  they did what they were elected to do  Verdict:  Democratic
It is very interesting to see in today's Press and Journal our Scottish Government minister for planning,  Derek MacKay, speaking out against Labour over the web – which is a planning issue.  There are guidelines which direct him not to make such statements, but he seems to be ignoring them.
Is a minister involved with planning overstepping his remit and going contrary to Scottish Ministerial Code?  Seems like it.  Verdict:  Out of Order
http://www.scotland.gov.uk/Publications/2011/12/01141452/9
 Comments enabled – see comments box below. Note, all comments will be moderated.