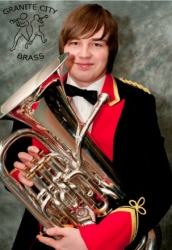 By
Kathryn Reid
On the 27th November Aberdeen City Youth Brass Band gained a well deserved gold medal at the Premier Section of the Scottish Youth Brass Bands Championships.
Congratulations to all the members of the band and their conductor Mr Richard Kidd. Aberdeen City Youth Brass Band is the senior brass band within the Aberdeen Instrumental Music Service.
( Lewis Catto, pictured right,  came first in the Open Slow Melody Contest playing Myfanway by Joseph Parry. )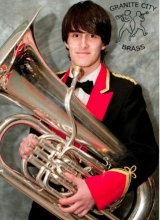 On the 6th November two members of Aberdeen City Youth Brass Band had great success in the Northern Counties Brass Band Association Competitions – both coming first in their section.
These two young lads will also be taking part in the Scottish Challenge Shield playing for Granite City Brass Band in the Bonnar Hall, University of Dundee, on 3rd December.
( Callum Reid, pictured left,  came first in the Youth section playing the First Movement from the Gregson's Tuba Concerto. )