The Annual General Meeting of the Friends of Union Terrace Gardens was held at the Aberdeen Arts Centre on Saturday 1st October with over a hundred members present.  FoUTG Chairman Mike Shepherd reports.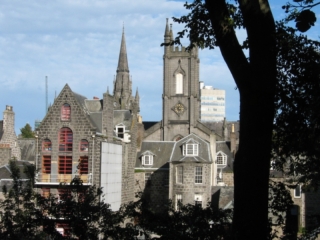 The Friends group was set up last years with the aim of campaigning to save the gardens from development and currently has over 700 members.
Two major decisions were approved by the members present.
The Friends now fully support the idea of the proposed referendum currently being investigated by Aberdeen Council.
The suggested referendum would be a vote between a final design for the City Garden Project and a sympathetically restored Union Terrace Gardens.
The group is totally confident of winning any referendum.
The Friends also reaffirmed the aim of taking over the stewardship of Union Terrace Gardens once the City Garden Project is out of the way. We would act in a similar role as the Friends of Duthie Park, who have been very successful in getting funds to restore the Victorian park. Providing toilets, easier access and a play park were some of the options discussed at the meeting.
This was a very positive meeting, and the members are confident that we will save the park. The design competition is not seen as a serious threat, as we trust our fellow citizens to recognise the stupidity of building a modern city square in the middle of a city full of old and beautiful granite buildings.
When we discussed the referendum, the shout was 'bring it on, we will win.' The enthusiasm and determination to win through and to restore of our much-loved gardens as a fully-functioning
park was evident.
We are a group that cares deeply about Aberdeen's wonderful heritage and a community-led force for the greater good of our beautiful city.