"There are people playing guitar who don't even realise they've been influenced by him", Johnny Marr observed of Bert Jansch who has died of cancer, aged 67. Jansch was a Zelig-like figure in modern British music. Like Woody Allen's eponymous social chameleon, Jansch's eclectic, groundbreaking presence and influence over more than 40 years was subtle but pervasive. Neil McLeod gives a fan's view of a huge talent who straddled generations and genres.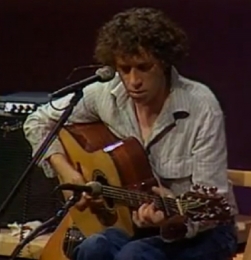 From the mid-60s folk boom, through the blues-rock melting pot, via the cult of the introspective singer/songwriter and latterly in indie and Britpop, Jansch was there, a significant but frequently-unseen presence in the background of almost all modern British musical movements.
Born in Glasgow and raised in Edinburgh, Jansch was initially schooled in those cities' folk clubs before moving to London in the early 1960s and honing his skills during incessant tours of UK folk clubs.
His reinterpretations of classic folk songs didn't sound fey or singalong, but muscular, passionate and virtuosic.
A mix of standards and original compositions were recorded to mesmerising effect on his early LPs, particularly Jack Orion which featured his first recording of Blackwaterside, later taken up by Jimmy Page and recorded by Led Zeppelin as Black Mountain Side.
Jansch's songs were beasts of such raw, genre-defying power that they could not be contained by the boundaries of the folk club. By the late 1960s his solo work and as a member of the now legendary Pentangle saw him achieve recognition and exert influence which took no account of musical barriers. Formed in 1967, Pentangle toured and recorded extensively until 1972 and reunited intermittently with Jansch's participation right up to his final public appearance in August this year.
Jansch's songs were beasts of  raw, genre-defying power
In the mid 70s, Jansch recorded further career highlights including LA Turnaround and Santa Barbara Honeymoon. These were expansive, lush efforts which tackled the mellow rock produced by the Laurel Canyon crowd, but kept a distinctively British voice both in Jansch's delicate vocal phrasing and guitar playing.
Introverted and shy on stage, he was nonetheless a riveting performer. He was the archetypal non-conformist who cared little for personal possessions and who often had no fixed address. Like many artists he also succumbed to alcohol excess and this had a detrimental impact on his health and his output by the 1980s.
Thankfully, he recovered his health and his productivity by the 1990s and was by that stage benefitting from the patronage of younger generation giants such as Johnny Marr and Bernard Butler, who played with him on Crimson Moon in 2000. That long, late period of acclaim continued until his final days, with everyone from Neil Young to new folk darlings Fleet Foxes singing his praises.
With all this muso respect it would be easy to think of Jansch as being a bit too worthy and considered in his playing, appreciated reflectively by beard-stroking guitar bores. Nothing could be further from the truth. Jansch played his songs for the love of music and never let craftsmanship become over-elaborate or get in the way of the tune.
Bert Jansch was that rarity – a musician who legitimately deserved recognition and who retained that status throughout his career.