Aberdeen Youth Council's former head Sean Press resigned because of 'a conflict of interest', citing his involvement with ACSEF the 'pro-business and development body [which] is fully supportive of the City Garden Project' per the Press & Journal.  Now Aberdeen City Youth Council, the official voice of young people in the city, has spoken out against the proposed development of Union Terrace Gardens, describing the plans as "unwanted" and "potentially devastating to young people".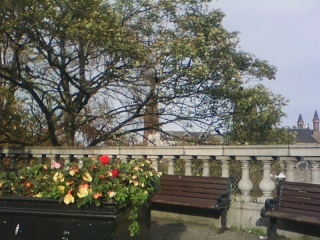 17 year-old office-bearer,
Kenneth Watt
, comments on the decision:
"It's not normal for the Youth Council to speak out against the Council like we are doing. However, the decisions made have the potential to be devastating to our generation, and generations to come and we are genuinely worried about the prospect of the City Gardens Project going ahead."
As a result, the group has registered to submit 300 words in the voter registration pack.
The group also criticised the City Council in its involvement of young people in the decision-making process, after they discovered that only 113 young people from just two schools were consulted with. In the Youth Council's own consultation 98% of 14-25 year-olds were in favour of retaining the Gardens.
The financial security of the City Gardens Project (CGP) concerns the Youth Council. The Aberdeen City Youth Council (ACYC) are worried by the lack of a plan to cover the possible failure of the risky Tax Increment Funding scheme. After multiple requests for detailed financial information from councillors on the monitoring board were ignored, the group became very apprehensive over the CGP's feasibility.
Kenneth Watt, an office-bearer in the ACYC says that:
"Young People have been hit hard by spending cuts to key services already; the prospect of facing more in the future is a risk the Council can't afford to take."
"Young people need to be listened to and have their questions answered. We're the ones that will have to foot the bill when the £96million loan can't be repaid."
One of the main sufferers of cuts to public services is Aberdeen's youth. Northfield has the highest rate of child poverty in the north-east of Scotland and the Council cannot commit to such a financially unstable project when they are closing key services to the youth in many areas.
"It is ridiculous for the Council to commit to a £96million loan when vital community services – such as the Mastrick Young People's Project – are being cut left, right and centre."
It was claimed that the CGP would reduce crime rates in the city, which young people are frequently blamed for. Both final designs for the CGP have direct access from Belmont Street and Union Street, home to many pubs and clubs. A £170million project of this nature will not cure the violence and crime that Aberdeen faces.
"Voters need to think seriously about the long-term aspect of the City Gardens Project and the financial burden it could easily leave for generations of Aberdonians to come."
"Union Terrace Gardens is a space that is unique to our city. Our parents have loved the Gardens, we love the Gardens, and – if retained – our children will love the Gardens too."