A copy of Scottish Walks fell out of the Sunday Herald a couple of weekends ago.  It must have been a weekend where the Dons didn't lose before it was bought. Scottish Walks is well-written, covers the whole of Scotland, is not solely for the gearmonsters and Munro-baggers and it's free.  Aberdeen Voice's David Innes had a quick word with editor Cameron McNeish about the magazine and its sister publication Scottish Cycling.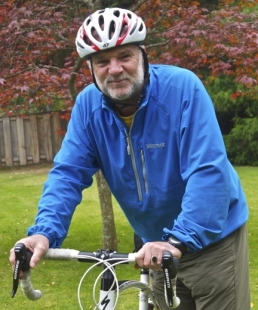 DI:           The ad in the latest issue mentions distribution of hard copies in the major commuting cities – do you know how this is carried out in Aberdeen?
CMcN:     Scottish Walks and Scottish Cycling are both quarterly magazines and are given away free from a variety of distribution sources. The magazines are usually carried by the Sunday Herald newspaper and in addition a large number of copies are sent to outdoor centres, outdoor shops, leisure centres, libraries and doctors' surgeries throughout Scotland.'
DI:           How are the magazines financed?
CMcN:    The magazines are financed solely by advertising.
DI:           Do you have a campaigning edge, or is the vision wholly altruistic from a health and environmental viewpoint?
CMcN:    We don't have a particular campaigning edge.  The emphasis on both titles is to encourage people to have a go, although in Scottish Walks the emphasis is more on giving people a wider choice of walking route.  The cycling magazine is aimed more at the leisure cyclist rather than the racer or hardened sportive rider.'
DI:           Would you accept copy from potential contributors?
CMcN:    We are always happy to accept contributions but since we have a very minimal contributor's budget we don't emphasise that!  Most of the material is written by, or sourced, by myself.
As well as the hard copy versions of these magazines, which are gloriously illustrated, you can register to subscribe for a free online version at http://www.scottishwalks.com or http://www.scottishcyclingmag.co.uk or subscribe, for a nominal sum, to have a hard copy delivered to you..
*  *  *  *
On a related subject, Aberdeen Cycle Forum has informed its members and subscribers about a vital cycleway improvement in the suburbs:
"The latest improvement to the Deeside line has seen tarmac laid on the remaining 1.5km or so to Culter station.  The route is now sealed surface all the way from Duthie Park.  
"This is good news and is the latest stage in a round of improvements that started around 2000 with the installation of bridges over Hardgate and Holburn Street.
"This is down to the council taking a sustained interest in the route, and excellent funding support from Sustrans and Nestrans – as well as consistent pressure from ACF.  
"Our annual cycle count has shown a steady increase in cycle use which confirms what we already know – good quality cycle provision encourages cycling!"
There are pictures of old and new surfacing on the Deeside Line at
http://aberdeencycleforum.org.uk/index.php?pf=news.php&nid=158
It's important to let your councillor know if you are benefitting from this investment.
If you don't know who your councillors are, you can find them here – http://www.writetothem.com/
Comments enabled – see comments box below. Note, all comments will be moderated.