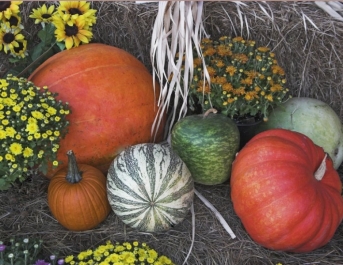 By
Bob Smith.
There is a Native American sayin "Treat the Earth weel. We dinna inherit the Earth fae oor ancestors We borra it fae oor children" Aat bein the case oor affspring are nae gyaan tae be verra happy wis us.
We're makkin a richt bliddy pig's erse o lookin efter the planet we aa bide on.
Een o the biggest problems wi hiv is foo we use the lan we bide on.
There his bin huge pressure pit on the Earth's ecosystems since the Industrial Revolution. Afore aat maist fowk workit in the rural areas bit wi the onset o fit poet William Blake described as the "dark satanic mills" fowk moved intae growen toons an pollution fair belched oot o factory lums and the coal fires o the workers hames.
It is alleged carbon dioxide levels hiv increased  by 38% since 1750 an methane levels by 148%.
So aat wis  the stairt o oor planet's problems bit thingies hiv gotten worse ower the past hunner 'ear an speecially so in the past fifty.
There hiv bin "land grabs" fae the indeginous fowk o various kwintras tae further the interests o big business throwe mair minin, loggin an cattle ranchin, tae name bit three, resultin in the loss o lan fer agricuture so aat the fowk can nae langer feed thersels.
Forests hiv bin cut doon, fowk displaced,the habitats o animals destroyed, aa in the name o so ca'ed progress. The human race is spreadin its tentacles aawye usin up the Earth's resources at sic a speed the planet hisna hid time tae recover.
Awa back in time fowk jist used fit they nott an leukit efter the natural world, livin side bi side wi the ither inhabitants o the Earth. Nooadays we hiv becum greedy an it's a race tae see faa can mak the maist dosh an nivver myn if wi leave ahint a trail o destruction in the rush tae achieve economic growth.
As a chiel faa cums fae a fairmin backgrun it pains me tae hae tae write iss next bittie, bit modern intensive fairmin practices hiv,in ma opeenion, contributed tae the pollution o the lan an destruction o habitat fer a puckle birdies an animals.
As far as a can see verra little crap rotation is deen nooadays
A myn on ma faither, nae lang afore he passed awa, sayin he wis gled he wisna stairtin up in fairmin noo as it wis nae langer leukit upon as a wye o life bit mair a business controlled by faceless bunkers, reid tape, an the agri-chemical business.
Noo ma faither did use fertilisers bit he didna like pesticides.
As far as a can see verra little crap rotation is deen nooadays an as a result the grun becums soor an loses its nutrient value hince the reason mair an mair fertilisers hiv tae be used.
Spreadin gweed coo's shite in its natural form is nae langer a practice widely used. Mair an mair slurry is gyaan on tae the parks an bein in liquid form can leak fae the lan intae ditches an burns an syne intae rivers.
Fairmers hiv ower the past fifty 'ear pulled up hedgin an knock't doon dykes tae mak the parks bigger tae accomodate the muckle big tractors an machinery. The hedges an dykes war refuges fer birds an wee beasties.
The loss o roch grassland, loss o mixed fairms, conversion tae arable craps only, an a switch fae spring tae autumn sowin a mak life difficult fer fairmland birds like the teuchat an the laverock.
The bee population is thocht tae be suffrin throwe the use o certin pesticides an yet the fairmers need the bees tae pollenate some o their craps so fit wye div they keep on sprayin? Ae answer is – bigger yields are leukit on as mair important than the birds an the bees.
Noo there is a smatterin o fairmers faa hiv decided tae gyang back tae een or twa o the auld wyes o producin food.There are a helluva lot mair faa need convincin.
A noo cum tae a bit fit wull nae mak me ower popular wi some fowk.
the human population is risin an we need hooses tae accomodate aabody
Reports hiv bin sayin fer 'ears we are nae able tae feed oorsels in iss kwintra. Nae bliddy wunner, we hap productive lan wi concrete in the form o hoosin and industrial developments an hiv great ribbons o tar criss crossin aawye.
We are telt the human population is risin an we need hooses tae accomodate aabody an fowk need their cars tae get fae A tae B.
Maybe it's time we aa stairted waakin mair afen an foo aboot bannin bonkin fer a ear or twa? Aat wid fair reduce the need fer sae muckle cars an wid gyang sum wye tae halt a population explosion.
Myn ye, ma suggestion o bannin bonkin micht increase the amunt o wankers gaen aboot.
Tae git back tae bein a bittie mair serious. John Muir, the great Scottish born American naturalist, eence said
"The gross heathenism of civilisation has generally destroyed nature and poetry and all that is spiritual"
We maun aa therefor hae a leuk at fit's gyaan on in the warld an try tae influence the eens in power aat continued economic growth micht pit in jeopardy the future fer oor affspring.
As lang as the warld an his mither ging aboot consumin ower muckle, the Earth suffers.
Comments enabled – see comments box below. Note, all comments will be moderated.