In this third and final part of Bob Cooney's amazing biography, written by his nephew – Aberdeen City Councillor Neil Cooney – we learn that Bob having come home from fighting Fascism in Spain, returns to continental Europe to fight Fascism again as a gunner in the Second World War. We learn of his experiences in the war, changing attitudes towards Communism and his career as a folksinger.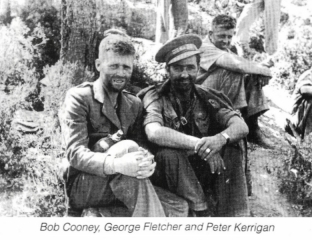 On his return from Spain, his mother wept at the sight of him.
He was so thin and emaciated. For more than a year after his return he still bore sores in his arms and legs.
He had served his apprenticeship as an amateur soldier. Now the professionals conscripted him.
Conscription to W.W.2
In September 1939, the Second World War began. Bob was there as a gunner from the beginning to the end. He was sickened by the poverty he encountered in conquered europe. His eyes filled as he told of young German mothers giving their bodies for an egg to feed their bairns.
We are all losers in war. Bob was to campaign vigorously within the peace movement, but he was never a pacifist. There are times when we have to stand up and fight for a just cause.

1945 brought victory and the heady triumph for Labour in the election. Churchill with his cold-war rhetoric was dumped by the pro-Beveridge stance of Atlee. Socialism was at the front of the agenda. Gunner Cooney was deprived of his chance to help in the shaping of it by party HQ. That chance never came again although he flew the flag in the safe Labour seat of North Aberdeen in 1950 and picked up a creditable 1,300 votes.
By now he had championed a new group of friends, the squatters.
Housing was a key issue in the 1945-50 era. There had been an already acute housing shortage by 1939; wartime bombing had aggravated that problem by 1945. Nye Bevan was given the Housing portfolio as well as the Health one. Although he brilliantly negotiated a minefield of problems to set up the National Health Service, he failed to reach his housing target of 200,000 new units per year.
Shortages of men and materials made the task very difficult. The Tory jibe was that Labour had only "half a Nye" on the problem.
The Communist tag was no longer an asset after the outbreak of the Korean War
The houses that did get built, including the very popular prefabs, were constructed to a good standard, but there simply were not enough of them for all the newlyweds and their post-war baby boom.  Ever-lengthening waiting lists rendered the future bleak for thousands of Aberdeen families.
A short-term practical answer lay in organising squats in empty properties such as the old camps at the Torry Battery and Tillydrone. Bob was once again organising.
He was now a family man himself, with a wife, Nan, and twin girls, Pat and Pam. He had to be earning; he joined the building trade and was soon involved in unionising the men. These activities eventually got him blacklisted from his beloved Aberdeen.  There were no vacancies when Bob came to call. He was elbowed out of the dignity of work.
It was a particularly difficult time for him. The Communist tag was no longer an asset after the outbreak of the Korean War.
Under American influence, Commies were everywhere depicted as enemies, fifth columnists undermining the democratic process. Even the comic books had replaced the square-headed Nazi enemy with the square-headed Commie enemy. Stalin's death in 1953 was accompanied by a torrent of horror stories about purges and gulags.
Bob's messianic message was no longer marketable.
Folk Celebrity
He spent twenty years in exile in Birmingham where he found work as an industrial crane operator. He lodged with Dave and Betty Campbell and their close-knit family. The Campbells were old comrades from Aberdeen days. He was adopted into their family and he shared their love of folk music.
Second generation Ian and Lorna became leading lights in the folk scene.  Ian's sons, the third generation, went on to take the pop scene by storm by founding UB40, just as the third generation of the Socialist Lennox family of Aberdeen produced the great Annie Lennox of Eurhythmics and, later, solo fame. Music had been a popular Socialist activity in the Hungry Thirties.
The definitive Spanish Anthem, however, was written by Bob himself for the 27th anniversary reunion of the International Brigade
Then ambitious shows were presented. The rehearsals kept the young unemployed busy. Little Alfie Howie, an unemployed comb-maker, recalled dozens of rehearsals for a star turn choral enactment of the Volga Boatmen. On the night, the rope was long, the line descending in order of size and the song was over and the curtains closed before Alfie had even reached the narrow little stage.
Bob even wrote a complete musical for Unity Theatre, but it was never performed: Fascists and Spain got in the way.
Bob himself became a minor folk celebrity, performing traditional Northeast tunes such as the "Wee Toon Clerk" and "McGinty's Meal And Ale". He was also frequently requested to perform his own compositions such as "Foul Friday" and "Torry Belle" or Chartist or Wobbly songs of American labour or the Spanish anthems such as Alex McDade's "Song of Jarama" sung to the tune of Red River Valley:
There's a valley in Spain called Jarama
It's a place that we all know so well
It is there that we gave of our manhood
And most of our brave comrades fell.
Alex himself died for the cause at Brunete in July 1938.
The definitive Spanish Anthem, however, was written by Bob himself for the 27th anniversary reunion of the International Brigade. He called it "Hasta La Vista, Madrid".  It is a prose poem that he would deliver with gusto. He reckoned, with good reason, that it was the best thing he ever wrote.
Our century had to be cleansed
So we went to Spain
Where the defeat of Hitler started……
No freedom fight is ever lost
While folk can learn
Each human mind's an outpost
And the frontiers of freedom expand
Conquering minds and hearts
Prelude to the conquest of cities and states
Till the world will be wholly free
Then Folk will strive for higher freedoms still.
Bob even appeared on vinyl as a singer with the "Singing Campbells". He also worked with Hamish Henderson in the epic folk collection.
When he retired back home to Aberdeen in 1973 at the age of 65, he was "adopted" by the Aberdeen Folk Club. They honoured him by publishing in 1983 a selection of his songs and poems, "When of Heroes we sing".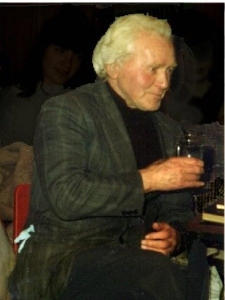 That little booklet sums up his philosophy of life and the causes he so fervently supported. He was now 75 and his health was rapidly failing. His active mind kept him awake; insomnia wore him down.
He spent his last months in Kingseat Hospital, still humming his tunes and composing poems in his head.
He died in August 1984 aged 78.
He gave so much and seemed to get so little in return, yet he was happy in comradeship and lived a full life. Bob could be very shy in company until he got to know you, and then he could be quite gregarious. He could tell you jokes you had heard many times before, but he added his own little bits to milk the story for a few more hilarious minutes.
He wanted a world full of laughter; he challenged a life full of injustice. He won his fair share of battles and never shirked a challenge. The cause was always more important than personal comfort. It was a life of sacrifice in a huge effort to improve conditions for his fellow men. He didn't always win but he did inspire others to take up the cause.
He had a rich life worth celebrating, and it duly was celebrated in the Lemon Tree with a folk night featuring Dick Gaughan. The Trades Council also organised a celebration of the International Brigadiers in November 1989. His name lives on in the Housing Association development at Berryden: not bad for a squatter and a born rebel.
Footnote:
Aberdeen Voice wishes to thank Cllr Neil Cooney once again for permission to publish this inspiring story of a fellow Aberdonian to whom we owe an infinitely greater measure of gratitude.