An event to celebrate the 75th Anniversary of the International Brigades who fought in the Spanish Civil War against Fascism and Tyranny in support of Freedom and Democracy, took place in Aberdeen on Friday 14 October 2011 in the ATUC Club, Adelphi, Aberdeen.  Brian Carroll was in attendance and shares the occasion with Voice readers.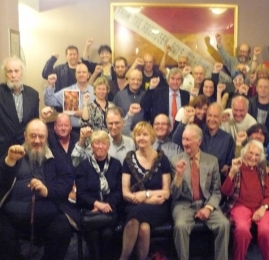 The event was well attended and kicked off with a talk by Neil Cooney on the Aberdeen Boys' contribution to the fight for freedom and democracy in Spain to which 19 of them committed. It was no mean feat in those days to get from Aberdeen to Barcelona, traveling through France to be smuggled into Spain over the Pyrenees; and then to endure the depravity and inhumanity of war for the three long years it took the overwhelming forces of Franco's men and machines to defeat the Republicans.
The Spanish Civil War raged from 1936-39
Nineteen of Aberdeen's finest committed to this fight and five made the ultimate sacrifice to the cause, dying on the battlefields of Spain at Gandesa and Ebro.
The nephew and son of two of those who undertook this remarkable journey and adventure attended the celebration, They were Neil Cooney and Ian Dewar, nephew and son of Bob Cooney and Archie Dewar respectively. Neil Cooney gave a talk about the contribution of those from Aberdeen.
Bob Cooney survived the War and returned to Aberdeen to then fight in the Second World War, but Archie gave the ultimate sacrifice and died in action at the Ebro.
There was some poetry, music and a general discussion on the war, the events leading up to it and the policy of non-intervention by Britain and France, a policy which resulted in a Fascist/Franco victory. But the Spanish Civil War did sow the seeds of the beginning of the end for Hitler and Mussolini.
The flag you see in the photos is hanging proudly in the ATUC Social Club. It was the then Spanish Flag of the Republic of Spain, and the bodies of Archie Dewar and Tom Davidson were wrapped in this flag on their deaths. The flag was then sent back to Aberdeen by Bob Cooney.
Aberdeen Women's Aid Committee sewed on the legend "From the Aberdeen Boys Fighting in Spain".
An ATUC booklet produced for the war's 60th anniversary, Remembering the Spanish Civil War 1936-1939, was available to those attending the celebration. I requested both Neil Cooney and Ian Dewar to sign my copy, which was a very proud and emotive moment indeed, after hearing of the courage, bravery, commitment and endurance of those who volunteered to fight in Spain.
Footnote:
Bob Cooney was the Political Commissar to the British Battalion of the International Brigade, and he penned the poem " Hasta La Vista Madrid" no doubt somewhat inspired by the words he wrote when he was requested to leave Spain by Prime Minister Negrin, when the defeat of the Republicans and their Democratically elected Government was inevitable:
"We went to Spain
Because of that great yesterday
We are part of that great tomorrow
Hasta LaVista- Madrid"
(Until we see Madrid again)