Voice reviewed 'When The Clyde Ran Red' a few weeks ago. So impressed was David Innes with Maggie Craig's excellent take on a vital part of Scottish history, that he spent an afternoon in her cosy kitchen on the wrong side of the Balloch, discussing the book's background, her passion for the subject, and much more besides. Here is Part One of that interview.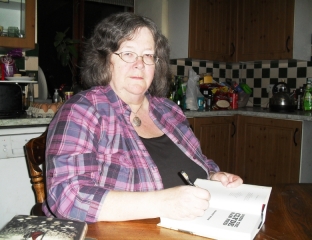 How much of your background is in 'When The Clyde Ran Red'?
A lot of my background. My dad was very involved with Labour politics and was an Inverness town councillor in the 1940s. He moved to Glasgow and became election agent for Cyril Bence, the Labour MP for Dunbartonshire East after Davie Kirkwood, in the early 1950s.
My dad was born in Coatbridge in 1913, so grew up during the Depression. We were told stories about them going over the farmer's dyke to nick a few neeps and the farmer turning a blind eye because he knew everyone was really hungry.
In fact my dad's in the book. I discovered a big pile of my dad's papers which showed he'd written to the Commissioner of Distressed Areas about the Scottish Allotments Scheme for the Unemployed. He was a great gardener and a railwayman and you know how these two things go together.
People say, "Let's not talk about politics", and you think, "If you ignore politics it won't ignore you". It was my dad's lifeblood. I remember him crying about a neighbour's baby who'd died and they'd no money even for a coffin. This would have been, I suppose, in the early 1930s. They wrapped the baby up in brown paper, and he said, "Tied up like a bloody parcel", because nobody had any money.
There was always the big hoose and the mine owners. He went apoplectic about Sir Alec Douglas Home, who they were working for at one point, because they were living in the lap of luxury when their workers were living in poverty.
My dad was one of about ten and they were really a bright, clever family, and there was this idea that girls who were clever were going to work in factories at 14 and the boys didn't get a chance either. It was such a waste of potential.
I remember my aunt telling me about how the doctor would come out. It cost five shillings, but they'd a good doctor who'd say, "I'll get it next time, Liz". My aunt says they were on first name terms with the doctor, who must have been an idealistic man who saw himself on the same level as the miners he was treating. When you think of some doctors now who insist on their status, it's an interesting turnaround.
You grew up in the Glasgow area?
I grew up in Clydebank. My dad then got a job as station master which moved us from Clydebank to Bearsden, quite an interesting culture shock! My mother had come from a farm, and the station house we lived in came with a third of an acre of ground which my dad was proud of. It was semi-rural. He came from Carnwath and loved being in the country.
If you go there now the industry's gone and it's back to being a rural area. A lot of these Clydeside places were. There were shipyards and tenements, but you went up to the farm to buy eggs. I think there was a love of the land even in industrial areas.
My mother's from Barthol Chapel on the Haddo House Estate and she used to talk about Lord and Lady Aberdeen. I don't think her family was as poor as my dad's, but she told me that her mother sometimes had to sell their butter and buy margarine. That really hit me – the one benefit of being on the land is that your children are going to have healthy food, but that wasn't always the case.
I think their rural background helped them speak fantastic Scots. There are words my mother used that we still use, like "fair forfochen". Because my dad came from what he called the Upper Ward of Lanarkshire he had that rich Scots and that's all running through the book too.
I think there's an obvious really good prose rhythm in the book, and that possibly explains it, but it's your passion for the subject that really shines through.
I grew up with it and thought a couple of years ago that it was time I wrote another non-fiction book. I thought, "What do I feel passionately about?" and the book's the answer.
I went and looked at some of the other books and some of them are pretty dreadful. The Legend of Red Clydeside is hard going, and you come up against the party line quite often. The Marx Memorial Library gave me permission to quote from Helen Crawford which a lot of people said they wouldn't allow.
You also have to make a judgement about what's been written and have to say to yourself when reading some of the memoirs, "You're presenting yourself in a bit of a heroic light here". I love the wee vignettes, and I don't think they're frivolous. Like when James Maxton gives Davie Kirkwood a clean hanky when he gets arrested because he always liked to have one. Somehow you think, "Well, that's true!"
I think I had a passion to write about it because it seems to have been forgotten. People are talking about austerity nowadays, and I think, "Not yet". We're not at the level of poverty where people couldn't go to work because they didn't have a pair of shoes, or they had to share a pair of shoes with their sister.
We're now seeing the prospect of our children doing less well than we did, which is very hard because you want your children to do better than you've done. Both my husband and myself are working class kids who've made good but you feel as though you're almost being hit for that – the idea that if you can afford to send your kids to university, you have to bear this cost. This is fine, but you don't have the cushion that someone like David Cameron has. I had to have a full grant to go to university otherwise I couldn't have gone.
Next week: The author speaks about her books on the Jacobites, 'Bare-Arsed Banditti: The Men of the '45' and 'Damn Rebel Bitches; The Women of the '45', and how this period of Scottish history is misunderstood and worthy of re-evaluation.
Those of you who want to meet Maggie and hear a bit more about her influences have the opportunity on Saturday 21 January when she and fellow writer Kenneth Steven will be at The Central Library, Aberdeen at 11.00 to talk about their love of books.