By Suzanne Kelly.
Marischal College played host a large demonstration on Saturday 24 January, as hundreds took to the city council's offices to protest a development which will change the area's character forever.
Directly across from Marischal College, one of Scotland's most important modern buildings, another glass box office / retail complex will add to our growing collection of anonymous, soul-less architecture.
With the old St Nicholas House now torn down, space and light enters this part of the city; the Provost's House and Marischal College are both set off to far better effect.
A natural civic square – if such a thing is really needed further to the Castlegate (which hosted a protest last Saturday for Charlie Hebdo solidarity) – exists where St Nicholas stood, which would have required hardly any money to create. Sadly, it seems that commercial interests override scale, the existing architectural environment, and the historic importance of the Provost's House.
A protest was held at 1pm at Marischal College on Saturday 24 January; the protestors came from all walks of life and all age groups; at least 200 were there.
I spoke to some of those present; all believe that an opportunity has been lost at the site of the former St Nicholas House and Provost Skene's House, a small historic structure which will be claustrophobically dwarfed by the glass box architecture Muse developments have agreed with the city.
What this will mean either for road traffic or for the city's chronic air pollution issues (we have 3 of Scotland's most polluted roads with air particulate levels well above European emission rules). But it seems certain the plans will go ahead.
Alan Spence said:
"I think it's a complete waste of money; it's a monstrosity that nobody wants."
One of the prime organisers, Gordon Robertson, added:
"Last week's protest had only about 30 or 40 protestors, hopefully with today's turnout we can drum up more support and get more signatures… I just think the new building is far too big; it's not in keeping with the style of the existing buildings. It's not what the people want. We have six shopping centres already; we have offices … this just isn't the place for this development."
I spoke to Alan Morocco who likewise was protesting. He spoke about Dundee's public spaces, and felt we compared badly besides that city. Morocco said:
"We got rid of one monstrosity and it appears we're replacing it with another. I don't think it's in keeping with the area."
Most of the protestors were citizens without any particular political axe to grind. However, some people showed up who just might have been there for political point scoring.
Kevin Stewart of the previous ACC administration was in the crowd.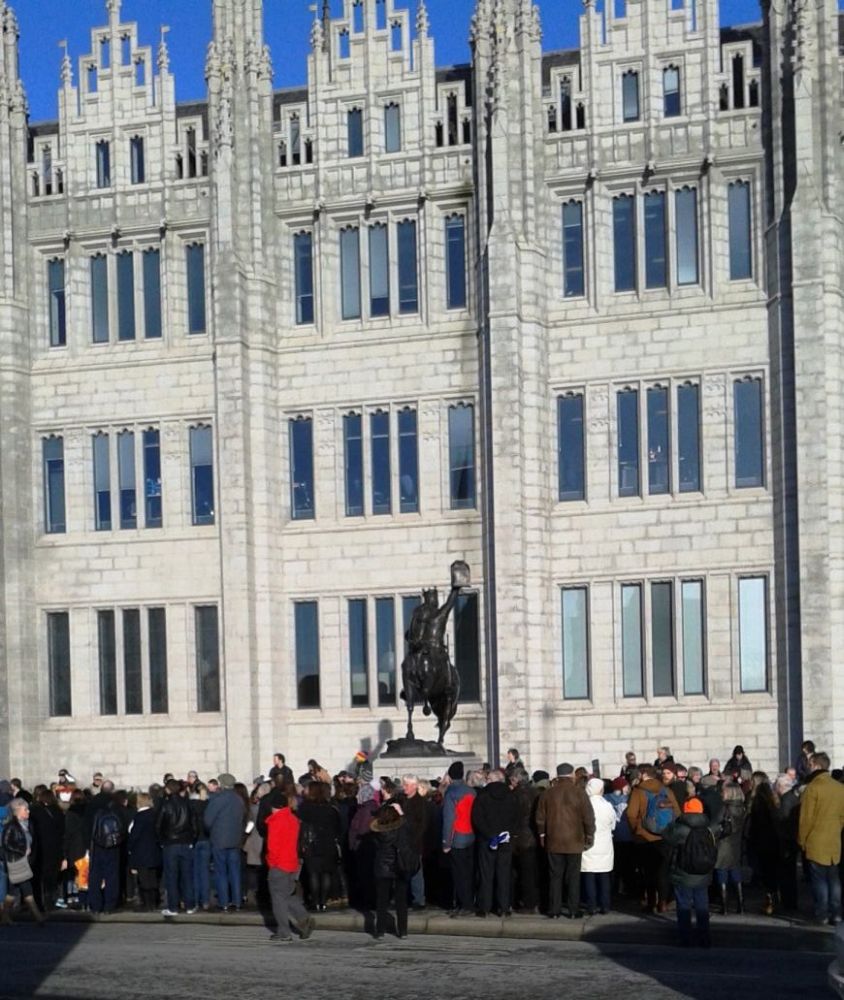 When he was in power, we saw land being sold at prices so low that Audit Scotland condemned the practices which cost the taxpayer dearly in terms of money and space.
Stewart of course had been instrumental in implementing the draconian cuts to social programmes which saw thousands take to the streets in protest.
His particular time in the city council didn't exactly take the views of the citizens into account when it came to budget cuts or to developments either; that government's fondness of developers saw parcels of land handed to developers like Stewart Milne for small amounts of money and allowed longstanding environmental protection to be swept aside at Loirston Loch.
Tom Smith of Aberdeen City Gardens Trust was there – although there seems to be no record of his group – which was poised to take over Common Good Land in the form of Union Terrace Gardens for the £190 million 'granite web' project – objecting to the Muse plans formally.
As a formal objector to the plans myself, I had been one of many people given an opportunity to address the full council on the matter – but by the time the full council was to meet, the plans seemed all but finalised to me. It would be wonderful to think that someone, somewhere in planning could look at the scale of this proposal, the problems it will bring, and even at this late date admit this is a huge – and very huge – error.
Comments enabled – see comments box below. Note, all comments will be moderated.