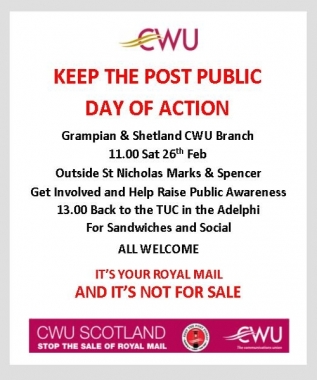 Members of the Communication Workers Union will be holding a demonstration outside the St Nicholas Centre on Saturday February 26th to raise awareness of proposals put forward by the Government to privatise Royal Mail.

Voice's

Stephen Davy-Osborne

reports.
The proposal, set out earlier this year, sees the link between Royal Mail and the Post Office Ltd severed as Royal Mail becomes a privatised company, while the Post Office remains in public ownership under a partnership similar to that of the John Lewis Group.  These proposals have caused a great deal of concern to those employed by both organisations.
Once privatised, there would be no guarantee of Royal Mail making use of the Post Office network; which is already facing 900 closures up and down the country.   Once a vital amenity for any village, town or city; the Post Office has faced increased competition from other companies offering similar services resulting in decline in footfall, and therefore closures.
Alan Robertson, Secretary of the Grampian & Shetland branch of the CWU, is hopeful that further closures and subsequent job losses can be avoided:
"The future of the Post Office Ltd does not have to be gloomy.  If the Government stuck to its election promise of putting a fully-blown bank within the Post Office, then it would help secure its future. Last year alone 150 Post Offices shut down.  If privatised and not given banking services, then Post Offices will simply wither on the vine and the people who suffer the most will be the elderly, those in remote areas, and the most vulnerable in society."
people think either it will never happen or it's a 'done deal' – neither of which is true
Demonstrations and marches have been taking place up and down the country over the last few months, with many more yet to come.  Just last month following  the announcement of the proposed changes, the CWU marched on the constituencies of both David Cameron and Minister for Postal Affairs, Ed Davey, to highlight that privatisation is not in the best interests of Royal Mail or its users.
Members of the Grampian & Shetland branch of the CWU will also be journeying down to London at the end of March to join a march against cuts being organised by the TUC.
Royal Mail has attracted a lot of media attention over the past couple of years, with reports of inefficiencies and huge job losses on the horizon as it sought to compete in a modern market.  Despite the bad press, Mr Robertson is confident that things were starting to look up for Royal Mail:
"The long-term problems we have had are already being addressed.   Last April our membership ratified a three-year deal that accounts for things like the decline in mail, new machinery and ways of working.  This will lead to a significant drop in headcount for our members, but it has been done on a proper basis that will see a more efficient Royal Mail at the end of the three years."
However, all of these agreed changes, which saw heavy campaigning from the unions to secure a fair outcome for all, could be put in jeopardy by privatisation.
The demonstration outside the St Nicholas Centre will therefore try and raise public awareness and let people know what the results of privatisation would mean to them.
"I believe that most people think either it will never happen or it's a 'done deal' – neither of which is true." adds Mr Robertson.
For further information and to show your support for one of the nation's most vital public services, head along to the CWU's demonstration outside Marks and Spencer, St Nicholas Centre between 11:00 and 13:00 on Saturday February 26th.