In Aberdeen's residential west end, there are hundreds of commodious, well-tended gardens set amid streets and avenues of solid, no-nonsense granite dwellings. At the foot of one such garden, a modern building, unobtrusive and fairly non-descript, conceals one of the city's best kept secrets with a master craftsman at work inside. Voice's David Innes spent an hour or two in his company then went home, intent on sawing up his Mexican-made Fender Telecaster.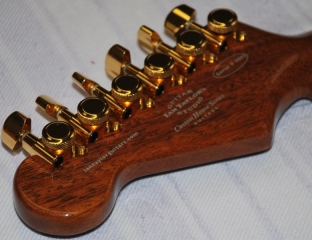 That craftsman is Ian Taylor, sometime member of several top Aberdeen rock n roll acts, including the Original Diamonds, the first Aberdeen band to play Hamburg's legendary Top Ten Cub in the wake of The Beatles' success over there, and he's building guitars.
"A hobby," he declares, "A bit of extra-mural activity but I hope to sell what I build. Whether or not it becomes a business I'll wait and see".
Interspersing our conversation about Guyatones, Futuramas, Les Paul Juniors, Fit Like New York? Ian being the first Stratocaster owner in Aberdeen and mutual musical acquaintances and influences, he talked with energetic enthusiasm about his labour of love, which has developed from an instrument maintenance venture to the creation of high-specification, superbly-finished electric instruments.
For technically-minded muso readers, Ian creates two basic instruments, based on the Fender Stratocaster and its older sister, the Telecaster. One can't argue. When Leo Fender first unleashed the solid slab of the Esquire, later to morph into the Telecaster with the addition of a neck pick-up, on an unsuspecting post-war world, most musicians agree that he achieved the extreme rarity of getting it spot on first time. Many have tried to improve on Leo's original design, but really they've only been tinkering with near perfection.
Admitting that modern CNC technology makes hand-crafting guitar necks and bodies too labour-intensive on a small scale, Ian imports top-end finished Strat and Tele bodies and necks from across the Atlantic.
He then matches them to user's requirements for pick-up choice – single coils or humbuckers – and configuration. This influences how the guitar will look, sound and perform in finished form under the lights and behind the monitors.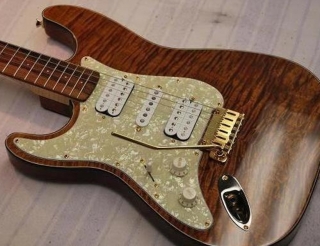 A work in progress is a Tele-shaped instrument and Ian has agreed with the guitarist who will be road-testing it that this will be a single pick-up model. With no switch needed, this has allowed Ian to rout out the cavity for the volume and tone controls from behind, meaning no need for a mounting plate. The control knobs will be fitted directly to the body, giving an attractive, unadorned look to a beautiful instrument taking shape. The most remarkable feature for me was seeing Tele bodies with wrist and abdomen chamfers, a guarantee that these solid slabs will be slightly lighter and more comfortable to play over an evening's gigging….
Taylor guitars are fitted with the best electrics available too, all hand-assembled by this craftsman's hands. He also fits the frets and other hardware, and in a fully-equipped and environmentally-friendly spray booth – only water-based lacquer is used – he applies billiard ball-smooth finishes which are outstanding to look at and will have any appreciative musician desperate to plug in, turn up and rock out.
Right now, I reckon that this friendly, knowledgeable and interesting Aberdonian has the best job in the city.