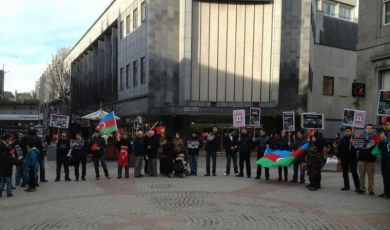 With thanks to
Fuad Rehimov. 
On 26th February members of the University of Aberdeen's Azerbaijani Society and others from the local Azerbaijani diaspora held a 2 hour demonstration at the St Nicholas Centre as part of the international Khojaly genocide awareness campaign.
 The demonstration marked exactly 20 years since 613 civilians were massacred in what was one of the most brutal and horrific acts of the 20th century, yet often referred to as  the forgotten massacre.
"The Khojaly massacre occurred during the armed conflict over Nagorno-Karabakh, a region inside Azerbaijan with a substantial ethnic Armenian population. After capturing most of the region and expelling ethnic Azeri inhabitants, Armenian forces, with the assistance of the Soviet Army's 366th motorised regiment, which was stationed in the regional capital of Khankendi (Stepanakert), carried out a veritable bloodbath among the Azerbaijani population in the town of Khojaly. "
http://www.euractiv.com/europes-east/khojaly-forgotten-massacre-analysis-511126
The Armenian barbarism towards Khojalians is almost impossible to describe. Armenians claim that genocide was committed on them by Ottomans a hundred years ago, but how can they explain the atrocities, the inhumane crimes they themselves committed against Azerbaijani civilians in Nagorno Karabag, a mere two decades ago?
Fuad Rehimov told Aberdeen Voice:
"The French Government adopts a law which threatens to punish people who don't accept Armenian genocide, but they never say a single word about babies who were killed in cold blood.
"If it is just politics, then it's very dirty and very ugly politics which has no morals. If I were Armenian, I would feel shame for the barbarism that my nation committed.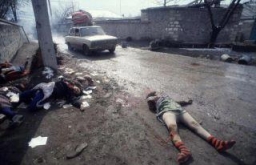 "This picture was taken by Russian correspondent Victoriya Ivleeva on 1st March 1992 in Hojali, Azerbaijan.
"There is a girl without arms on the road with her slaughtered family on the left.
"This atrocity was committed by Armenians. You can see an Armenian car with the marauders' plate in the town of Azeri."
For further information, visit: www.mykhojaly.wordpress.com