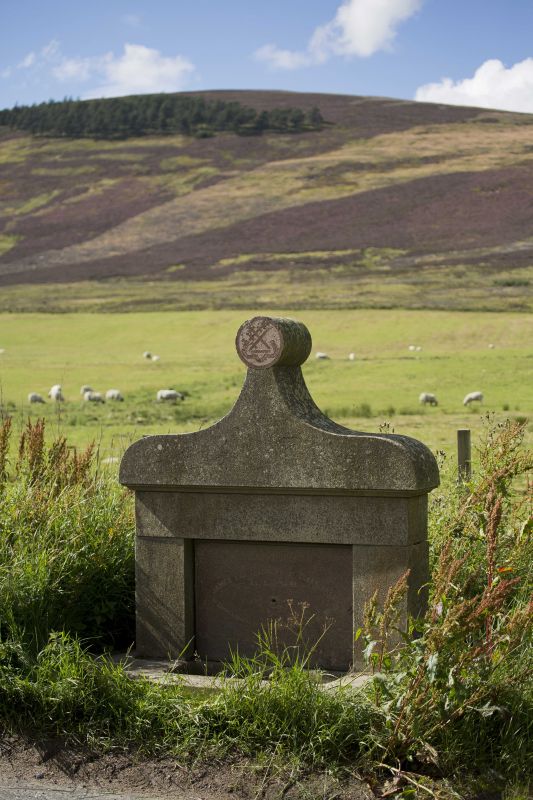 By Duncan Harley.
Scotland once had an abundance of roadside fountains. Predating the public water supplies of the Industrial Revolution, they provided drinking water to travellers and as often as not their beasts of burden.
Many roadside wells are sited above natural springs and most are situated where both man and beast would require re-hydration after having toiled up some rural one in five slope or down some twisted and slippery coastal track.
Cairnie near Huntly has one such well.
Situated on a bend of the A96 north of Huntly, it would have been a welcome rest for all who used the road between Inverness and Aberdeen in Victorian times.
Dated 1897 and with a Gothic style fountain complete with a lion mask spout over a stone trough this roadside well is inscribed 'Victoria diamond jubilee fountain 1897'. Few records remain as to its provenance however its position on a loop of an old General Wade military road may indicate that the present triangular structure replaced an earlier roadside drinking fountain or well.
The Cairnie fountain seems typical of the breed. Similar designs can be found in other locations around the north east of Scotland.
A few miles further north from Cairnie, on the road to Drumuir, is an almost overgrown concrete fountain near the old Mill of Botary.
Dated 1883 and with a with a missing spout over a stone trough this roadside well is inscribed with the lines from Psalm 104.10
He sendeth the springs into the valleys
Of my store take thou freely
And rest thee at need
Then onward true hearted
I bid thee God Speed
But thank Him who sends me
Ere thou leavest my side
That thy water is sure
And thy bread He'll provide.
James Pirie's 'The Parish of Cairnie' of 1906 describes the structure as being of concrete construction with lines composed by Rev James Wilson M.A. former headmaster of the Central School of Keith.
According to Google however, the author of Psalm 104.10 was none other than the biblical King David of Israel who was known for his diverse skills as both a warrior and a writer of psalms. It is difficult to decide which source to believe.
On the road from Keith to Tomintoul lies perhaps one of the most iconic of all of those triangular concrete roadside fountains.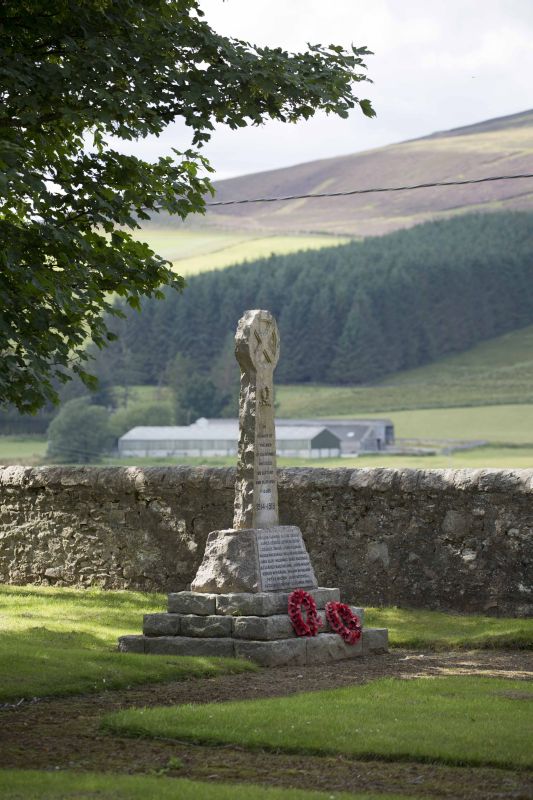 The B9009 runs from Keith to Tommintoul and skirts the iconic Ben Rinnes. Some 15 miles from Keith lies the Glenrinnes estate. Apart from a few isolated farms, some fine views of Ben Rinness and occasional red squirrels crossing the highway there is not much to see at the roadside. There is the obligatory war memorial at Glenrinnes of course and a fine one it is indeed!
Many Scottish First War Memorials are in town centres, some are on roadsides but this one sits in the churchyard where, no doubt, the young men whose names are carved on the front would have worshipped of a Sunday.
All would have died in the mud and squalor of some unworthy French or Belgian battlefield and none are buried here at the foot of the mountain which they would have seen each day as they left their front door to work on the farms and crofts of their native Banffshire.
The inscription below the satire reads 'In memory of the men of Glenrinnes who died in distant and glorious fields' and there are eighteen names written below.
In these times of fast travel and no time to spare, the eighteen young men of Glenrinnes might be all but forgotten were it not for James Eadie.
James was a brewer who made his fortune in Burton on Trent and Glenrinnes was his Scottish Estate.
He had started off in the tea trade but quickly diversified into supplying malt to brewing houses before moving into the brewing of ale on a previously unheard of industrial scale and thus making his fortune. Born in 1827 he became Deputy Lieutenant of the county of Banffshire in 1900 just a year before the death of Queen Victoria and died in 1904 just 6 years after buying the estate and taking on the title.
Meanwhile of course a war in Europe was brewing. It was not to break out until nine years after James Eadies death of course but one cannot help but feel that the landed classes would have been at least in part aware of the impending slaughter which was soon to decimate the youth of Scotland.
James Eadie was born in Blackford, Perthshire in 1827. He was one of 14 children born to William Eadie and Mary Stewart. His father was owner of a small brew house in Blackford and both parents ran a hotel and livery stable business in the town.
In 1842, James was sent to live with an uncle in Staffordshire where he learned business skills and began supplying malt to brewers in Burton on Trent. In 1864 he established a brewery in Burton. The rest is of course history. The brewery, despite several ups and downs flourished and survives to this day as Bass.
James Eadie became quite rich. As a benefactor of Burton and several other towns, he funded chapels and public buildings including a rather fine commemorative well at the foot of Ben Rinness. In his later years he became a Justice of the Peace and a Depute Lord Lieutenant of Banffshire. He died in 1904 at Glenrinnes House not quite six years after buying Glenrinnes Estate.
The roadside fountain was commissioned in 1902 and built of grey and polished pink granite for the occasion of the coronation of Victoria's successor, King Edward the Seventh.
Situated some 17 miles from Tomintoul, it is somewhat overgrown today. In fact a pair of shears and some stout nettle proof gloves might be useful should you decide to stop and view.
The inscription on the front reads:
"Erected by James Eadie Esquire of Glenrinnes, DL Banffshire, in Commemoration of the Coronation of their Majesties King Edward the Seventh and Queen Alexandra, 9th August 1902"
The fountain contrasts sharply with that memorial to the eighteen young men of Glenrinnes who left the glen to fight and die for their country all those years ago.
In a way though, both the roadside fountain and the Glenrinnes War Memorial combine to enable the present generation to maintain a sense of history since James Eadie's drinking fountain sits beside a small lay-by and provides a reason to stop on the journey from Keith to Tomintoul and at least a chance to find the names of those lost men in the churchyard on the opposite side of the highway.
With the 100th anniversary of the 1914-18 war fast approaching and having virtually passed from living memory it may serve us well to stop at such roadside places to reflect for a short while on those distant events.
Comments enabled – see comments box below. Note, all comments will be moderated.