A person might think that a chamber of commerce exists to promote local businesses.  Here in Aberdeen this is true as well.  But as Aberdeen Voice's Suzanne Kelly learns – the taxpayer is funding at least some of the PR work  for the City Gardens  Project – and the Chamber of Commerce and ACSEF seem to be leading the City Council by the nose.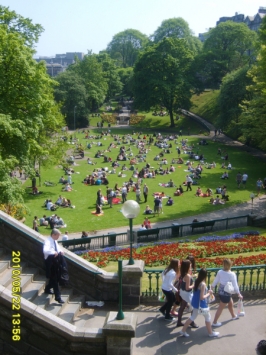 The proposed City Gardens Project/Granite Web is a contentious idea which would see a mix of public and private interests building huge, granite ramps over Union Terrace Gardens.
While this idea may not even get off the ground, it has been a gold mine for some fortunate businesses via the Aberdeen & Grampian Chamber of Commerce – at the taxpayer's expense.
This article will primarily deal with money that the City Council was invoiced by the Chamber of Commerce for PR-related work.  Before doing so, a little recap of other financial facts will add perspective.
PriceWaterhouse Coopers have come up with some grandiose projections including the creation of some 6,500 permanent jobs and £122 million flowing into Aberdeen every year until c. 2023:  all because of the granite web.  PriceWaterhouse Coopers were first paid £41,000 and change for TIF-related work in March 2010.  Other invoices followed, and so far I have been shown by Scottish Enterprise £71,000 worth of PwC invoices.
These invoices are made out to Scottish Enterprise, and Scottish Enterprise is funded by the taxpayer.  Unfortunately, these projections have been seized upon  by the press and turned into 'facts'  (The Press & Journal published these and other items in a box entitled 'facts and figures' on 19 January next to an article about the PwC projections and the garden's many projected benefits).
The unelected and free-spending and secretive 'Vote for the City Gardens Project Group' have likewise promoted these figures in their literature as being reliable facts as well.  They are projections, and arguably very optimistic ones at that.  Whether or not these glowing projections (that we will have more permanent jobs from our web than London expects from its 2012 Olympics) are based on the fact that PwC is being paid by the side that wants to build the web is something the referendum voters may wish to ponder.
A Freedom of Information request I lodged with Scottish Enterprise some time ago revealed (details of which I have previously published) included:-
Item
Description
Date
Amount
1
Technical Feasibility Study to undertake an engineering, cost and design appraisal of the development options for UTG, each incorporating an arts centre.
Jun 2009
£162k
2
Architect, Design & Project management fees for a Contemporary Arts Centre project
Feb 09/May 10
£226k
3
Consultation Report – City Square Project..
Mar 2010
£113,915
4
Union Terrace Gardens (TIF)-Tax Increment Financing
Mar 10
Oct 10
Nov 10
£71,959.65
5
Scottish Enterprise holds 22 copies of invoices relating to ACSEF approved spend for activities relating to stakeholder engagement, events management, and communcations. [sic]
2009-10
2010-11
£51,766.60
£22,712.72
(source – Scottish Enterprise email exchange with Suzanne Kelly May 2011)
While this £648,000 was being spent, Aberdeen City Council was battling with potential job and service cuts in order to balance its books.  It seems that these costs have largely been paid by the taxpayer via Scottish Enterprise and other vehicles, and I can find nothing to show that the Wood Family Trust, which has offered £50,000,000 to further the project, has paid towards any of these costs.  The PR and promotional invoices referred to at Item 5 have been paid by the Aberdeen City taxpayer.
Before moving on to Item 5, which is the subject of this article, some of these other items are worth a further glance.
At Item 2 you will notice we are now talking about some kind of 'Contemporary Arts Centre project' – is Peacock already being edged out of the picture at this point?
Item 4 would seem to correspond to PriceWaterhouse Coopers invoices which I referred to.  How much more money has been spent on PWC since this May 2011 exchange is unknown.
From what I have been subsequently sent by Scottish Enterprise, the bulk of the invoices at Item 5 were from the Aberdeen & Grampian Chamber of Commerce to the City Council.  In the words of Scottish Enterprise:-
9 invoices relate to financial year 2009/10 – these total £51,766.60
16 invoices relate to financial year 2010/11 – these total £36,692.95. This total is higher than the original figure stated due to the invoices received after the date of that response
There has been no spend on the City Garden Project from the ACSEF budget during the current financial year  (SK notes – it is only February – there is time)
(source – Scottish Enterprise email to Suzanne Kelly February 2012)
Arguably a mere £88,459 is small change as Aberdeen City contemplates borrowing £92,000,000 (minimum) if the project goes ahead. However, this is money which the City paid from its own budgets – it is taxpayer money.  Should a financially-pressured city use pubic money for propaganda purposes – PR, events and photos designed to promote the City Garden Project?  Is the Wood Family Trust contributing any money towards these expenses yet?  I simply do not know.
A spreadsheet of the expenses comprising Item 5 can be found online at http://oldsusannahsjournal.yolasite.com/  I would recommend looking at these 50 or so items.
If you look at the wording in the table above, ACSEF is apparently approving this expenditure.  ACSEF is a public-private quango, and at the time of writing, Stewart Milne is on its board.  He owns the Triple Kirks land adjacent to Union Terrace Gardens, and he wants to turn this landmark into an office complex which will likely enrich him if it goes ahead in my opinion.
Despite several emails, no one in a position of power has the slightest qualm with Mr Milne potentially having a conflict of interest.    Why precisely ACSEF is allowed to commission and recommend for payment invoices to the City Council is a matter I personally find worrying.
Virtually none of the invoices from the Chamber to the City specify who / what company actually performed the services in question.  What company got all the PR work?  Who took the photos?  I do note that Zoe Corsi of the BIG Partnership is on the Chamber's Board of Directors – as are other key players such as Tom Smith, one of the two directors of the private entity, Aberdeen City Gardens Trust.  This company seems to be in the thick of the decision-making processes; it is apparently the company which is holding onto the results of the design finalist public vote – which it refuses to release at present.
The taxpayer apparently paid for that exhibition and the public vote – and yet a private company seems to be withholding the results.  The argument has been put forth that it is no longer relevant.  Many people took the opportunity to write on the voting papers that they were against all the schemes and wanted the gardens retained and improved.
The public should have had this 'no' option at the final selection vote, but it seems councillors who asked for a 'no' option were outmoded by the Project Management Board (note – see the website listed previously for details of how all these companies and entities have interesting personnel overlaps).
It may be of interest to accountants that the party which actually performed the work not specified on these invoices, and with only a rare exception is VAT ever charged.  It would be interesting to know whether or not the Chamber of Commerce adds any fees or commission charges to the work it is invoicing the City for.
Highlights of the list of invoices include:-
£180 paid for a photograph showing 'inaccessibility of Union Terrace Gardens'
over  £25,000 paid for 'Stakeholder engagement' events and so on since October 2009 to August 2010
£3500 paid to 'Comedia' for Charles Landry to attend event / speak
Redacted line items and handwritten notes adorn several of the invoices
One invoice – No. 42407 shows only one line relating to 'coach hire' – this is £246.  However, the total shown on this one page invoice is for £7444 – what has happened?
A January 2010 Advertising bill from Aberdeen Press & Journals for £ 2,820 ( See: http://fraserdenholm.blogspot)
£11,000 in February 2010 charged from the Chamber to the City for "Development of images, movie, powerpoint and exhibition material for City Square Project as per attached sheets"
As to the redacted text on the invoices, redacted text has started showing up in Project Monitoring  Board minutes and reports again, despite Councillor McCaig's previous intervention to cease this practice.  One company which has had its name redacted from recent documentation is Brodies.
The value of three Brodies invoices which I received copies of is around £12,000.  One of these invoices from April 2011 is for:
"City Gardens Project – Development Constraints Report (Legal  [sic] To fee for professional services in connection with the preparation of a development constraints report relating to the title of Union Terrace Gardens, Aberdeen, and surrounding land."
I suppose our City's in-house legal department cannot be expected to know whether or not it has free title to Union Terrace Gardens.   Happily, experts have demonstrated the land is Common Good Land.  As such, whether any of these garden projects can or should be legitimately carried out will be a big question in the future.
Earlier we saw how ACSEF was allowed to recommend these expenditures; we have seen how the Chamber of Commerce invoices the City for ACSEF-approved costs.  If we were to put in some of the over-lapping names from ACSEF and the Chamber of Commerce into the equation, we would be able to see that:
ACSEF [including Stewart Milne, Jennifer Craw (of Wood Family Trust), Tom Smith (Director, Aberdeen City Gardens Trust), Colin Crosby (Director, Aberdeen City Gardens Trust), Callum McCaig (ACC) ]
approved invoices generated by the Aberdeen & Grampian Chamber of Commerce [Colin Crosby; Zoe Corsi (BIG Partnership) , former director Tom Smith]
for the City Council [Callum McCaig]
to approve to further the aims of the Garden Project (CGP entity members include John Michie, Colin Crosby, Jennifer Craw).
Given the above, I suggest that the time is right for an entire re-think of how this project has been allowed to develop, and a full investigation into the demise of the Peacock plan and an investigation into the genesis of the current state of affairs might not be a bad idea as well.
While this is going on, a local care home has announced it will no longer provide 24/7 on-site staff as there is not enough money.  Residents were told to drink less fluids at night time.