Peacock Visual Arts offers a programme of changing exhibitions in both the main gallery and shop/reception area. With thanks to Angela Lennon.
Language Barrier & Other Obstacles – Alina & Jeff Bliumis,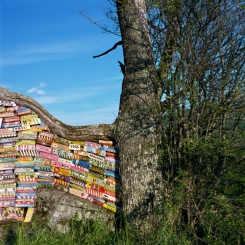 Language Barrier And Other Obstacles is an exhibition by Alina and Jeff Bliumis that examines cultural standards, foreignness and national identity.
Alina and Jeff Bliumis were born in the former Soviet Union; Alina is originally from Minsk, Belarus, while Jeff was born in Kishinev, Moldova. Both have lived in America for over twenty years and have been collaborating since 2000.
They have exhibited in a number of exhibitions internationally including: Castlefield Gallery, London; Assab One, Milan; The Victoria and Albert Museum, London; The Jewish Museum, New York; Moscow Biennale of Contemporary Art, Russia; Stanislas Bourgain Gallery, Paris; Busan Biennale, South Korea and Bat-Yam Museum, Israel.
They also have work in various public and private collections. These include the Saatchi Collection, Moscow Museum of Modern Art, Bat-Yam Museum, Harvard Business School and The Victoria and Albert Museum.  http://www.peacockvisualarts.com/events/376/language-barrier-and-other-obstacles
Happy All Smiles – Adam Bridgland
Happy, All Smiles is Adam Bridgland's first solo exhibition in Scotland and launches three new prints made with Peacock's master printmakers.
Alongside the three latest editions, the exhibition will also include new works, sculptures and vinyl installations that explore Bridgland's fascination with the mundane and the everyday, and the constant pursuit of finding an escape from these.
Described as 'your favourite leisure time artist', Adam embraces the everyday object finding inspiration from the colouring book image, travel guidebooks, and scout camping paraphernalia.
Kitsch and humorous, yet equally poignant, Adam's work rejoices in the mundane and is an investigation of the notion that holiday-making is just another ordinary everyday activity and that the holiday is essentially a fantasy that rarely lives up to our expectations.   http://www.peacockvisualarts.com/events/377/adam-bridgland-happy-all-smiles
Both exhibitions will run until 8 September, and more information about each can be found here: http://www.peacockvisualarts.com/exhibitions-and-projects/now
From Thursday 16th August to Thursday 20th September we will be running another 6 week course of our Thursday Print Club from 5.30 to 8.30pm. 
The cost to attend all 6 sessions is £60.
There are also Animation classes for children aged 10+ scheduled throughout August and September, each class is £35.
Please see:http://www.peacockvisualarts.com/get-creative/courses-classes for more information.
Peacock Visual Arts is also proud to announce that we will be taking part in the Aberdeen Art Fair again this year, which will take place on Saturday 18th and Sunday 19th August.
Entry to the fair at the Music Hall is £3 and times are 9.30am to 5.30pm on Saturday, 10am to 5.00pm Sunday. More information can be found here: http://www.peacockvisualarts.com/archive/353/peacock-at-aberdeen-art-fair-2012
For more information on PVA exhibitions, events, courses and workshops, see: http://www.peacockvisualarts.com/events/