Duncan Harley reviews Far, Far From Ypres at His Majesty's Theatre, Aberdeen.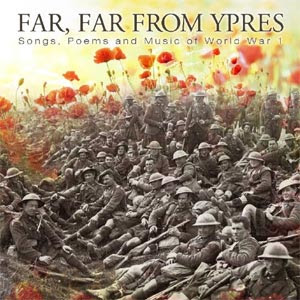 It's difficult to adequately classify Far, Far From Ypres.
Described as "the story of the Scottish war effort during World War One" with "its excitement, hope, suffering, endurance, humour, fear and disillusionment in the face of horror told through the eyes of fictional, prototypical soldier Jimmy MacDonald" this ambitious multimedia production sits oddly – and please excuse the pun – with its feet astride two camps.
A strong documentary-styled historical narrative, delivered by veteran broadcaster Iain Anderson, frames a broad range of popular song from the period whilst overhead a mix of trench imagery combines to add poignancy to the performance.
We are told that the fictional Jimmy is from any town or village in Scotland and that when issued with his tin hat and his rifle, he heads off to the continent in search of medals for the victory parade and of course for a great foreign adventure.
An acceptable figure for Scottish war dead has yet to be calculated – some put it at between 100,000 and 146,000 – and the enthusiastic Jimmy is portrayed as one of those who did not return.
Killed in France or Belgium, not by bullets nor by shells but by an influenza better known as Spanish Flu, he certainly died in uniform but is probably not numbered amongst the roll of the war dead.
Based on a Greentrax double album of WW1 songs, "Far, Far From Ypres" is laden with familiar and not so familiar song.
Within the context of the narrative, most are a good fit for the performance and most are delivered strongly by a cast of largely familiar folk-figures. Barbara Dickson, Dick Gaughan, Alan Prior, Tam Ward, Ian McCalman and Mairi MacInnes are just to name a few.
In fact, there are around 27 performers on stage at any one time making for a crowded performance space and indeed a difficult place for the soloists to excel in.
It was perhaps the male dominated chorus which brought the intent of the production solidly home. Decidedly appropriate and atmospheric of the era, Pack up your Troubles and When this Bloody War is Over vied with Tipperary and Armentieres to tug the heartstrings.
All in all, this is a largely successful attempt to track and trace changing perceptions during the course of that First War to end all wars through the songs of the day.
From hopeful beginnings through to eventual despair, the song list bravely traverses some four years of the bloody history of that hundred-year-old conflict in which young men could take the boat-train to the continent, stick a bayonet into the skull of a youngish man from a neighbouring land and, if he were lucky enough not to be stuck in his turn, return home with a medal in time for the local victory parade.
At the close of the night and indeed during the performance, not a few tears were shed.
Stars: (4/5)
Following last night's performance at HMT, Far, Far From Ypres heads off to Oban, Skye, Ullapool, Stirling, Inverness, Dumfries and Edinburgh.