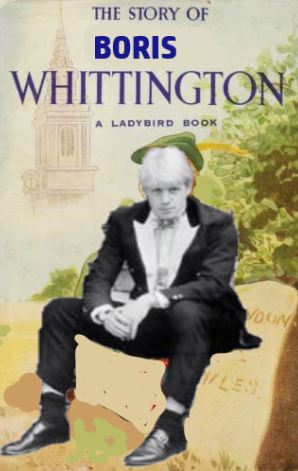 Suzanne Kelly presents her annual Christmas tale.
Popular mythology would have it that the original Dick Whittington, born 1354 was born of poor parents; this simply wasn't true.
Dick was wealthy and became mayor of London; that's as far as it went.
Popular mythology would have it that Boris Johnson, born 1964, was born of average parents; this simply isn't true.
Boris is wealthy and became mayor of London and PM: that's further than it should have gone. Now read on.
A long time ago there was once a poor boy called Boris Whittington whose parents were so poor not all the children could go to English prep schools.
People at his school made fun of his great poverty and his foreign ancestry. He would learn from this.
Our hero was so poor he went to Oxford to study, well – maybe he studied less than some. He did however cut a fine figure for a poor foreigner in the Bullyton Club. He spent all his parents' pieces of gold on the £3,500 outfit he needed to wear to go to Bullyton Club dinners.
Soon this awkward, sensitive outsider was accepted as being 'almost one of us' when he proved what he was made of, and burned a £50 note in front of a homeless person (who might have even been from 'Bongo Bongo land' as Boris called some countries).
Poor Boris wanted to better his life, and his fellow Bullyton club members told him of London, where the streets were paved with gold.
"Cripes!," thought Boris
"I say, that sounds like the place for me, what?".
So off Boris Whittington bravely strode to London town, carrying in a little handkerchief tied to a steamer trunk in a flotilla of moving vans all of his meagre worldly possessions. He was determined that he would go there and dig up enough gold from the streets to make his fortune.
One day he met a friendly hedge fund manager who was going to London who said he would give him a lift there, so off they went.  When they reached the big city Boris couldn't believe his eyes, he could see horses, carriages, hundreds of people, great tall buildings, lots of mud, but nowhere could he see any gold.
What a disappointment. How was he going to make his fortune? How was he even going to buy a four-bed flat?
"But corrr! Look at all this Totty!" He thought, and set off to better himself.
By then he had married a pussycat who grew up in a castle in Perthshire; she was called Allegra Mostyn-Owen. This was very useful for a time. They both toiled in the news business for a time. But Boris realised he was destined for greater things, so he sold her on.
Being a man of great character, he decided to start at the bottom and deigned to take a trainee job at Ye Times newspaper.
Alas! Boris thought he would add a little excitement to one of his stories, and surprisingly Ye Times took a dim view of this, so much so that they gaveth him ye sack. The Times then continued its unsullied mission of printing the truth, the whole truth, and nothing but the truth: well truth as The Digger (who was a sorcerer from the land of Oz) saw it.
After a few days he was so hungry that he collapsed in a ragged heap on the doorstep of a rag merchant owned by two twins Barclay Dee and Barclay Dumb.
Out of the house came a crook:
"How would you like to be a weekly columnist for the Daily Telegraph? We can pay you £275,000 for one column a week – but it's a start."
Boris thought long and hard of the sacrifices he'd have to make.
"I'll do it! Jings! Crivens!" he said.
He suffered. Boris even had to cover an event full of Lefties in 1996. Now the Lefties were not really our sort of people, don't you know. Some of them weren't even white; they even let girls be Lefties, and some of those girls 'dressed up like letterboxes'.
Worse still – the Lefties allowed 'bum boys' to join! Cripes! What would Boris write for the Daily Torygraph about this horrible scene?
"The unanimous opinion is that what has been called the 'Tottymeter' reading is higher than at any Labour Party conference in living memory," he wrote.
And the Torygraph readers loved him all the more.
Alas! Boris was notorious at the rag merchant for writing his column during a brief window on Sunday afternoons before sending it to the printing press only just in time.
This left little time for editors to make changes and fact-check his claims, but happily, fact-checking was not high on the Barclay twins' agenda. So, on Boris toiled, dreaming of better days. He started to wonder if he wasn't destined for better things and an easier life, like going into politics.
Boris was ever so grateful to the Daily Torygraph's Barclay Dee and Barclay Dumb but, alas, the editor was always very bad tempered and, when no one was looking, used to beat and pinch him.
Now while Boris was slaving away day in, day out toiling at his demanding job, he acquired a pussy. Her name was Miranda.
London was full of rats and fat cats. Boris realised that the more rats and fat cats he could catch, the richer he'd get. But Miranda really wasn't much cop for improving Boris' social standing, so she had to go.  Verily he got shot of Miranda, which opened the cat flap for lots of other pussies, and lo, they verily did make use of it; they were Petronella, Helen (with whom he had a litter of kittens) and most recently Carrie. Carrie and Boris are so fond of each other that to this very day, the sounds of cats screaming and breaking things can be heard from their happy home.
Soon Boris was attracting lots of pussies, fat cats and rats. And lo it came to pass that with the blessing of the Tories, the help of the Barclay twins, and a whole bunch of rats, Boris became Mayor of London.
But our story does not end there.
Boris spent millions on a garden bridge in old London Town; it was never built. The people didn't care.
One day Boris met a very important fat cat – and the most true Brit in all of Britland: Nigel Farage.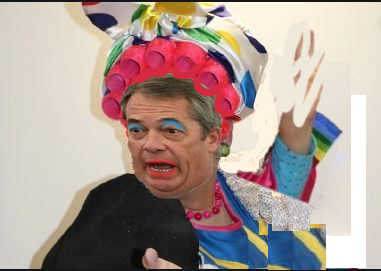 Nigel hated the people from 'Bongo Bongo land', people who wanted to come to Britain (except Boris' ancestors of course!), and the Lefties. And pretty much anyone who wasn't a white British man.
Nigel made his fortune by representing Brit land in the Union of Europe. This Union of Europe was an evil organisation that allowed people to trade goods throughout European countries, work in other countries, live in other countries, and gave them something called Human Rights.
Worse still, it wanted to harm the fat cats and rats by not letting them give their money to seafaring merchants to take away to the lands of Island of Virgins and Bahamas and verily the lands where the Barclay Twins lived in the Island of Channels. Nigel took a big salary from Europe, and will take a big pension from Europe.
Nigel hates Europe. And so does Boris.
The two of them hired a great big red coach, and painted on it that Europe was costing 350 million gold pieces each week, which should be used to heal the sick instead. Verily the people who had read Boris' wise words in the Barclay twins' rag believed every word, and felleth for this hooketh, lineth and sinkereth.
Alas, it was not strictly speaking true.
How the people loved his racism, sexism, lying, propaganda and anti-Europe positions! Yes, Boris was destined for greater things still.
The evil, ageing hag-queen of London was clearly losing her ability to govern. Sometimes when she had to walk across a stage, she had odd convulsions that some mistook for dancing. The Queen of the May had held power for some time now, and had many accomplishments.
She buried news about a disastrous, expensive failure of the Trident rockets, had cut all services to the poor, and made the dying travel to centres where they were told they weren't dying at all. Who could possibly pick up where she left off?
Yes, you guesseth correctly: Boris soon became the Prime Minister of all of England!
Now, being Prime Minister was even less work than being mayor was. There was always someone with a bag of gold or a perk or a pussy or two who wanted to help him out and do the work for him.
"Cripes! This is great!" Boris thought, as his collection of gold doubloons and totty continued to increase. But it was never enough.
Not long after, Boris heard the merchant twins and other fat cats he knew asking everyone in the Houses of Parliament if they wanted to send anything on board their ship, they thought they could sell. The ship was going on a long voyage to the other side of the world to a place called America and the captain would sell everything on the ship so they could all make some money.
Poor Boris, what could he sell?
Suddenly, a thought came to him
"Please sir, will you take the National Health Service?"
Everyone burst out laughing, but the merchant smiled and said:
"Yes Boris, just what I was thinking, I will, and all the money from her sale will go to you – and to all of us."
After the merchant had left from the city Dick found there was a small group of peasants who were revolting because they were such smelly oiks.
They somehow objected to selling off the NHS, to Boris' little white lies about the gold going to the NHS, to leaving Europe, to having their ill and dying being made to work, and their air and land being poisoned.
How would Boris deal with these rabble – especially as the captain of the guard had decided that Boris couldn't just sweep them all away with the water cannons he'd ordered years before. So, he just closed Parliament down a few times instead.
Boris knew he had to do something to make himself more popular again, so he could keep being the Prime Minister.
He invented an immigration points system to keep the wrong sort out of the UK, threw people out who had come in the Windrush period, and this kind of thing made his peasant fans, Mr Yaxley Lennon and his mates very happy.
Verily, this distracted such peasants from caring about the honey and plenty of money wrapped up in a five pound note the fat cats were sheltering in the Offshore Trusts. But it wasn't quite enough, and Boris had secret plans underway.
One such plan would happen right here in England; the other was being put into action by the merchant captain at the fat cat's bidding.
Boris had denigrated women, grabbed them (in an English way – by the thigh, not their pussycats so that was OK); and said women in burkas looked like letterboxes. Sure, he had also said that seeing groups of black kids made him nervous, and black people had watermelon smiles.
But here was the genius plan: He'd just say everything he'd ever said or done was satirical, and the real racism was in the Labour party. After all, the oiks in the streets wouldn't know what satirical meant and wouldn't care as long as white people – white men – were still top of the food chain, what?
His old friends the twins and his old newspaper jobs would be delighted to print this story, and so it came to pass. BoJo (as he was unaffectionately known) and his press baron friends painted Labour as being villainous racists, while Boris was made to look like a saint.
Unsurprisingly, this pleased his peasant fans – like Yaxley-Lennon who was also known for violent arguments with women, hating non-whites, and blatant lies. Success! Result!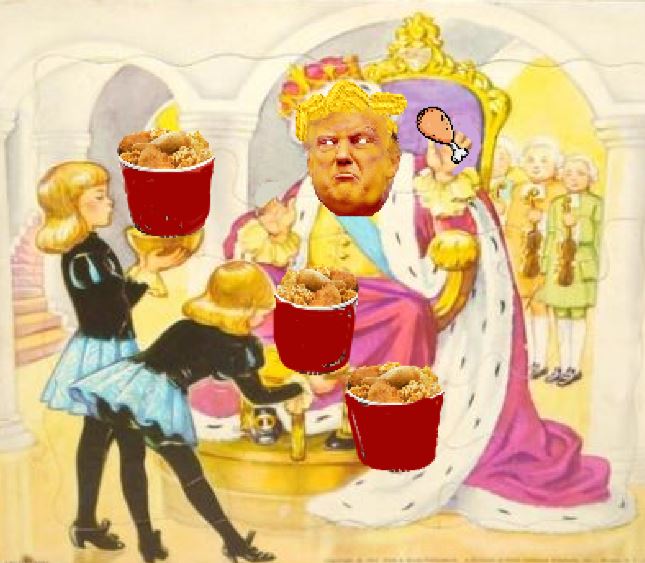 Across the other side of the world, the merchant captain and his ship had arrived at their destination, Washington.
King Trump and Queen Melania (who had been so poor she could only afford to wear boots, handcuffs and guns before her rise to power) were so delighted that they invited them all to a feast.
The captain had heard that like Boris Whittington, King Trump was a self-made man. Set out into the world on his own with just six million dollars in the 1980s and a family Ku Klux Klan background, Trump had to fend for himself with just a few mafia figures to help him – and that all turned out OK.
Except for a few bankruptcies, people losing their homes and jobs when Trump went bust, black people not being able to own homes in Trump castles, and the odd rape accusation or two (including from his wife Ivana).
But, believe it or not, when the food was brought in none of the ship's crew nor captain would eat it.
"Oh dear" said the king stuffing a chicken leg into his mouth and wiping his hands on his golf trousers,
"Dontcha like KFC and Chick fil a?"
"No offense your majesty" said the captain,
"but we don't allow growth hormones in our beef and bleach in our chicken. We don't allow ground-up bugs in our chocolates (well, not in as high quantities as you do), and we don't put lots of non-food chemicals into our food. Nothing personal – we just like to live."
"Not to worry!" laughed King Trump,
"Everyone is healthy here – I'm 6'3" tall and only weigh 185 lbs… or is that 185 stone?"
Chewing on a KFC family bargain bucket, Trump continued:
"To show our appreciation for your country, we've agreed to take on the NHS contracts, and as a bonus, when you leave the Union of Europe, we're going to be your new food trading partner. Everything's all arranged – just ask President Boris."
And they all laughed, and the real feast of edible foods was brought out.
The merchant ship captain looked at the huge banquet dais where Trump sat, and behind his thrown was a curtain.
Behind that was an athletic chap, shirtless, sitting on a horse. He seemed to be pulling levers and strings.
Before the merchant ship captain could ask, Queen Melania hissed in his ear:
"Pay no attention to zat mehn behind ze curtain!"
"But it looks like he's really the one running the show and pulling the strings!"
"I really don't care, do you?" she purred.
Clinking his plastic cola bottle with a plastic fork, King Trump signalled for the room to be silent for one of his speeches. The captain thought some of the King's aids rolled their eyeballs.
"Welcome friends from Englandland! We've decided to help you out of the NHS – I mean help the NHS."
"Right, we have even more gifts we want to give youse guys in Englandland" Trump continued.
"The reason you have these terrorists is because you let people immigrate – that means come in – to your country. You gatta do what we do here – when they get to the border, put 'em in cages.
"Lots of money for getting the little ones adopted – believe me! And the amount of money you can get for keeping these vermin sleeping on concrete floors under foil blankets – ya wouldn't believe me."
The captain felt his smile recede as Trump continued:
"Then, you'd also be much better off if you'd all jes get yerselves some guns – yeah, good guys with guns. Not having guns is un-American ain't that right Mitch McConnell?"
At this several old white men stood up; many clutching fists full of roubles. The man behind the curtain with no shirt laughed.
"You're too nice over there too" Trump told the captain,
"The press – well, not Boris and his friends – the other press, and these foreigners, these people not following the right religion – you know you have to rough 'em up a little bit, right?"
The captain felt some colour drain from his face as he started to make his goodbyes. He and all the fat cats had been happy to do a bit of profiteering off the NHS – who wouldn't be?
But surely England would never stand for people being deported, mistreated and dying in custody? And no one in their right minds would want to see guns on London's streets: what kind of a maniac would even propose such a thing.
Over 40,000 people were shot in this crazy Trump land last year alone; synagogues, churches had been burnt or vandalised, women were prevented from making decisions about whether to have children or not – with some even going to jail for miscarrying.
"But the worst thing about those Lefties?" Trump asked,
"They wanna get rid of Christmas! That's right – no 'Merry Christmas', no trees!"
At this a group of TV preachers and evangelists ran to the king, and put their arms around him, proclaiming him 'the chosen one'.
Whether it was the cockroach-infested chocolates or the bleached chicken, the captain felt his stomach turn.
After the feast, the captain and crew made their way to the harbour. They walked the streets of Washington, where dozens of homeless people slept or begged for alms. Some had been soldiers; some lost everything they had due to paying for medical bills.
Shots rang out; school children covered in blood and crying ran through the streets. The brave captain and crew barely made it back to the ship, and they weighed anchor, immediately setting sail for home.
As they sailed into the east, the captain sighed, safe in the knowledge such far-fetched things would never happen; Boris wouldn't allow it.
When the ship returned to London, the captain was making his way to Boris' humble home in Downing Street when a newspaper caught his eye.
"Legalise Handguns now! Says Farage"
"NHS will improve under US contracts!"
"Point system for foreigners Boris proposes!"
"Windrush man facing deportation kills himself!"
"Boris leading in polls!"
The captain stood looking at the headlines for a few minutes.
"Maybe the Union of Europe wasn't such a bad thing after all." he thought.
Slowing his pace, losing his desire to race to No. 10, the captain saw one 'Leftie' newspaper before he left the newsstand which read:
"Don't forget to vote on Thursday 12 December!"
"No, no I won't forget that" thought the captain, as he slowly turned from his course to No. 10, and headed home to ensure his voter registration card was at the ready.
Comments enabled – see comments box below. Note, all comments will be moderated.