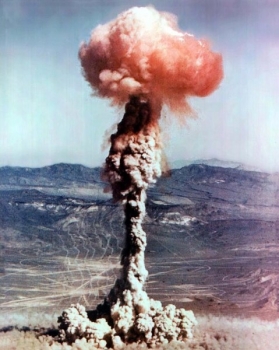 With Thanks to
Jonathan Russell
  and
Aberdeen CND.
Tuesday 6th August sees the 68th anniversary of the first ever explosion of a nuclear weapon when the United States dropped a nuclear bomb on the Japanese city of Hiroshima. This was followed on the 9th August by the explosion of a further nuclear bomb on the Japanese city of Nagasaki.
Aberdeen and District Campaign for Nuclear Disarmament have organised an event to mark the occasion and remind people of the potential horror of the use of nuclear weapons.
200 peace lanterns will be released onto the river Dee to commemorate the 200,000 men, women and children who died following the nuclear explosions at Hiroshima and Nagasaki. Many more died later from injuries or prematurely from the horrendous health effects that followed.
The first speaker at the event will be Christian Allard North East Scotland Regional Member of the Scottish Parliament and member of the international body Parliamentarians for Nuclear non-proliferation and Disarmament. Other speakers include Fiona Napier Chair of the Scottish Palestine Solidarity Campaign, Chic Lidstone from the Work Place Chaplaincy Scotland,  Gabrielle Anderson from the Quakers, Euan Benzie of the Radical Indepence Conference and Jill from Aberdeen Against Austerity,
Poems will be read by Tommy Campbell from Unite and Aberdeen Trades Council. Kirsty Potts will provide some rousing songs.
The last speaker rounding of the event will be the well known Labour Party councillor Len Ironside
The memorial event which is open to all the public to attend will take place on Tuesday 6th August at 8.30pm by the side of the River Dee at the Fishermans hut off Riverside Drive (between the Bridge of Dee and Duthie Park –  see map below)
Jonathan Russell Chair of Aberdeen and District Campaign for Nuclear Disarmament stated:
"For most of us nuclear weapons have been a part of the world we live in for all of our lives. We can as such often put into the back of our minds just how horrific these weapons would be if used. As part of the Nuclear Non Proliferation Treaty and the New Start treaty of December 2010 nearly 50% of these monstrous weapons have been destroyed. 
"There are still however 19,500 Nuclear Weapons in the world – enough to destroy our world several times over. Nuclear Power Stations, if hit directly or if they caught fire in a nuclear strike, would add to the conflagration."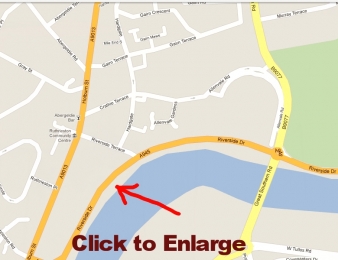 Date: Tuesday 6th August 2013, at 8.30pm
Venue:  the Fisherman's Hut on the River Dee
(by Riverside drive )
For further information please contact Jonathan Russell,
Tel 01224 586435
Mobile  07582-456-233
e-mail jhamiltonrussell@hotmail.co.uk
Comments enabled – see comments box below. Note, all comments will be moderated.