With thanks to Kirsty Young.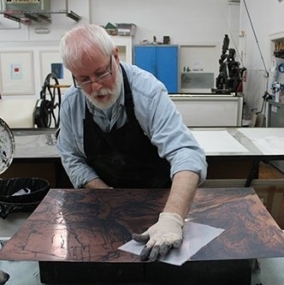 Artists in Print: 21 Years of Collaboration celebrates the wealth of prints made, in collaboration with numerous acclaimed artists over the last 21 years, by Peacock's own master printmaker, Michael Waight.
Over 30 prints by prolific artists such as John Bellany, John Byrne, Ian McCulloch, Toby Paterson, Barbara Rae, Peter Randall-Page, Ralph Steadman, Frances Walker, Sylvia Wishart, Donald Urquhart, plus many more, will be shown together for the first time in this exciting exhibition.
Michael Waight has curated this show to give printmaking enthusiasts, fans of Peacock Visual Arts and the communities of Aberdeen a chance to see how he has spent the last twenty-one years in the Peacock workshop and in whose company.
The impressive list of artists included is by no means exhaustive – Mike having worked with over fifty artists on over three hundred editions and proofing projects.
To accompany the exhibition, Peacock Visual Arts will host a gallery tour and printmaking workshop, dates and details of which to be confirmed.
A gallery walk-around and informal talk with Michael will also be held at the gallery, to coincide with Impact 8 Conference (Dundee) and the Scottish Print Festival.
Michael Waight, Printmaker comments:
'Putting this show together allows me and Peacock Visual Arts very publicly to acknowledge our thanks to every artist who has, and continues to, come our way. The artists are the brave and tolerant partners in these collaborations, entrusting ideas to us with faith and understanding that we can do justice to their vision.'
John Bellany
John Bellany has inspired a new pride in Scottish artists; a fact duly recognised when he received the CBE.
His paintings are in the collections of major museums and art galleries throughout the world, including the National Galleries of Scotland, The Tate Gallery, The Museum of Modern Art, New York and the Metropolitan Museum, New York.
Adam Bridgland (b. 1979) lives and works in London. He graduated with a Masters in Fine Art at the Royal College of Art in 2006 and has since exhibited widely in the UK, Europe, Asia and America. The BritishMuseum, the V&A, UBS, Boeing Asia and Debbie Harry are just some of the collectors of Adam's work.  Described as 'your favourite leisure time artist', Adam embraces the everyday object finding inspiration from the colouring book image, travel guidebooks, and scout camping paraphernalia. Kitsch and humorous, yet equally poignant, Adam's work rejoices in the mundane and is an investigation of the notion that holiday-making is just another ordinary everyday activity and that the holiday is essentially a fantasy that rarely lives up to our expectations.
James Furneaux was born in Aberdeen on 7th June 1935. In 1965 he became a lecturer at AberdeenCollege, where he taught art and design for 23 years, before taking early retirement in 1988 to concentrate on his own art.Furneaux was most noted for painting Aberdeen's lesser known buildings and landmarks from unusual perspectives, and this early training in architecture was often apparent in his depiction of the city's buildings.
Ralph Steadman was born on 15 May 1936 in Wallasey, Liverpool.
He is renowned for his political and social caricatures and cartoons
and for illustrating a number of picture books, for which he received several
awards.
His work is sought after all over the world.
Exhibition Runs: 3 August – 14 September 2013
Opening Hours: Tuesday – Saturday 9:30 – 5:30pm
Entry: Free to exhibition. Charges will apply to events and workshops.