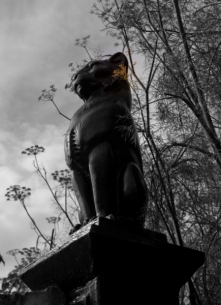 By
Duncan Harley.
The anoraks among us relish street furniture. It's all around us and much of it, especially the older pieces, has attained iconic status. The humble cast iron manhole cover and the quite majestic GPO red phone box are fine examples.
Those red pillar boxes which have graced our streets for over 160 years and those railings topped with Kelly's Cats which adorn both the Winter Gardens and Union Terrace Bridge are equally as fine if you take the time to look and admire.
Kelly's Cats are of course nowadays on a nightly suicide watch alongside the Samaritan posters which urge would be jumpers to think again and seek kind words, advice and help before taking that drastic step into the void and the GPO cast iron Red telephone boxes are now becoming a rarity due to being superseded by the somewhat bland but functional metallic modern payphone stations which in their turn will no doubt become cultural icons a few more decades down the line.
That is if they survive the vandalism, under use and neglect which they currently suffer from.
Indeed most folk have quite forgotten that these public payphones exist since most of us have a mobile in the trouser pocket or handbag nowadays. The public payphone is surely on the way out.
Mind you it would take a genius to work out how to use the things, what with all those helpful instructions pasted around the interior.
"Please be prepared to use no more than four coins" reads one. Another advises that BT accept no more than 4 coins as the initial minimum fee however additional coins can be added as the call progresses. A third sign advises that these are no smoking premises and that if you see someone smoking you should write to a PO Box in Manchester so as to nab the offender in the very act!
The BT Payphone website advises that they have 63,000 of the bland things all over the UK. It seems they are keen to persuade community groups to adopt an old fashioned red phone box however. Seemingly the reds have outlived the original design and operational criteria by around 70 years or so but have been so robustly designed and manufactured that they may well last another hundred years. Helpful suggestions as to what to do with the boxes include turning them into art galleries, grocery shops and wildlife information centres. BT is nothing if not inventive!
There is no mention of making phone calls from them however and for those old enough to remember, no sign of Button A or Button B for the connection of calls or refund of monies if the person being called fails to lift the handset.
Cast iron pillar boxes in Scotland at least have a much more colourful history.
There were protests when the first boxes made in the reign of Elizabeth II were produced.
These bore the infamous inscription "E II R" and upset many who pointed out that Queen Elizabeth is the first Queen of Scotland and of the United Kingdom to bear that name, Elizabeth I having been Queen of England only.
After several "EiiR" pillar boxes were blown up by Scottish Nationalists protesting "No Unlimited Sovereignty for Westminster in Scotland" including one in the Scottish capital, the General Post Office (as it was called at that time) had the remaining boxes North of the border replaced with ones which only bore the Crown of Scotland with no Royal cipher.
But if any casual passer by had chosen to look just a wee bit further down, then Scottish pride might just have been restored despite the postal authorities royalist blunder, their for all to see, albeit 3 inches from kerb level was the inscription "Carron Iron Works, Falkirk". Made in Scotland indeed!
The Carron Iron Works was established in 1760 at the height of the Industrial Revolution and the company continued to produce pig iron through the 19th century, together with cast-iron products such as balustrades, fire grates, and the rather famous and delightful Carron bathtub which can still be seen outside crofts up and down the west coast in its new geriatric role as a cattle trough. It ran its own shipping line and produced munitions in both the World Wars and the Napoleonic Wars.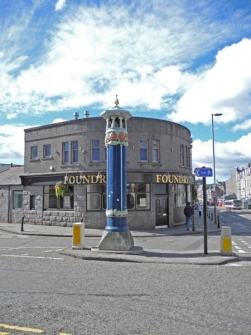 Carron was one of several UK foundries producing red pillar boxes and was one of five UK foundries casting Sir Giles Gilbert Scott's classic red telephone boxes. In the 1960s it produced cast-iron rings to line the Tyne Tunnel and the old pedestrian Clyde Tunnel which still runs under the River Clyde from Whiteinch to Govan in Glasgow's docklands seemingly has Carron ironwork within it dating from Victorian times.
An impressive record indeed and one which any casual walker in virtually any street in Scotland can still see abundant evidence of.
The Carron Iron Works Company went into receivership in 1982 and all that remains, apart from some buildings erected in the late 20th century, is the factory clock tower with its embrasure containing a display of Carron cannons. However the Carron legacy lives on in every street and in every town in the land.
Aberdeen however has a very special Carron item on display at the corner of Holburn Street and Justice Mill Lane. Described in the city archives as:
"Circa 1905. Cast-iron ventilator in tower form with decorative Art Nouveau detailing, sited on traffic island at head of Justice Mill Lane, at junction with Holburn Street. Later concrete base with splayed corners supporting cylindrical shaft adorned with stylised foliage at base, and rising with reeded moulding in 4 places (suggesting plant stalks) and terminating in frieze of stylised flowers, crowned with arcaded ventilator head further adorned with stylised foliage and terminated by polygonal, finialled cap.   
"The ventilator marks the end of the remarkable cable subway running from here, under Crown Street, to the former Electricity Works and Tram Car Depot in Millburn and Crown Streets, to which it provided necessary ventilation. The Art Nouveau style employed for the fine Paris Metro station entrances (designed by Hector Guimard), perhaps inspired its use to demark this underground subway, similarly linked to transport."
It is a beautiful piece indeed. In fact it is a work of art, albeit a functional one and was recently faithfully re-painted in the original and highly decorative Art Nouveau style by the late Ally Sim of Inverurie.
If you ask the average Aberdonian about it however, they will often shrug and simply say that is has always been there. If pressed further some will comment that it has something to do with ventilation.
A few will even go so far as to deny ever even noticing the structure which in a way is what good honest functional street furniture is really all about.
Source: Falkirk History: http://www.falkirklocalhistorysociety.co.uk/home/index.php?id=107
Comments enabled – see comments box below. Note, all comments will be moderated.