The Aberdeen Antiques and Arts Centre has been established at 24 South College Street since 2005, yet many people know little or nothing of its existence. Now it's offering opportunities for artists to showcase their work for display and sale. With thanks to Suzie Reid.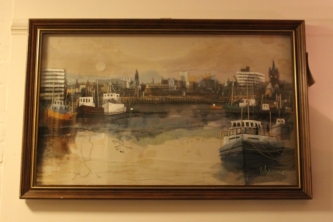 Hiding behind a small, rather unimposing front door you'll find that the Aberdeen Antiques and Arts Centre
is deceptively large.
It houses antiques and
collectables, books, furniture, art, jewellery, vintage clothing, vintage and retro artefacts, up-cycling and much more.
There's something of interest for everyone who ventures through the Centre's doors, with its many wee Aladdin's caves and an upstairs loft.
Twenty two booths and numerous display cabinets are occupied and stocked by a number of local traders.
So, what are these opportunities?
The Centre is inviting local sculptors, photographers, painters and jewellery makers, in fact artists working in all media, to fill a display space with their work, offering publicity and a potential sales outlet. If you have good quality examples of your work, this could be an opportunity for the right buyer to find you. Staff at the Centre would like to meet you, right now. Are you interested?
Very soon, the BBC's Antiques Roadtrip will be visiting to film another episode and it's hoped that a small exhibition can be set up before the end of July. Although Centre staff realise that this is very short notice, they're sure it will be well worth the effort.
After the cameras have gone, the plan is to continue utilising this space as an outlet for local art. It will be a place to give visibility to unknown but ambitious artistic talent and to help artists become known and sell their products.
If this sounds like something that interests you, why not pop down to The Arches and introduce yourself and your work? Alternatively, you can contact the Centre at
www.aberdeenantiques@btconnect.com
They would love to hear from you.
The centre is open from 11am to 4pm mon – Fri, and 10am to 5pm on a Saturday.