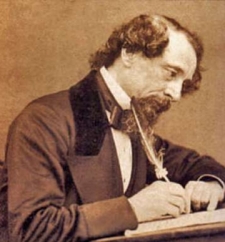 With thanks to
Dr Paul Schlicke.
The exhibition on 19th century journalism, trailed in Angela Joss's recent article will be on display in the foyer of the Duncan Rice Library at the University of Aberdeen for the remainder of the summer.
It really is worth visiting for an insight into how the goings-on at a time of great political upheaval were documented.
In a time where there is an overbearing 21st century political and constitutional question to be answered, the exhibition provides a means of gauging how journalism has changed, even if the fervour of political argument is no less intense.
The exhibition was brought to Aberdeen largely due to the considerable efforts of Dr Paul Schlicke who is also working hard to have a Dickens Fellowship established in the city. He has been in touch with details of the autumn programme which looks to be extremely rewarding for Dickens addicts.
Dr Schlicke says,
"Our schedule for autumn is now firmed up, and you should all get cracking with your reading of what is arguably Dickens's greatest novel, Bleak House.
"Taking the cue from members who participated in the seminars on Hard Times in spring, each of the meetings will be prefaced by an informal lecture.
"I'm delighted to announce that Grahame Smith, Professor Emeritus from Stirling, has agreed to give the opening lecture. Professor Smith is a graduate of the University of Aberdeen, and for several years has been external examiner for the University's Department of English. He is also past president of the international Dickens Fellowship.
"He has written books, articles and reviews on Dickens, most notably Dickens, Money and Society (1968), Charles Dickens: Bleak House (1974), Dickens: A Literary Life (1996), and Dickens and the Dream of Cinema (2003). It is a great pleasure to welcome him back to Aberdeen.
"Other speakers will be myself and Dan Wall, recent PhD from the University of Aberdeen and specialist in 19th century periodicals."
All meetings will take place on Tuesday evenings, 7–9 pm, in the Grampian Housing office, at the corner of Huntly St and Summer St, with plenty of free parking in the Grampian Housing car park. There is no charge for attending the seminars.
Tuesday 17 September 2013 – lecture by Professor Grahame Smith, introduction to Bleak House, followed by seminar on numbers 1-5, chapters. 1–16.
Tuesday 15 October 2013 – lecture by Dr Paul Schlicke, the topicality of Bleak House, followed by seminar on numbers 6-10, chapters 17–32.
Tuesday 12 November 2013 – lecture by Dr Dan Wall, the serialisation of Bleak House, followed by seminar on numbers 11-15, chapters 33–49.
Tuesday 10 December 2013, – lecture by Dr Paul Schlicke, plots and detecting in Bleak House, followed by seminar on numbers 16–20, chapters 50–67.
A warm welcome will be extended to all comers, and lively questioning and debate is almost certainly guaranteed. You can be added to the mailing list by e-mailing Dr Schlicke at p.schlicke@abdn.ac.uk
For more information, visit https://sites.google.com/site/aberdeendickensfellowship/