The city's fledgling Dickens Fellowship will be meeting again on Thursday 21 February at 1900, in a room kindly provided by Grampian Housing Association, 74 Huntly Street. Dr Paul Schlicke reveals more.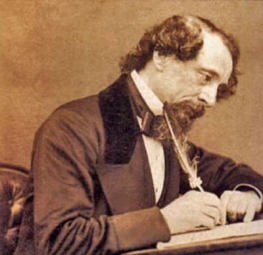 "In light of the sparse attendance at our last meeting when we were treated to an exhibition of Dickens treasures in the University Library, it's crucial that we have a decent turnout, if our organisation's to carry on and grow. Please make an effort to attend if you are at all interested in Dickens's work and life. At this meeting, we'll be discussing Scenes from Sketches by Boz", he wrote in a message to nearly 50 individuals who have registered an interest in participating in a Dickens Fellowship.
Dr Schlicke is keen to welcome suggestions regarding the sorts of events which might prove most popular in future.
"We attracted huge audiences for Miriam Margolyes and Jim Naughtie, but they were obviously high profile events. We had respectable attendances for academic lectures over the past 12 months, but we're not in a financial position to bring speakers in from outside.
"Last year was special, it being the author's bicentennial, so the University paid for those who came to lecture as part of the 2012celebrations. I'm uncertain whether or not there would be much interest in turning ourselves into a reading group, so any thoughts as to what might be organised to attract 20 or more participants regularly would be welcome."
In closing, Dr Schlicke spoke in glowing terms of the work done on the recently re-opened Dickens Museum in London's Doughty Street after a £3m facelift.
"It is simply wonderful. After worrying times only a few years ago, the Museum's financial position is now decidedly healthy, and a bright future is in prospect. Following a gala celebration held there for Dickens's birthday on 7 February, it has been open daily. It is well worth a visit!"
For this week's meeting, there is parking opposite Dana Petroleum's offices, with access from Kydd Street. Tea and coffee will be available. It would help in planning for numbers if you could let Dr Schlicke know if you plan to attend.