Following the stupendous success of the most recent gatherings of Aberdeen's Dickens aficionados when Miriam Margolyes entertained us and James Naughtie enlightened us, Dr Paul Schlicke has asked Voice to remind readers of the next planned event.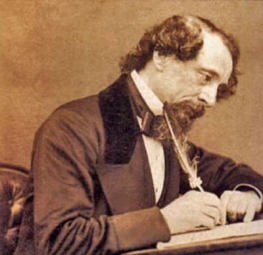 Professor Michael Slater, the world's foremost living authority on Dickens will be in Aberdeen on
Thursday 8 November.
He will be speaking on his experience of writing what is by far the best modern biography of Dickens, under the title
An Attempt on the Life of Charles Dickens
.  The lecture will take place in room 228 of the new University Library at 7 pm. This will also be an opportunity for members of the public to experience this recently-opened state-of-the-art learning and study facility.
Professor Slater, of Birkbeck College, University of London, is author of Dickens and Women, The Genius of Dickens, Charles Dickens: A Life Defined by Writing, and most recently, The Great Charles Dickens Scandal.
He is a former editor of the Dickensian, past chairman of the board of trustees of the Charles Dickens Museum in London, past president of the international Dickens Fellowship, past president of the Dickens Society of America, and founder of the annual Dickens Day at Birkbeck College. He is an excellent speaker. We are privileged to have him visit us in Aberdeen.
For your diaries – our final meeting of the calendar year, at 1900 on Thursday 6 December, will be an exhibition of the Dickens treasures held in the University of Aberdeen library. The collection is one of the very best in the world, including first editions of all of Dickens's novels, copies of his periodicals, and a wide range of supporting documents. Not to be missed!
Bring along your favourite reading passage from Dickens, which we didn't have time to enjoy at earlier meetings. We will also use the gathering as an opportunity to discuss the future of our branch, not only in considering possible topics for future meetings, but also deciding whether or not we wish to affiliate with the international Dickens Fellowship.
These events are open to all members of the public and we would be delighted to meet new friends and fellow admirers of the master of fiction.