There were no Hard Times at all last week when the latest Charles Dickens exhibition came to the University of Aberdeen's Sir Duncan Rice Library.  By Angela Joss.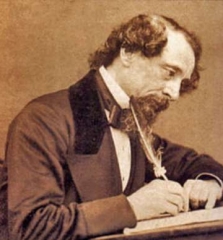 Entitled 'Dickens, Journalism and Fellowship: An Exhibition, Lectures and an Online Tour', this event was jointly hosted by the Aberdeen branch of the Dickens Fellowship, The University of Aberdeen Centre For the Novel and The Friends of Aberdeen University Library.
A wine reception gave attendees the chance to have a relaxed browse around a fascinating display of 19th century journalism, devised by Anthony Burton, former Director of the Forster Collection at the Victoria and Albert Museum.
Originally devised for a 2012 conference at the University of Birmingham, the exhibition places Dickens in the midst of a thriving journalistic tradition devoured by anyone at the time who was literate and had the necessary ha'penny to buy the weekly or monthly publications as they came hot off the press. They were frequently much anticipated.
Aberdeen University's own Dr Paul Schlicke introduced two visiting Dickens scholars, John Drew, Professor of English at the University of Buckingham and Director of Dickens Journals Online, and Dr Tony Williams, formerly joint honorary secretary of the International Dickens Fellowship.
Professor Drew's lecture followed on from the exhibition by underlining Dickens's original contribution to the written word. This was almost exclusively as a parliamentary reporter and journalist, before he branched out into periodical publications, providing him with a platform for his burgeoning campaigning views, as well as his subsequent fictional works. The latter seemingly served to combine all those passions.
Dr Williams then provided an illuminating history of the Dickens Fellowship, which began in 1902, thirty years after the author's death, meaning that many of its original members either knew the author personally, or had been present at the dramatic readings of his own works. Fellowship has always been the keynote of this Dickens movement, with a tradition of providing support for waifs and strays whilst preserving the writings of Charles Dickens.
As attendees were being informed that the Fellowship's publication, The Dickensian, provides a 108- year record of members' activities, with only seven editors during that whole span, the call to vacate the library ahead of closing time was heard, leaving them, like modern day Olivers, definitely wanting more.
Fortunately, like Dickens's journals, The Dickensian is now available online and whilst the exhibition has been removed for a short period, it will be reinstated in the Sir Duncan Rice Library during the last week of July.
It can be visited by the public from then and for the whole of August.
Comments enabled – see comments box below. Note, all comments will be moderated.